There are two key factors involved in a wardrobe that always delivers you something to wear.
Both are pretty obvious but both are things we are all prone to not concentrating on.
I know this because my failing at these two factors was very much the reason why, for such a long time, I felt like I had nothing to wear, despite a bulging wardrobe.
Writing this blog does not make me immune either. Just because you know what you should be doing, doesn't mean you're effective in doing it.
Want to know what those two key factors are? If you've been playing along at home for a while now, you'll be able to answer them for me.
#1 know what's in your wardrobe
When you really know what you have available to you in your wardrobe, you really do have a clearer sense of what outfit possibilities you have.
The only way to really know what's in there is to do regular edits of your wardrobe.
By regular, I mean at least twice a year when the seasons change. I also find myself doing mini edits during the trans-seasonal phase of a season. I did one recently as I wanted to start incorporating autumn elements into my outfits but with pieces that wouldn't have me feeling like a walking sauna by 9am.
This was a great prelude to the big seasonal cull that will happen when winter proper arrives. (Winter IS coming, isn't it?)
I got inspired by pieces I hadn't seen or worn since last year and got excited about putting some different outfits together for my #everydaystyle posts.
And I also identified some potential wardrobe gaps for the season ahead, which means I now have those potential pieces on my shopping radar.
#2 tick off the basics first
Proving that I do indeed take on my own advice, there were, however, NO gaps to be found in the basics' department. I know. Smug I am.
I was not always so smug. Basics and I were not always best of wardrobe friends. And this, my friends, is why once-upon-a-time in the not-too-distant past I never had anything to wear.
Well I did have clothes to wear, but apparently it's not acceptable to wear a sparkly top sans pants in public.
Anyhoo, now I do have the the basics nailed, I'm a bit of a evangelist and would like you to get on board too.
Basics are not boring. Basics are strong canvases on which you can bring out your inner show pony with confidence.
What basics do you need?
This very much is the sixty-four thousand dollar question but it is a question that only you can answer.
What basics I need as a work-from-home mum who trots out to events and meetings occasionally will differ from someone working in a corporate office Monday to Friday.
Take the 15 pieces I've put together below as a starting guide for your 15 basics. Maybe you don't even need 15?
Maybe you need more of one type of basic and none of another.
The colours below are purposefully a mix of neutrals and denim. This mix helps you create a base of incorporating other neutrals or adding accent colours.
If your wardrobe is a riot of colour then your autumn winter basics capsule will look very different and most likely will be based on pieces that are basics just in style, not colour.
Create your own jigsaw, make sure you're stocked up with pieces to fit YOUR autumn winter basics capsule wardrobe and sail on through the season ahead, knowing you've always got an outfit sorted.
This concept of 15 basic pieces will also be a great starting point for you if you're planning and packing for a trip away.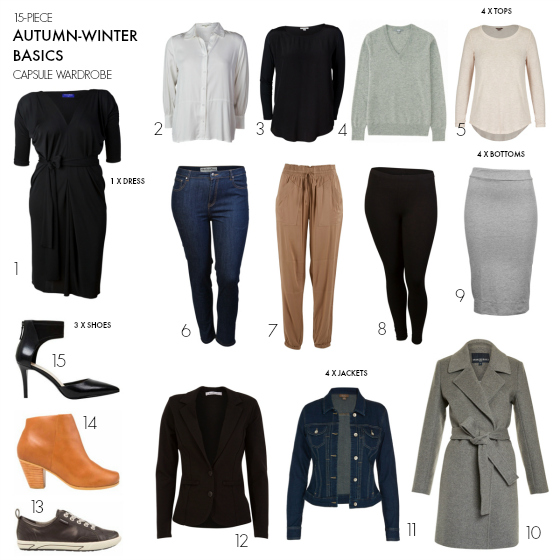 1. Dress-up/down dress: Sacha Drake Kraftwerk dress $249
2. White/ivory shirt: Bohemian Traders Penny shirt $129
3. Dress-up/down top: Surafina black top blouse $129
4. Knit: UNIQLO cashmere sweater $129.90
5. Layering tee: Katies long-sleeve layering tee $19.95
6. Jeans: Bohemian Traders indigo skinny jeans $129
7. Soft pant: Bird Keepers utility pant $89.95 @ Birdsnest
8. Leggings: O2Wear bamboo leggings $69.95 (twin pack)
9. Tube skirt: Betty Basics skirt $19.95 @ Birdnest
10. Coat: Sportscraft wrap coat $349.99 (on sale)
11. Casual jacket: Katies denim jacket $69.95
12. Blazer: Bird Keepers ponte blazer $64.95 (on sale) @ Birdsnest
13: Sneakers: FRANKiE4 ELLiE sneakers $229.95
14: Ankle boot: FRANKiE4 VANESSA boot $299.95
15: Heels: Nine West heels $149.95
Some guidelines
I don't like rules when it come to fashion but a few guidelines can be helpful.
When buying basic pieces, think quality. The pieces don't have to be expensive but the fabrication should look and feel so.
Basics will be worn and washed more than show-pony pieces and, if you buy right, then they will serve you longer than one season.
Make sure you never "settle" for how a basic fits and feels on you.
You want it to feel amazing when you wear it. A basic won't become a wardrobe workhouse unless it feels fabulous on because you'll shy away from wearing it altogether.
Don't give up trying to find YOUR ultimate pair of jeans or blazer that fits and flatters. There is a perfect fit out there for you.
Don't settle for uncomfortable shoes if you need to be wearing them all day.
Your efforts will pay off big time when you find the basic pieces that just work for you.
So tell me, have you done an audit of your winter basics? What's on your shopping hit-list? What's your number one basic you couldn't do winter without?
* This post contains affiliate links. If you buy something via one of these links I may receive a small commission. Full disclosure policy here.
Find out more about how to edit your wardrobe and to build it on basics in my book, Unlock Your Style.