Editor's note: please welcome today's guest blogger Kim Abbate from Life With Tweens. With a tween of her own, she will contribute a regular post on age-appropriate tween style to help those of us with kids in that awkward stage.
Do you remember the days when Dolly magazine was a bible and you would pore over the pages to find the latest teen trends? Well nowadays it's not about ripping pages from magazines, it's about vloggers, youtubers and instagram influencers. I don't know about your tween, but mine is utterly obsessed with vloggers from around the world. We even went to see some onstage!
Last year, a couple of young guys from the UK hit Australian shores and my darling tween lost her tiny little mind. She HAD to go. HAD to. We ended up in a room full of screaming tween girls and guys, waiting to meet these two stars from inside an ipod screen but the best was yet to come.
All of a sudden my daughter and her friend were beside themselves about someone nearby – a young Aussie youtuber called Georgia_Productions had literally run into them.
This teen girl makes clever short films with amazing effects and as she stars in them herself, has a distinct style. A boho chic style that as a mother, I utterly approve of. My own tween is emulating a comfortable fashion that doesn't show body parts it shouldn't and encourages fresh faces clear of makeup – WIN!
Georgia's casual style
You can replicate it with this
1 Plaid shirt $19 | 2. Target white tee $10 | 3. Cotton On jeans $40 | 4. Lush Sea Spray $14
Georgia's boho chic
Your tween can replicate it with these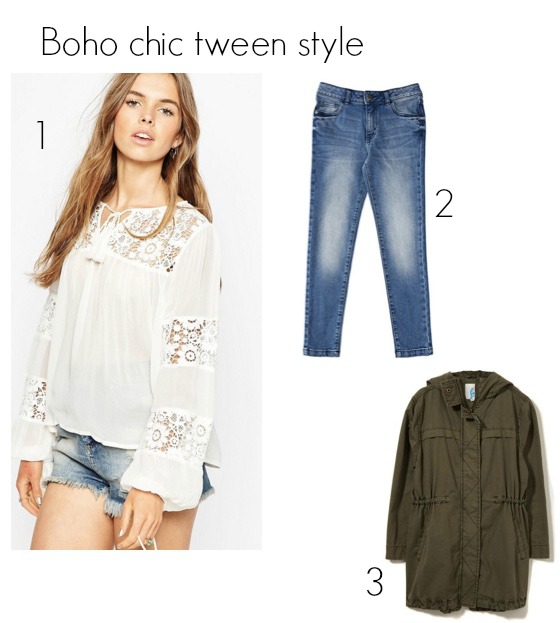 1 Asos Boho top $38 | 2. Target Jeans $25 | 3. Cotton On Anorak $55
The Lush sea spray I've included above is a firm favourite in my daughter's beauty drawer. It gives natural beachy waves, and smells amazing! She discovered this some time ago and it's one thing that is regularly restocked.  Made from natural ingredients makes it a-ok in my book!
As a parent I want to encourage my tween to find her own style, but I still feel it's my job to steer her in a direction that is age appropriate – so when I see someone like Georgia as an influence for my daughter, I'm going to encourage it!
TWEEN SHOPPING TIP: As tween boys and girls hit the latter stages of this awkward age, the kid's section is too 'young' yet some teen clothing sections are way too grown up.  We've hit that stage and I've found that Cotton On, Country Road, Target and Seed all offer a great range of small women's sized clothing that is perfect. The same goes for the boys.
Have you found any great Aussie or online shops that your tween loves? 
Kim Abbate is a working single mum who blogs at  CreatingKim. Her blog focuses on topics that most busy mums can relate to around work, fun, family and health. She also blogs at Life With Tweens which focuses on everything related to that awkward stage between being a child and being a teen. She  has a passion for empowering women and drinking coffee. Or wine. Generally wine.