Sponsored by Katies
We are big markers of any occasion around here and Mother's Day is firmly fixed on the celebration agenda each year.
This has nothing at all to do with the fact that I am a mother and stand to personally gain from being made the focus of attention on said day.
No, nothing at all.
I also poo-poo the naysayers who cry commercialisation and ask why shouldn't we celebrate the mums in our life EVERY day?
I'd be all for this everyday celebration idea but, in reality, it just wouldn't happen, would it?
No.
Instead, why not dedicate one day in the calendar year for really taking time out and acknowledging the role we play in our kids' lives?
Because, if you're a mum, then I'm here to tell you deserve it. You're all kinds of awesome.
Even on the most challenging of parenting days, you are someone's person. A person they have loved from the very first moment they met you.
Gift ideas
I'm not backward in coming forward when it comes to hinting as to what I might like for Mother's Day … or my birthday … or for Christmas.
And I suggest you adopt this forceful hinting method, if you don't already do so.
I'm NEVER disappointed by a present I've received from my kids or my husband because of this gentle "guidance" they've received in the lead-up to the gift-giving occasion.
It's not about spoiling the surprise. More it's about limiting the surprise. I cast a very wide net of possible ideas – the surprise comes in what they actually catch when they go fishing/shopping.
My friends at Katies asked me to head in store and select my picks for a Mother's Day outfit that might go to the top of my Gentle Gift Guidance List.
This is far from an arduous task because of late I've been spending quality time and flexing the credit card in store a lot. They've blown it out of the water this season, with on-trend fashion at affordable prices. The arrival of each new collection just underlines that.
I could have put about three more complete outfits on my wishlist. Maybe my wishlist should just be a Katies gift card. Maybe I should just treat myself.
Mother's Day outfit wishlist
1. Printed detail scarf $24.95  
2.  Katies long-sleeve layering tee in grey marle  $19.95  (I'm in L)
3. Katies fringed poncho in grey $59.95  (I'm in M)
4. Katies Avenue Cool Side Stitch Jean in blue black $59.95 (I'm in 14)
5. Love K necklace $19.95 
6. Snakeskin detail bag $49.95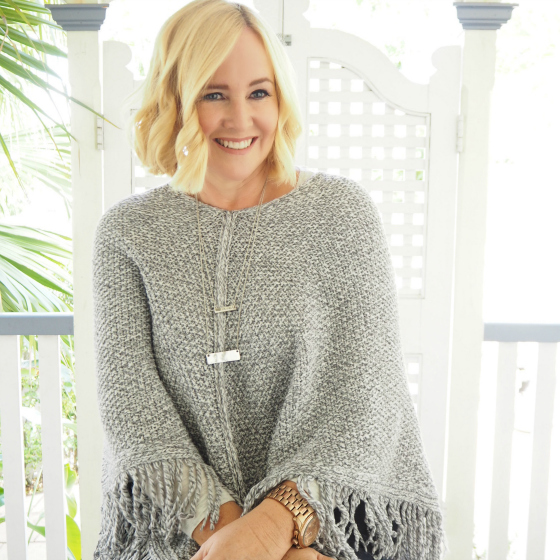 The fringed poncho is definitely the hero piece of this outfit. I cannot own enough of these show-pony pieces as they lift an outfit up about six notches just by throwing them over a basic jeans and tee outfit.
Knitwear is a fabulous gift idea for Mother's Day as it will be starting to cool down and the mum in your life might be able to immediately get wear out of your gift.
I've sized down a size in this – something I always test when buying over-sized pieces. The idea is that with so much fabric in a piece, your typical size can be overwhelming on you. Sizing down lessens that.
The texture of this knit is a great contrast to jeans and the tassels are a fun finish to the hem line.
Do check out the Love K jewellery in store at the moment – so many on-trend designs for prices that would make ideal gifts. I love the layered bar design of this necklace for wearing long over a block of colour or texture like this poncho.
It's all in the layering and details DARLING!
By layering I'm talking the amazing long-sleeve layering tee I've got on underneath. If you buy one thing for yourself this winter, you need this tee in your life. Oh, who am I kidding, you'll need it in every colour.
The fabric is so light and soft to wear and makes the perfect base piece for ponchos and knits.
And by details, I'm talking bags and scarves. The rich cognac colour of this tote is on point for this autumn-winter.
And who says scarves have to go around your neck? It's equally at home looped around the handle of your handbag. If it cools down, simply untie and pop it around your neck.
Like so …
How gorgeous are the colours and print on this scarf? Scarves make fabulous gifts – if the mum in your life loves wearing scarves, take it from me, she will be happy to be on the receiving end of a new one. You can never have too many of them.
And guess what? They always fit. No need to worry about working out sizing when shopping.
I really need to stop trying on Katies jeans and pants because boy, oh boy, do they just work. And then I just have to have them. These ones have an incredible line and detail to them – plus they're a front-zip jean and I know that many prefer this to a pull-on pant.
Comfort is everything in a jean or pant that will take me through the day and these definitely tick all the boxes.
This outfit just works for my everyday autumn-winter style.
I feel dressed and put together thanks to the layering pieces and accessories but it's super comfortable for my typical day of doing the school run, working at home and popping out for meetings or coffee with a girlfriend.
I'm always on the go, so need my clothes to move with me.
Can you see any of these pieces on your Mother's Day wishlist? Seen anything else in store that would make your Mother's Day?
Editor's note: Whenever I'm writing about Mother's Day here on Styling You, I'm incredibly mindful that not everyone has a mum in their life and not everyone has children, even though they have been much yearned for. I lost my mum 21 years ago this year. My husband lost his mum 10 years ago this year. My step-mum lives in the UK. It can be a really emotional time for so many people and families. I've been incredibly blessed with three gorgeous human beings who call me mum and I do not take that for granted for one minute.
Coordinated by The Remarkables Group