Denim on denim on denim.
If there is one style of clothing that endures, it's anything made from this hard-wearing cotton twill fabric.
All shades of blue denim may be most popular but white and black hold their own in a sea of blue.
The real women of #everydaystyle love a challenge and they've offered up more than 600 ideas for how to add denim to your outfit.
You can search the #SWdenim16 hashtag here and get more ideas than I could publish in this post.
I'm re-sharing just a fraction of that inspiration here – along with some tips to embrace in your wardrobe. Make sure you click on the Instagram link on each photo and follow these fab women if you don't do so already.
(Read on to see who won the monthly challenge and details of May's style challenge)
Jeans
It doesn't take much for the #everydaystyle community to pull on their jeans. And boy did we get a great showing this month. Here is just a handful. No doubting it, the distressed look is not going away but indigo denim is powering on through as a classic alternative. Don't dismiss black or white denim either.
Vests
The denim vest is a classic denim piece that has many outfit super powers. Use it to take a more feminine outfit over to the tough side. Or use it to double up your denim outfit situation.
Jacket
This really is the season of the denim jacket. Not that you should ever cull a denim jacket (they're always in style), it's just that this season there are so many options available in store. Much like the vest, they can toughen up a dress or skirt outfit, adding interest (and trans-seasonal warmth).
Tops
I'm so glad that I snapped up an indigo denim off-the-shoulder top at Country Road super early this season. Any way to bring in denim to an outfit is always a good idea. Chambray works a treat in this style too.
Shirts
A denim shirt can be the ultimate in casual chic but it can also be the ultimate contrast piece in a work outfit.
Skirts
I'm no stranger to the casual denim skirt. In autumn and winter, I'd team it with leggings and sneakers or tights and boots and a knit. But why leave denim skirts to the realms of casual? Embrace this style as an option.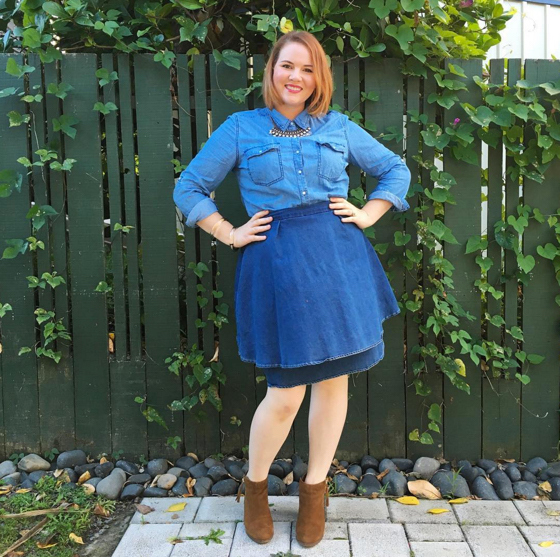 THE Frock
So a funny thing happened this month. I appeared in the Katies AW16 catalogue. I wasn't wearing this denim frock in the catalogue – my friend Sonia had that honour – but I did snap it up when shooting for the Katies' Instagram account. Loved that some of the everyday stylers jumped on board and into the denim frock of the season too.
Clockwise from top left: @styleloving2 | @almostposh | @katypotaty | @kirstenandco
Shorts
It's taken a while to cool down in most parts of Australia, so many of us have still been embracing denim shorts. I do love this autumn styling below – add a scarf and brogues to your summer favourite tee and shorts.
Accessories
Too hot to wear a denim shirt or jacket? No problem. Tie it around your waist or hips as a layering piece or accessory.
Double denim
Too much denim is never, ever enough. Double and triple it up, I say. The key to getting this denim outfit cocktail on point is mixing up different shades of denim within the one outfit.
---
And the 2016 March style challenge winner is …
A big congrats to Elizabeth from @timeless_styling … Elizabeth always stuns with her outfit photos and her up-cycled denim offering blew me away. She turned three pairs of men's jeans into a pinafore. Please email [email protected] so we can organise your Adrift gift card prize.
So tell me, inspired by these amazing women? Did you see an outfit you'd like to make your own? Ready for the next style challenge?
---
Share your outfit to WIN
Every month in 2016 I'm giving away a $100 gift card to help freshen up your wardrobe.
This month you could win a $100 gift card from Read & Bell.
Each month, I'll propose a different wardrobe theme for you to consider incorporating into your #everydaystyle outfit planning.
Each day that you incorporate that theme, simply upload your photo as you normally would, using the #everydaystyle hashtag. To be in the running for the prize, you just need to add the specific hashtag for each month's theme. You can enter as many times as you like.
This month's theme is: Scarf Style. Show us your favourite way to style a scarf and inspire us through the month of May.
This month's hashtag is: #SYscarf16
Your outfit photo could be featured here on the blog with a link back to your Instagram page. Entries close May 25, 2016. The winner will be announced on the blog, May 26, 2016.
---
#everydaystyle email list
If you're reading this and you join in with the #everydaystyle hashtag on Instagram, then I'd love you to please sign up to this email list. I'm so grateful for your participation in this community which I started just over two years ago, that I'd love to be able to share exclusive events, prizes and offers with you. I promise you won't be spammed. You'll only receive information for the #everydaystyle community. For possible event invites, it's also important that you indicate your nearest capital city.