I learned long ago on my style journey to never say I wouldn't revisit a fashion trend that I tried the first time it came around.
Why?
Because such nonsense will inevitably come back to bite me on my wide-but-flat-as-a-pancake bottom.
Let me give you some examples where I've gone back on my word and embraced a former trend:
Neon? TICK
Drop-crotch pants? TICK
Double denim? TICK
Holly Hobbie/Little House on the Prarie maxi and boots? TICK
Off-the-shoulder anything? TICK
Shorts as evening or workwear? TICK
Boho anything? TICK
Which brings me the re-visited trend of the moment that's very much a TICK, TICKETY TICK for me.
The denim shirt.
This genius of a wardrobe piece and I have a long and colourful (well blue) style history.
It was the winter of 1990 when my first denim shirt – a Country Road classic – beckoned me from the racks of a Sunshine Coast boutique. (And yes, this was back when Country Road had its own stores but also stocked in boutiques)
I wore that shirt like nobody's business but preferably tucked into high-waisted black pants and teamed back with tan loafers and a tan belt.
The next time I embraced the denim shirt was in the mid-90s when pregnant with my first baby. Think over-sized (men's!) JAG denim shirt with leggings and tan deck shoes.
Sadly, it would be many years until my next denim or chambray shirt encounter.
In 2012 when shopping up an Aussie-US-dollar-parity storm while on holidays in the States, I stumbled across a Calvin Klein number that still sits in my wardrobe.
UM. Right next to its subsequent denim mates – you'll find one from Bohemian Traders, Sussan and now UNIQLO and Katies.
They're all different. HONESTLY (well that's my story to Mr SY who shakes his head in disbelief that I almost need a wardrobe section dedicated solely to denim shirts … a bit like my striped section … but that's another blog post).
So, when SY reader Kylie emailed me last week asking for some styling tips on how to wear a denim shirt, I took one look in my wardrobe realised that in showing the versatility of the denim shirt, I would also be justifying the wardrobe space they take up.
I'm nothing if not VERY good at justifying clothes purchases.
7 ways to wear a denim shirt
1. With blue jeans. Double denim is still a controversial fashion topic. I was anti when it first came back in trend but, like a true Gemini, I am now so on board. Personally, I prefer less of the matchy-matchy double denim and more of the high-contrast double denim. So … an indigo denim shirt with light-wash jeans or chambray denim shirt with indigo jeans.
UNIQLO denim shirt, jeans, knit and hat
2. With black jeans. It worked in 1990 and still works now. Black and denim are very good outfit buddies. I mention black accessories – boots and bags – below but don't discount the dress-up power of black jeans or black leather pants or skirts.
3. With white jeans. Whenever I want to do a warmer weather denim look, it's most likely with white as its outfit partner. Tan accessories complete the look. The below is not strictly a denim shirt but … you know, you can never have too much blue in any form in MY wardrobe.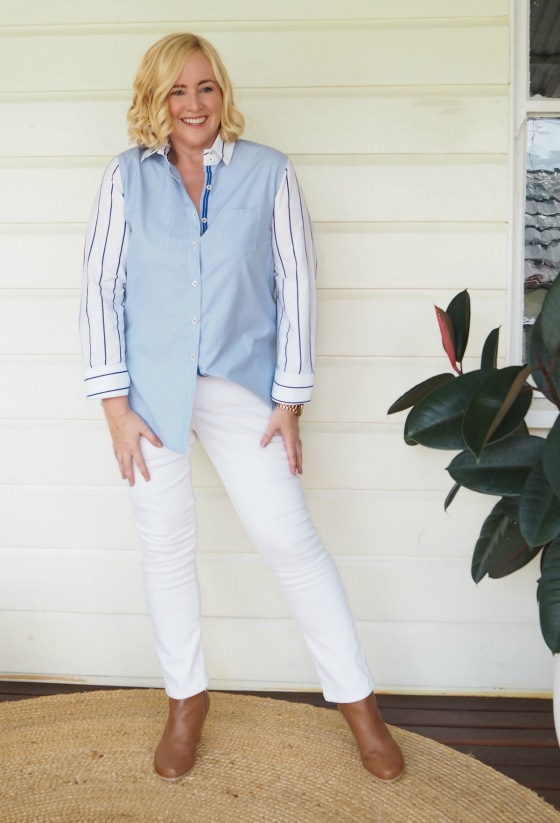 4. With skirts. I'll pop a denim shirt on with a striped tube skirt, navy tube skirt, black leather skirt, textured charcoal skirt or even a maxi skirt. It's the contrast of masculine and feminine that makes this look just work.
Katies shirt and skirt
5. With shorts. Again, this is a summer look for me and one I'll often take on for times when I know I'll be on the sporting sidelines in the sun.
6. As a jacket. That sporting sideline look might be a denim shirt over a tee or tank, turning the shirt into a jacket. Or as it cools down but before it gets super cool, worn as a jacket over a long-sleeve tee and jeans.
7. As an accessory. If I'm wearing a sporty styled t-shirt dress or skirt and sneakers, it would not be out of place to see me with a denim shirt tied around my hips. It breaks up the line of the dress and any layer you make to an outfit is always a good one. If it did cool down you could untie it and wear as a jacket.
8. As after-five wear. This look is very much about the contrast of masculine and feminine. Work back a denim shirt (tucked or tied in a knot to be almost cropped) with a full skirt in tulle or satin and team it work a blinged-up statement necklace and heels. I've never successfully pulled this look off (the below was for a fancy dress event) but very much admire those who do.
7 denim shirt style tips
1. Do try the half tuck. I love the half tuck for its ability to look like you haven't tried too hard but you really have because nailing the tuck takes some skills. My friend Rach from @redcliffestyle is the queen of the half tuck. I love the half tuck because it shows off your waistline but in a casual way. Often a tuck can rescue a too-long shirt and bring it back into proportion with your body.
2. Do try the full tuck. Ok, so you're not going to find me doing this look too often, despite my 1990 denim-shirt heritage. I now know why this look did nothing for me. My waist is short, tucking in and creating a waist do not make me an hourglass, it just points a shiny neon light on my hips.
3. Look for a good fit around the shoulders and bust. It is tricky finding shirts that fit you on the bust and on the hips but you need comfort at the top of the shirt otherwise you'll never wear it. If you are a vastly different bust size to hip size, consider having the shirt altered by a tailor to fit.
4. Lighter weight denim will look less boxy on you. If you're struggling with finding a denim shirt that works for you, look for lighter weights and chambray styles. A lighter fabric has more chance of draping and being less boxy around the bust.
5. There should be shape to your denim shirt – it doesn't have to be super fitted but it should skim but not resemble the over-sized look I embraced while pregnant in 1995.
6. Tan accessories will always be a match made in denim-shirt heaven. It's a little bit country and a lot all right.
7. Black accessories will dress up a denim shirt, especially when you contrast the denim with a different texture, say leather or suede. Whenever I want to take a denim shirt out on the town or in a work situation, I'll work it back with black.
7 denim shirts to buy right now
Indigo denim is the hero denim of the season but you will still find all shades of denim shirts out there and available to you. Choose a shade that you LOVE or double or triple it up like I have done with a few options in your wardrobe.
1. Katies shirt $49.95 (also pictured above on me with charcoal skirt)
2. UNIQLO shirt $29.90 (on sale, also pictured above on me with denim jeans and red knit)
3. Target shirt $39
4. Witchery shirt $129.95
5. Emerson @ Big W shirt $25
6. Sussan shirt $83.97 (on sale)
7. Country Road shirt $129
So tell me, would I find a denim shirt in your wardrobe? Did you also wear them back in the day? How do you wear them now?
---
Share your outfit to WIN
Get more denim shirt inspiration from the #SYdenim16 feed on Instagram.
Every month in 2016 I'm giving away a $100 gift card to help freshen up your wardrobe.
This month you could win a $100 gift card from Adrift.
Each month, I'll propose a different wardrobe theme for you to consider incorporating into your #everydaystyle outfit planning.
Each day that you incorporate that theme, simply upload your photo as you normally would, using the #everydaystyle hashtag. To be in the running for the prize, you just need to add the specific hashtag for each month's theme. You can enter as many times as you like.
This month's theme is: Denim Days. Think jeans, denim jackets, chambray shirts, denim skirts, denim vests, indigo blouses. Show us your favourite denim styles and inspire us through the month of April.
This month's hashtag is: #SYdenim16
Your outfit photo could be featured here on the blog with a link back to your Instagram page. Entries close April 26, 2016. The winner will be announced on the blog, April 27, 2016.
#everydaystyle email list
If you're reading this and you join in with the #everydaystyle hashtag on Instagram, then I'd love you to please sign up to this email list. I'm so grateful for your participation in this community which I started just over two years ago, that I'd love to be able to share exclusive events, prizes and offers with you. I promise you won't be spammed. You'll only receive information for the #everydaystyle community. For possible event invites, it's also important that you indicate your nearest capital city.