My love for the Australian label Binny is far from a state fashion secret.
I first discovered the label via your imaginary TV friend and mine – Offspring's Nina Proudman – and have been a card-carrying fan ever since.
What I love about Binny's designs is that they always surprise and delight in the details and prints.
It's these details that lift each piece she designs to the next level.
I've already snapped up this maxi skirt BECAUSE leopard print. And on the blog I'm featuring the most amazing tailored shirt I've ever worn.
The model
and me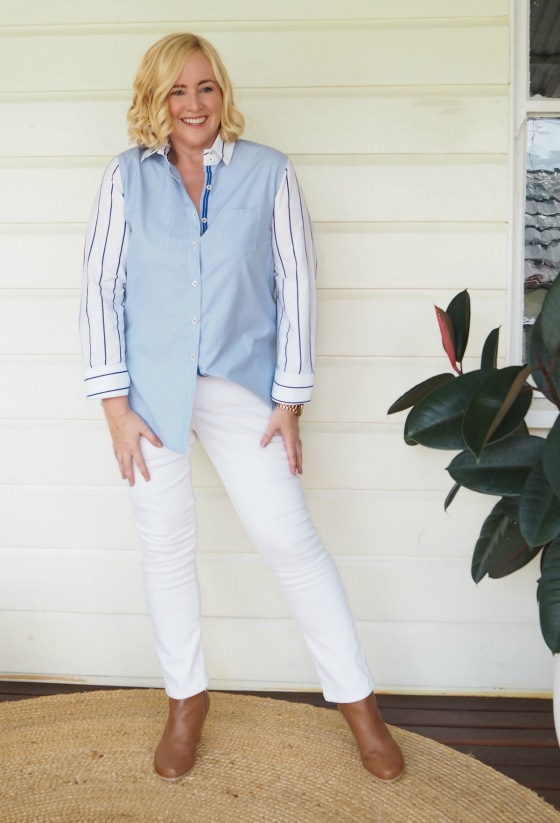 Binny Parade Ring Shirt* (I'm wearing size 16) | NYDJ jeans | FRANKiE4 Footwear boots
I think this is my best effort to pretty much copy the essence of the model outfit, even if I say so myself.
For me this is a fresh take on early autumn dressing. As it cools down, add a knit and/or a jacket.
But let's talk about the shirt.
As soon as I opened the package, I was captivated. Light blue or chambray will get me every time. Add in stripes, like has been done here on the sleeve, and it's straight to winner status.
As for the big fold-back French cuffs, grosgrain stripy ribbon trim on the button line and crisp fabric, HOLD ME.
This is a shirt that feels as good to wear as it looks. The sleeves are 100% cotton and the body is a mix of polyester and cotton.
Not a fan of the white jean? This shirt will be equally at home with indigo or blue-wash denim jeans.
Weather permitting, I'd also wear it with navy, denim or white shorts.
So tell me, how much of a fan of details in fashion pieces are you? Hanging out for Nina? (A little bird told me that filming for Season 6 of Offspring is starting in April.)
* These pieces were gifted to me for editorial consideration. Full disclosure policy here.
---
Share your outfit to WIN
Every month in 2016 I'm giving away a $100 gift card to help freshen up your wardrobe.
This month you could win a $100 gift card from Bohemian Traders.
Each month, I'll propose a different wardrobe theme for you to consider incorporating into your #everydaystyle outfit planning.
Each day that you incorporate that theme, simply upload your photo as you would normally, using the #everydaystyle hashtag. To be in the running for the prize, you just need to add the specific hashtag for each month's theme. You can enter as many times as you like.
This month's theme is: how to add elements of autumn to your wardrobe when it's still warm outside (this post might help with ideas). Think the addition of a new-season trend via colour, texture and style in one part of your outfit or accessories. At this time of year, it's super tricky to do an autumn look head to toe so we're looking for inspiration.
This month's hashtag is: #SYAW16
Your outfit photo could be featured here on the blog with a link back to your Instagram page. Entries close March 30, 2016.
---
#everydaystyle email list
If you're reading this and you join in with the #everydaystyle hashtag on Instagram, then I'd love you to please sign up to this email list. I'm so grateful for your participation in this community which I started just over two years ago, that I'd love to be able to share exclusive events, prizes and offers with you. I promise you won't be spammed. You'll only receive information for the #everydaystyle community. For possible event invites, it's also important that you indicate your nearest capital city.