Editor's note: Sammy is Miss SY's best friend from school and a journalism/PR student. Each month she shares some style and beauty tips that are relevant to teenage girls of all ages – please leave us a question if you have a teenage style/beauty question you'd like answered.
Ahh Makeup. It's been a long love-affair between us since the age of 15! But now, almost five years on, I am still very much in love.
From practicing how to apply mascara to becoming an expert in contouring, I have certainly learnt a lot from working in cosmetics for the last two years.
So today Stylers, I'm going to let you in on my secret and show you how my easy 5-step makeup routine works in just under 10 minutes. I promise it won't take up half your morning 😉
But before we delve into the world of cosmetic beauty, it's important we lay down some ground rules.
And by that I'm talking about the maintenance of happy and healthy skin.
Need I say more?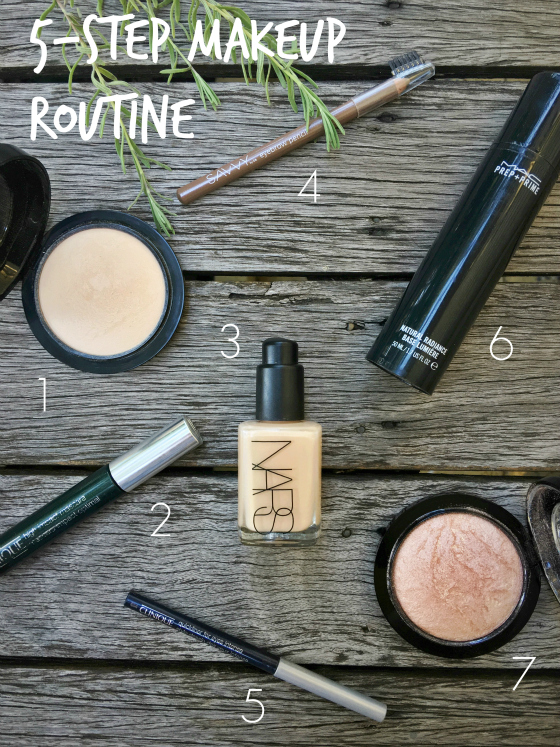 1. M.A.C Mineralize Skinfinish Natural 'Light' $49
2. Clinique High Impact Mascara 'Black' $38
3. NARS Sheer Glow Foundation 'Mont Blanc' $65
4. Savvy Eyebrow Pencil 'Blonde' $4.99
5. Clinique Quick Liner for Eyes Intense 'Intense Ebony' $34
6. M.A.C Prep + Prime 'Natural Radiance' Primer $65
7. M.A.C Mineralize Skinfinish 'Soft & Gentle' $47
1. Maintain good skincare
When it comes to skincare, practice makes perfect – so why not develop a simple routine that's suitable for both you and your skin?
Whether it's 3-steps, 5-steps or even more or less, skincare is all about trial and error, and finding a balance in between.
For me it was easy – I narrowed my product range down to 100% organic certified and natural products, and I now repeat my 5-step skincare routine both morning and night, each day.
Want to know more? You can check out my previous post on skincare here.
2. Always, always double cleanse
Double cleanse. Double cleanse. Double cleanse.
I cannot emphasise this step ENOUGH. Coming from someone who works in cosmetics, I can safely say double cleansing is one of the most essential steps when it comes to maintaining healthy skin.
But what is "double cleaning", you may ask?
Well, to be quite literal, it is just as it sounds (e.g. cleansing once will remove what's on the surface, but cleansing twice will assist in the removal of any impurities underneath).
As well as this, it's important to be cleaning your makeup brushes on a regular basis.
This helps to remove any excess bacteria which may have built up over time in the bristles. And without cleaning, that bacteria can then transfer onto your skin and into your pores, causing problems such as acne.
3. Wash face before bed
Last, but certainly not least, is the most imperative step of them all.
WASH YOUR MAKEUP OFF BEFORE BED. Period.
Why? Because if your skin is happy and healthy underneath your makeup, this will shine through better than any other highlighter or primer out there! And it's hygienic too 😉
So now that we have the nitty gritty out of the way, it's time to talk makeup. YAY.
Step 1: Prime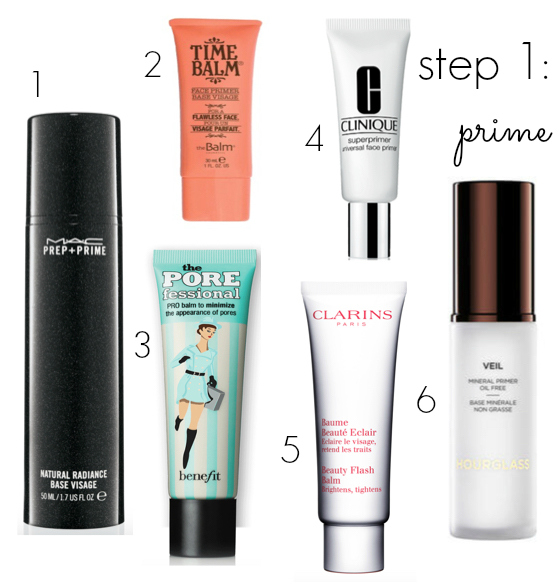 1. M.A.C Prep + Prime 'Natural Radiance' Primer $65
2. The Balm 'Time Balm' Flawless Face Primer [available at Target and Big W] $30
3. Benefit 'POREfessional' Primer $53
4. Clinique Superprimer 'Universal Face Primer' $45
5. Clarins Beauty Flash Balm $60
6. Hourglass Mineral Veil Primer SPF 15 $83
---
Oh primer, you are my holy grail. Not only do you help prep my skin and allow for less usage of foundation, but you also help restore my youthful glow.
Now, I am going to be honest here. Once upon a time… I did not use a primer. GASP, I know.
But this was simply because I was not aware of its purpose, and could not fathom what the big fuss was, when it meant adding yet another step to my daily makeup routine.
But after getting my hands on Clarins Beauty Flash Balm, and M.A.C's Prep + Prime, I have never looked back, and my makeup has never looked so good.
---
Step 2: Base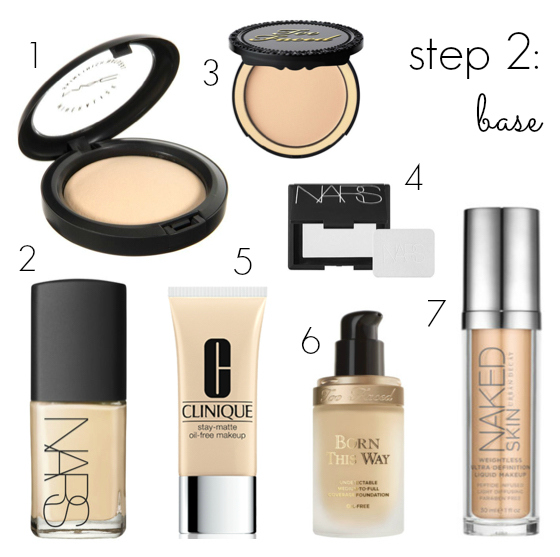 1. M.A.C Mineralize Skinfinish Natural 'Light' $49
2. NARS Sheer Glow Foundation 'Mont Blanc' $65
3. Too Faced 'Cocoa Powder' $54
4. NARS Light Reflecting Pressed Setting Powder $57
5. Clinique Stay-Matte Foundation $50
6. Too Faced 'Born This Way' Foundation $62
7. Naked Skin Weightless Ultra Definition Foundation $65
---
Well, well, well. Without this step, where would we be?!
For me personally (and for a daily natural makeup look) I like to do minimal contouring.
So first I apply my NARS Sheer Glow Foundation in one of their lightest shades 'Mont Blanc'.
This particular foundation is great for normal/dry skin, and gives moderate coverage without feeling to light or heavy.
For me personally, I like to set my foundation with M.A.C's Natural Skin Finish in the shade 'Light', just to give a little extra coverage and glow to my skin.
---
Step 3: Highlight
1. The Balm 'Mary Lou Manizer' $29.95
2. Hourglass Ambient Lighting Powder 'Dim Light' $70
3. M.A.C Mineralize Skinfinish 'Soft & Gentle' $47
4. Anastasia Beverley Hills Illuminatior 'So Hollywood' $28
5. Anastasia Beverley Hills Glow Kit $40
6. Clinique Blushing Blush 'Aglow' $49
---
I then apply Clinique's Blushing Blush in the shade 'Aglow', which is a happy medium between both brown and pink.
Then lastly, to give a little extra shine to my skin, I highlight with M.A.C's Skin Finish in the shade 'Soft and Gentle' on the apple of my cheeks, sides of my nose and underneath my brows.
---
Step 4: Eyes
1. NARS Eyeshadow 'Cyprus' $39
2. Sportsgirl 'The Nude Edit Palette' $19.95
3. Hourglass Modernist Eyeshadow Palette 'Infinity' $92
4. Estee Lauder Sumptuous Extreme Mascara $52
5. Benefit 'They're Real' Black Mascara $42
6. The Balm Mr Write (NOW) Eyeliner 'Mocha' [Available at Target and Big W] $17
7. Urban Decay 24/7 Glide On-Eye Pencil 'Smog' $33
---
For the eyes and for a natural makeup look, I like to keep it fairly simple.
Firstly, I apply my eyeliner in the shade of mocha or brown. This colour is great for fair-skinned girls, without looking too heavy or harsh.
And if my eyes are looking a little dull from a late night of study, I will apply a white eyeliner just on the bottom lip of my eyelids to give a little extra brightness. A girl can never have too much, right?!
Lastly is eyeshadow – I prefer to apply mine with a brush rather than a sponge, because I feel as though it blends a little softer. I also keep my colours fairly natural, and stick to the shades of nudes and pinks.
---
Step 5: Brows
1. Natio Brow Kit $19.95
2. Chi Chi Brow Pomade 'Blonde' $14.95
3. Essence 'Make Me Brow' Eyebrow Gel Mascara [Available from selected Target Stores] $5.10
4. Zoeva Eyebrow Brush [part of 8-piece brush kit $126]
5. Napoleon Perdis Contour Brow Kit $49
---
Ahh. For me, this step is most important.
But what you need to remember is, stick to the shape you have and build on it.
Without having your eyebrows professionally feathered, it is impossible to restructure the shape of your brows with either a pencil or powder whilst keeping it 'natural-looking'.
But instead, with the products I have provided above, this will allow you to give your brows more colour and definition whilst staying on the natural-look side.
I fill my brows in with Chi Chi's Brow Pomade in the shade 'blonde'. For $14.95, I have found this product to be exceptional, and better than most on the market which retail for almost double the price.
I then brush them over with a brow gel in the same colour, to give them a more natural and feathered look.
---
And voila! There we have it Stylers. Makeup is complete.
Only took 10 minutes, right?!
Now tell me, what does your makeup routine look like? Have you invested in a primer this summer? 
---
Samantha Cheney is a Brisbane-based freelance writer at www.samanthacheney.com, and is currently completing her Bachelor of Journalism and Bachelor of Business degrees at the Queensland University of Technology. Her interests include travelling, writing, and photography. Check Samantha out on instagram to follow her adventures @sammycheney