Do you know my favourite style of clothing?
Anything that is one step up from pyjamas, yet is a legitimate garment suitable for letting loose in public.
I've featured many a garment here that fits that description and many of them have come from Australian label Motto.
Each piece from this label is travel and everyday-style friendly. Each piece is designed to be layered and mixed and matched with others in your wardrobe.
Today, I'm featuring a trans-seasonal outfit that you can wear now – as we move into autumn – but without being a sweaty mess.
The model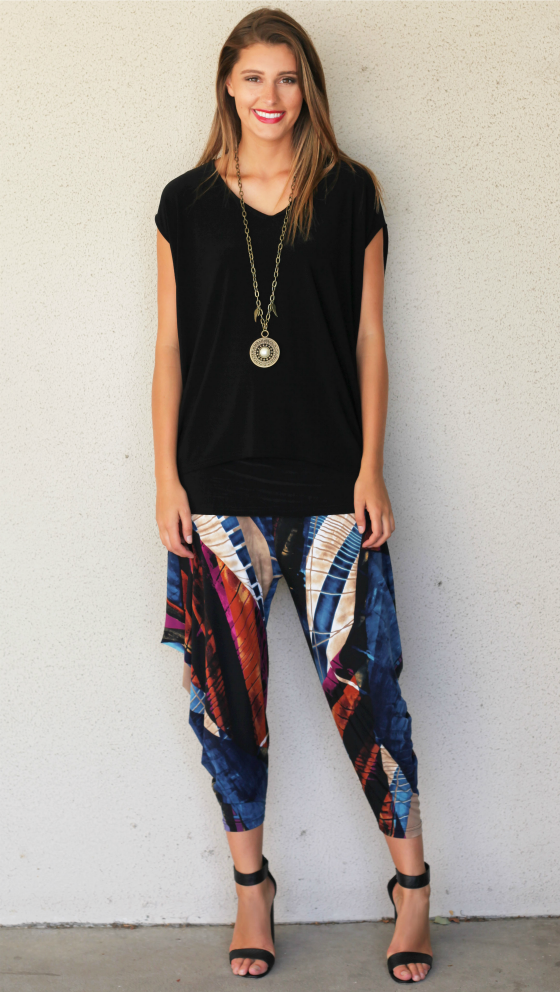 Motto Slouch top $79.95 | Motto Jersey Paris pant $119.95
and me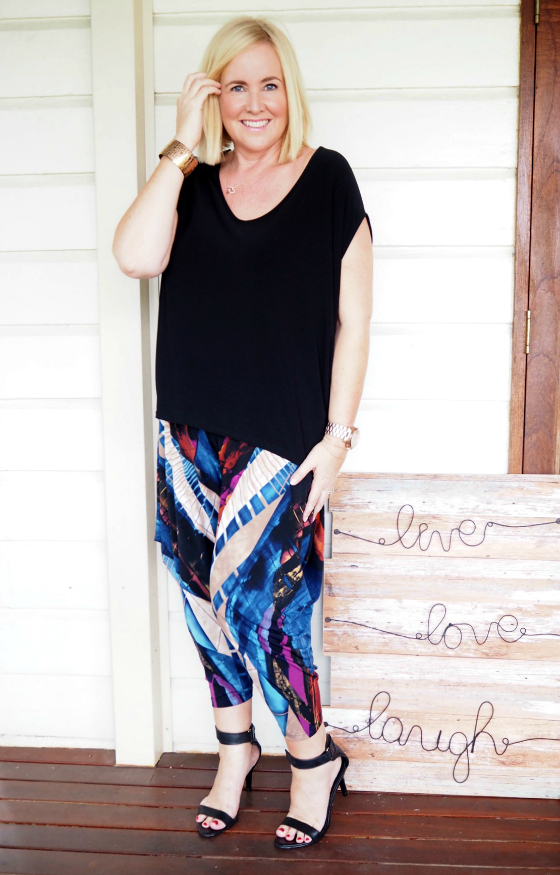 Motto top (I'm wearing size 14) | Motto pant (I'm wearing size 16) | Country Road heels | Secrets Shhh bangle
Let's start with the top. This is a wardrobe staple. Wear on its own now or add a knit or jacket later. Wear it with anything.
The slouch style is flattering without being tent like and works extremely well with pants, skirts, shorts or jeans.
The pants bring in an autumn colourway to the outfit and the design is surprisingly flattering.
I say surprising as there is an extra bit of fabric on the legs in the design. Normally I'd steer clear of this but I suspected that it would drape and add to the overall design of the pant and I was correct.
It actually adds to the whole design and makes the pants more of a fashion-y item to wear.
Yet. YES. You are one slightly large step away from wearing pjs. Um. HELLO. Work-to-couch? Winning.
How much do you love a slouchy outfit you can dress up as well?
* These pieces were gifted to me for editorial consideration.  Full disclosure policy here.
---
Share your outfit to WIN
Starting this month – and every month – I'm giving away a $100 gift card to help freshen up your wardrobe.
This (February) month you could win a $100 gift card from Birdsnest.
Each month, I'll propose a different wardrobe theme for you to consider incorporating into your #everydaystyle outfit planning.
Each day that you incorporate that theme, simply upload your photo as you would normally, using the #everydaystyle hashtag. To be in the running for the prize, you just need to add the specific hashtag for each month's theme. You can enter as many times as you like.
This month's theme is: how to dress when the heat is on.
This month's hashtag is: #syheat
Your outfit photo could be featured here on the blog with a link back to your Instagram page. Entries close TODAY February 29, 2016.
---
#everydaystyle email list
If you're reading this and you join in with the #everydaystyle hashtag on Instagram, then I'd love you to please sign up to this email list. I'm so grateful for your participation in this community which I started just over two years ago, that I'd love to be able to share exclusive events, prizes and offers with you. I promise you won't be spammed. You'll only receive information for the #everydaystyle community. For possible event invites, it's also important that you indicate your nearest capital city.