It's a new fashion season here on the blog. That won't mean you'll see me trotting out winter clothes for my #everydaystyle posts on Instagram but it does mean that these Model and Me posts will take on a different feel as (in fashion land) we leave summer behind.
As I mentioned in this post, don't blame the messenger. Stock in stores and online has shifted seasons, so I'm getting my head in the game and aiming to share pieces with you that could be worn now on a cooler day and layered up later for winter.
For me, it's the early autumn offerings that I get more wear out of in my wardrobe because of their layering ability. If I only stocked my wardrobe with high-winter pieces, they'd have a limited wear-span.
Trans-seasonal pieces, however, mean that we can change up our summer look and get excited about wearing something a little different.
I've blogged here before about Birdnest's plus-size label, Belle Bird, and this season the label has nailed it again with fabulous pieces that will take you from casual, to work and out to dinner. All are on-trend and all are extremely flattering.
If you haven't checked out the label, do yourself a Molly Meldrum and start with this frock.
The model
Belle Bird Belle Relaxed Sweater Dress $99.95
and me
Belle Bird Belle relaxed sweater dress* (I'm wearing size 14) | Nine West heels (last winter) | Swarovski slake bracelet
I love a relaxed fit in a garment but I especially love a relaxed fit when it comes with figure flattering goodness on the side.
The cut of this garment achieves this through its side gathering, tulip body, low round neckline and batwing three-quarter sleeves.
The fabric is a light, breathable mix of polyester and elastane so it's something I could wear now on a cooler, rainy day or evening and then, as winter arrives, add black boots, tights and a longline vest or coat.
This dress also comes in black so you could reverse your colour contrast and work it back with tan or stone coloured coats or vests.
The beauty of this piece is in its simplicity. It looks stylish but effortless. You don't want to over-complicate the look.
As for how it FEELS to wear. It's one of those cheat pieces that makes you feel like you're in your pjs. Comfort factor is as high as its style factor.
Tell me, what autumn pieces work well for you and take you through the season as it cools down? Bought anything from the Belle Bird label?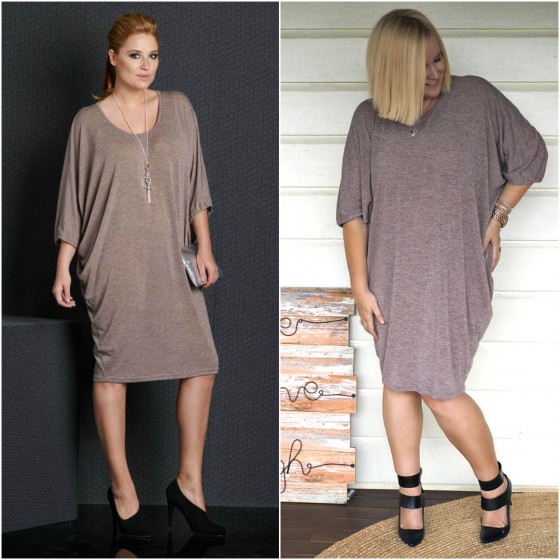 * This piece was gifted to me for editorial consideration. This post contains affiliate sales links and I may receive a small commission from purchases sold through those links. You don't pay any more. Full disclosure policy here.
---
Share your outfit to WIN
Starting this month – and every month – I'm giving away a $100 gift card to help freshen up your wardrobe.
This month you could win a $100 gift card from Birdsnest.
Each month, I'll propose a different wardrobe theme for you to consider incorporating into your #everydaystyle outfit planning.
Each day that you incorporate that theme, simply upload your photo as you would normally, using the #everydaystyle hashtag. To be in the running for the prize, you just need to add the specific hashtag for each month's theme. You can enter as many times as you like.
This month's theme is: how to dress when the heat is on.
This month's hashtag is: #syheat
Your outfit photo could be featured here on the blog with a link back to your Instagram page. Entries close February 29, 2016.
---
#everydaystyle email list
If you're reading this and you join in with the #everydaystyle hashtag on Instagram, then I'd love you to please sign up to this email list. I'm so grateful for your participation in this community which I started just over two years ago, that I'd love to be able to share exclusive events, prizes and offers with you. I promise you won't be spammed. You'll only receive information for the #everydaystyle community. For possible event invites, it's also important that you indicate your nearest capital city.