Welcome to the first Model and Me post for 2016.
If you're new around here, then let me talk you through how the Model and Me concept got started.
Way back in 2010, I was asked to be a model for a local boutique hosting a Metalicus fashion parade and showing.
The reason I loved this boutique was not just because they stocked an incredible range of everyday style labels but they also understood their customer did not come in one shape, size or age bracket.
They reflected that in the stock they carried, offering plenty of choices from petite to plus.
So when they asked me to model Metalicus for them, I jumped at the chance. This was – and still is – a label that most people think doesn't work for anyone above a size 10.
I loved – and still love – showing that that's not the case. On the evening of the event, I was photographed in one of the dresses I showcased and later saw the same dress in a campaign image on the Metalicus Facebook page.
I thought showing the difference between how something looks on a model compared with me would be helpful to others to better visualise themselves in a garment.
From working one-on-one with more than 150 women (before I stopped taking personal styling clients), one of the big ah-hahs for me was that most women struggled to imagine or visualise themselves in a garment that was photographed in a magazine or on an in-store poster. This stopped them from trying on things they were possibly suited to.
This regular post (it wasn't weekly back in the day) hopefully helps you to step outside your comfort zone and little and try on something you normally wouldn't.
It's not about me declaring I look better than the model (models are real people too!), it's about offering a different visual alternative.
With that said, let's get stuck in, shall we?
I'm launching the year with a stunning cobalt blue dress from Bohemian Traders.
The model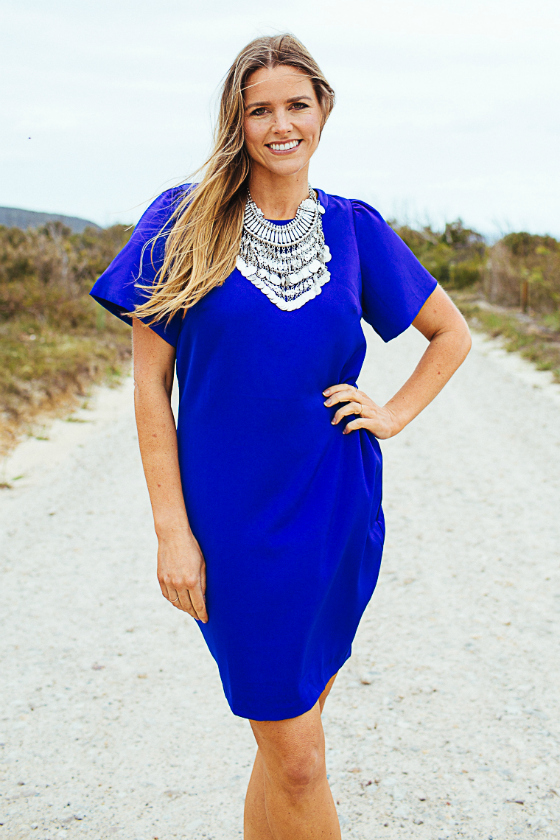 Bohemian Traders Classic Cocktail Dress $119 (now on sale!)
and me
Bohemian Traders Classic Cocktail Dress* (I'm wearing XL) | Dinosaur Designs necklace | Tiff Manuell clutch | Country Road heels
The shape of this dress is The Business. It's the same cut as the white broderie anglaise dress I featured in the Summer 2015 Styling You Shop (you can still buy it from Bohemian Traders here).
It's a shift with shape, a beautiful line, hip-skimming goodness, sleeves, a flattering length and a fun back feature.
It's no secret that I love wearing blue – all shades thereof – but there is something about cobalt that is an absolute stand-out for me.
It's also a shade of blue that you can easily dress up or down. This is the kind of dress that you could wear to the office (if you're a fan of the belt, add a thin belt to the waist) and then take it out to drinks with a change of shoes and a quick swap out of your work tote for a clutch.
It's also ideal if you have an event or occasion this summer and into early autumn where you need a dress you feel comfortable in and want to break free of the LBD as an option.
Speaking of the office, this week on the blog, we'll be bringing blog posts to get your strapped in for summer at work and/or on the school run. Who's ready?
Looking for a splash of cobalt in your wardrobe? Got any burning back-to-work style questions?
* This piece was gifted to me for editorial consideration. This post contains affiliate sales links and I may receive a small commission from purchases sold through those links. You don't pay any more. Full disclosure policy here.