Sponsored by Olympus Imaging Australia
If someone had told me two years ago that I'd be getting a photo of myself every day and uploading it on the internet for all the world to see, I would have checked the sky for any low-flying pigs.
Yes, I'd been putting myself out there for a few years before that – posting photos on the blog – but it was far from the every day.
It's wasn't the ordinary, the no makeup, the work-from-home casual style that is my go-to most days.
Yes, there's some fancying up in between the ordinary but mostly it is just me, what I'm wearing on any given day.
So why do I do it?
Good question. It started from reader requests to see more of what I wear every day. I thought I'd do it for a week but by the end of that week, so many more women were joining in.
Now there are hundreds who take part – some every day – some when they feel like they want to join in.
For me, continuing to share those daily outfit photos is now about the community.
If you follow the #everydaystyle feed on Instagram, you'll get an idea what I mean by community.
You'll find women of all ages, shapes and sizes – all with distinct style personalities – sharing their everyday outfits AND supporting and cheering on others.
It's that supporting and cheering that makes my heart sing.
Last Saturday, 30 of the "real women of #everydaystyle" joined me for a celebratory lunch at Hilton Brisbane.
Talk about style inspiration.
Together, these women have a combined Instagram following of more than 120,000 and it was not difficult to see why.
From women in their 20s through to young mums and ageless beauties, all ages, sizes and shapes were represented.
What I loved most was that each and every one who attended remained true to their own style.
That's what I celebrate here on the blog. I want everyone to feel confident to express who they are – and not be a cookie cutter version of everyone else.
How to pose
Now, none of these women are shy about posing for a photo but I bought in former model, model-agency owner and girlfriend Simone Merlo to share with us some tips on how to better pose for a photo.
We learned the basics and are now thinking "elegant hands" and "finding that extra inch" in our stance each time we're photographed.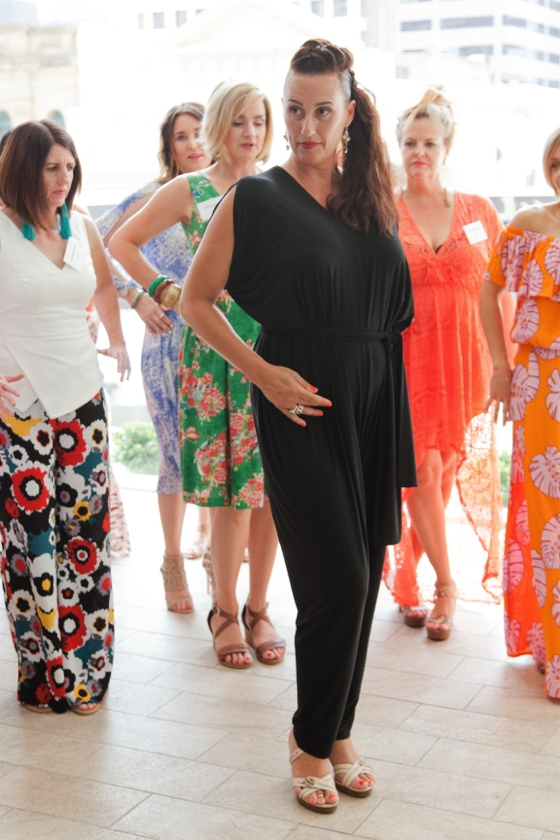 I was able to demonstrate how I can check my pose and take my own outfit photos using my Olympus PEN E-PL7 camera (aka the Olympus Selfie camera).
I've been using this camera for blog and social media photos for 12 months and cannot imagine my life without it.
Dramatic, much?
Maybe. But for a person working solo and without ready access or budget to a regular professional photographer, mastering this camera has made a huge difference to the quality of my photos.
The camera itself has the capacity to act as its own wi-fi device, allowing you to import any photos direct to your phone's camera roll via the Olympus OI.Share app.
This same app acts as a remote control so with the camera mounted on a tripod I can see how the photo looks on my phone screen and adjust my pose accordingly. I can then set it to timer, press the camera button and quickly put the phone out of sight.
The result: images that look like I have my own photographer.
Read on for details on how you could win an Olympus Selfie Camera for yourself.
Photos from the day
Photographer Helen Henry from Rhubarb Photography captured the afternoon beautifully. Below I'm sharing just some of the photos as well as some quotes about #everydaystyle from those who attended. (Simply click on any of the images to start the gallery and find out who each woman is)
Thank-you
The day would not have been possible without the support and sponsorship of Olympus Australia. Thanks also to Hilton Brisbane for supplying the venue for us.
These amazing businesses also deserve a shout out – their donations meant that every woman walked away with a prize on the day.
WIN
Olympus and I have one Olympus PEN E-PL7 camera valued at $849 (aka the Olympus Selfie camera) to give away to one Styling You reader.
Entering is easy. Simply answer this question in the comments below:
How would you capture your everyday style in a photo?
Entries open Thursday, December 3 at 4.30am (AEST) and close Thursday, December 17 at 5pm (AEST). Australian entries only, sorry. The winner will be judged on originality and creativity (photos can be included and uploaded with the comment). The winner will be emailed and their name will be published here. Entrants must include an email address when the filling in the commenting system below to be eligible to enter. Full terms and conditions here. 
---
More about the lunch
Some of the women who attended the lunch have blogged about it. Check out these posts:
Kirsten & Co: Celebrating Two Years of #everydaystyle
Katy Potaty: Celebrating Two Years of #everydaystyle with Styling You
Styled By Bec: Celebrating Two Years of #everydaystyle in style