Oh I do love to tackle a fashion myth. I do.
I do not know who created the so-called rules around fashion that grow into myths but they have an awful lot to answer for.
Fashion myths and rules do not help us.
What fashion myths do is create doubt in our own minds when choosing what clothes to buy – or what clothes to pull out of our wardrobe and put on each day.
That doubt undermines all the effort we put in to feeling confident in our personal style.
That's why my style philosophy here on Styling You and in my book, Unlock Your Style, is all about forgetting the rules and making your own.
I don't want you to wear certain clothes and avoid others based on someone else's rules.
I want you to wear clothes that suit YOUR personality and YOUR lifestyle. I want you to wear clothes that make you feel fabulous.
I want you to wear clothes that fit with your personal style guidelines – not guidelines of an anonymous other.
Sounds simple, doesn't it?
When you let go of the rules, then you can have confidence in your own decisions on what to wear.
SO.
One of the so-called fashion myths that crops up almost as often as I wear them, is the myth around wearing stripes.
I love stripes. This is no state secret if you're a regular around here. Rarely a week goes by when I haven't worn a striped garment.
And each time I do, at least one person will pop up and make a comment about not being able to wear stripes because they think they make them look bigger than they are.
I'm here to tell you that stripes do not make you look bigger. Do not let this myth be the reason that stops you from wearing them.
Apparently there is scientific evidence to back me up but I didn't need to stumble upon that article to know what I know.
What I know comes from way back in my Year Eight art class. We had to create patterns using lines and I quickly discovered that by bringing lines together you could create an illusion of shape.
I've long worked that illusion of shape into my wardrobe because I love the classic style that stripes bring to an outfit.
Nautical, French, call it what you will – I'll take my stripes served up in every colour – from black to navy, to red and the gorgeous charcoal of the striped Surafina dress and tee in the current Styling You Shop.
The stripes in both these pieces work that illusion to the max thanks to the clever cut of the pattern on the curved, asymmetric hem of the dress and the tee.
Check them out on both myself (a size 14-16) and Peta (a size 10).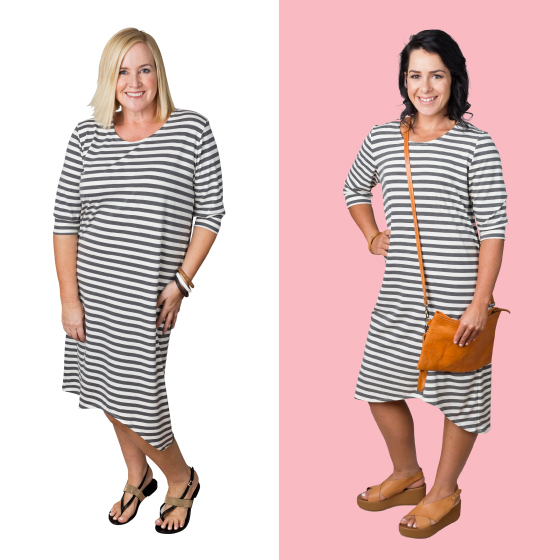 Surafina Sportif dress | ZK Station sandals | ZK Jump platforms 
Surafina Sportif tee | ZK Station sandals
So tell me, are you on Team Stripe?
---
Summer 2015 Styling You Shop
You'll find more summer style inspiration in the Summer Styling You Shop. Have you checked it out yet? You'll find 21 pieces and inspiration on how to wear those pieces 28 different ways.