It seems that most places in Australia have had an early taste of the summer ahead.
Scrolling through the #everydaystyle feed on Instagram last week showed that my southern style sisters were indeed enjoying some balmy spring conditions.
Here in Queensland the balmy meter has been switched on and my seasonal default mode of dressing has come into its own.
Which default is that, you ask?
So glad you did.
The Dress.
Whether it's fancy, casual, short or maxi, in summer being able to pop on one thing – a dress – seems to underline the effortless style of the season.
Today I'm featuring one of the most popular styles from Queensland-based label, Bella Lido. Say hello to Molly.
The model
and me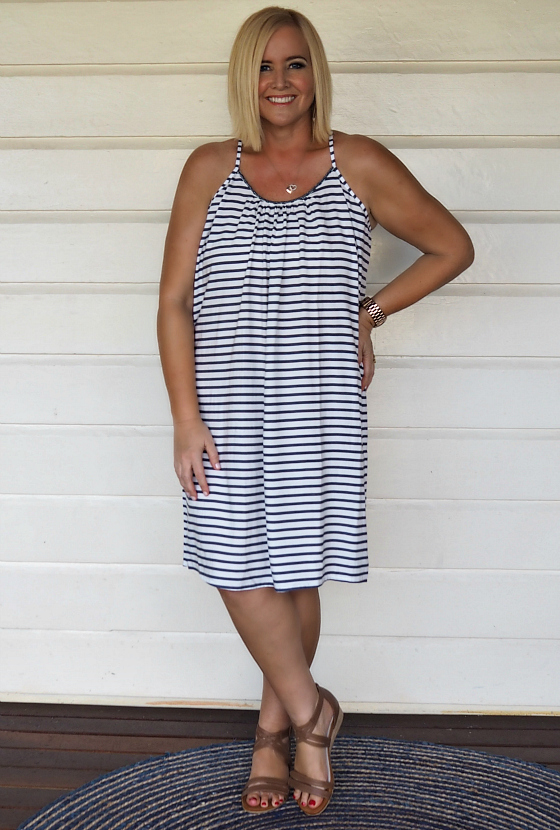 Bella Lido Molly dress $99 (I'm 166cm and wearing size L) | Frankie4 Footwear sandals (new-season in store soon)
Of course, Molly had me at stripes. If the dress is my default summer outfit; stripes are my default any-season pattern.
But you knew that, didn't you?
If you've previously bought this particular style, there's a subtle difference to this year's design, with the addition of feature beading at the neckline.
I know. A frock. With stripes. AND bling.
I love this woven rayon style for super hot days – and we have months of those hot days ahead.
The straps are adjustable and you can wear it loose and lovely as I've featured here or belt the dress around the waist or hips if that's more your style. The fabric belt comes with the dress.
With a dress with thin straps like this one, I either wear a bra with a similar strap colour to the dress or I wear this style of bandeau bra underneath.
I've got a 16D bust and it works. It's not as supportive as a strapless bra but I save my strapless-bra-wearing for dressier occasions. This dress is all about casual, so the bandeau works for me.
As for my arms being out and about? A bit like my attitude to swimwear, I just tell myself to get over it.
It's a casual dress. It's a hot day. Why swelter?
If the occasion was more formal or for an event where I wanted to feel my most confident, I'd probably opt for a different style of frock or add a half-sleeve cardi, shrug or jacket.
Are you summer-ready with a casual frock or two?
* These items were gifted to me for editorial consideration. Full disclosure policy here.
---
I'd love your vote!
I would so love your support and vote: Kidspot is hosting a competition where I have the chance to win $2500 for my charity – Dress for Success Brisbane – plus I would also receive a business grant, which I'd put towards my current project of creating a tool that will help make it easier for you to plan out what to wear each day. Click the image below or head over here to vote (you can vote as many times as you'd like). Thanks SO much. x