Sponsored by Katies
Dressing for spring is all about finding key pieces that work for YOUR lifestyle – every day.
You also want everything in your wardrobe to fit, flatter and be wearable.
You want pieces that can be dressed up or dressed down.
And you want on-trend clothes that are accessible.
That's not too much to ask, is it?
As part of my association with Katies this spring-summer, I headed in store last week to check out some of the October arrivals.
And I can tell you that all those asks can be answered with this iconic Australian fashion store.
What I found were more amazing pieces that transcend age. Yes, Katies continues to nail this season's key trends: from classic navy stripes and easy wearing chambray to chic cobalt paisley prints, refresh your style for summer with must-have blue hues … all part of the current Mediterranean Crush collection.
Read on to check out my current favourites and tips on how to make each look your own. And make sure you follow @katiesfashion on Instagram. This week I'll be sharing more style tips there.
Katies extended sleeve stripe top $39.95 (I'm wearing size L) | Katies stripe paisley scarf $24.95 | Katies a-line denim skirt $49.95 (I'm wearing size 16)
I've been a denim skirt lover since way back. They come and go with each season but this year they're very much front and centre as part of the '70s trend. Work back with blue, white and tan and you can't go wrong. This tee had me at STRIPES but it's a gorgeous cut and a beautiful fabric to wear. Cotton scarves are perfect as an accessory addition. In summer, I also use mine as sun protection across my chest when out and about.
Katies linen blend waterfall jacket $69.95 (I'm wearing size 14) | Katies back detail shift dress $69.95 (I'm wearing size 16) | Love K striped collar (worn in reverse) $39.95
This is the time of year that I always add to my jacket collection. The jackets in store now are perfectly light for spring (well, most of the year in Queensland!) and this linen waterfall style is ideal for popping on over the top of a shift – either to dress it up for a special occasion or as a work option when working in air-conditioning. The pattern in this dress is gorgeous and the shape is one that could also be worn casually with flats in the height of summer. Check out Katies' on Instagram later this week for a full-length view of me in this frock.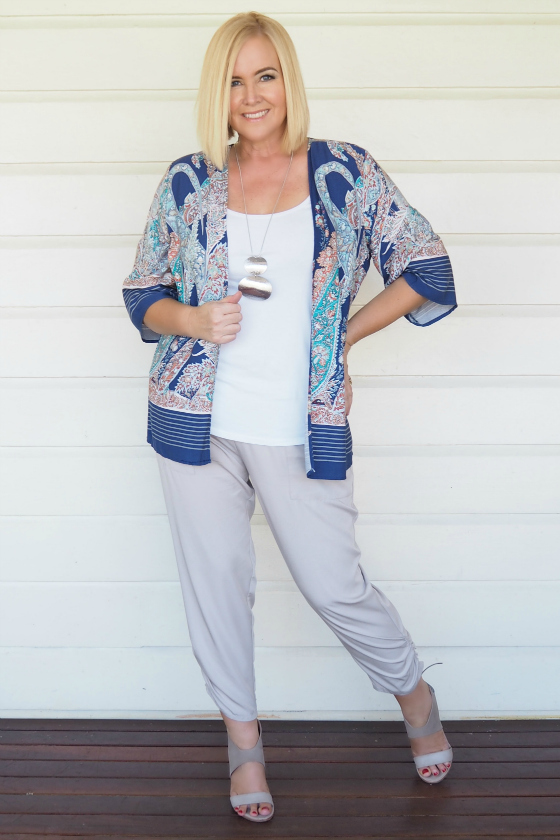 Katies placement print kimono $49.95  (I'm wearing size M-L) | Katies basic tank top $14.95 (I'm wearing size 1XL) | Katies zip detail pocket pant $59.95 (I'm wearing size 14) | Love K double drop silver pendant necklace $29.95
My love of the kimono is well-documented. This one is in the same print as the dress above and is an ideal show-pony piece for adding wardrobe personality to a basic tank and pair of pants. As an extra bonus, arms are covered and sun-safe. This style of pant is supremely flattering on most. They're semi fitted but drape beautifully, tapering at the ankle on me (which is ideal) and fabulously cool to wear on a hot day.
Katies 3/4 sleeve cotton tab shirt $39.95 (I'm wearing size 16) | Katies slim ultimate cotton jeans $49.95 (I'm wearing size 14) | Love K geo stacker cuff set $29.95
Cool cotton shirts in fun prints are wardrobe staples when the temperature heats up and you want to keep your cool. I love how this shirt sits in a semi-shaped way and you can't go wrong with black and white. EVER. The ultimate cotton jeans are the business. If you're shorter than me (166cm) check out the capri length as an alternative to full-length.
Katies lattice back maxi dress $69.95 (I'm wearing size 14) | Love K two-tone cuff $19.95
Nothing screams spring – or summer – like a loose fitting maxi dress. You can dress them up with heels and some bling or throw on over a swimsuit when on holiday at the beach. This particular maxi was one I tried on not expecting it to work for me but it does. The print is an exclusive print to Katies and there is gorgeous lattice detail at the back. I typically wear a bandeau-style bra with these styles.
A last word on accessories, the Love K accessory range in store at Katies is just fabulous.
New pieces have been added to the collection, some of which I've included in outfits above.
Remember, accessorising an outfit does take it to the next level. There's no need to over-think it either. Just get into the habit of adding ONE piece each day – yes ONE piece can make all the difference.
Follow on Instagram
I'll be back here on the blog sharing more of the Katies spring-summer 2015 fashion season with you next month, plus make sure you check out the Katies Instagram account this week. Each day, I'm guest posting there and sharing my key style tips with followers.
Been in store at Katies lately? Do you have favourite piece from these new arrivals? 
For more information and to subscribe, visit katies.com.au
PS. The winner of last month's Katies $500 gift card competition is K.Cole, NSW
Coordinated by The Remarkables Group