Sponsored by Olay 
If you're a regular reader around here you'll understand a few things about my philosophy when it comes to skincare.
Firstly, I think the number one key to a skincare routine working is actually having a skincare routine.
Secondly, I believe in simplicity of skincare.
Thirdly, I don't think it's necessary to spend hundreds of dollars – the beauty aisles of the supermarket or pharmacies are treasure troves of accessible beauty products.
So when the world's #1 female facial skincare brand Olay asked me to work with them and trial a new concept in skincare, my face was ready, willing and able.
My basic skincare routine always includes a cleanser, serum and moisturiser.
My NEW basic skincare routine includes a pre-essence.
Say what?
Yes, I know. It's an added step. I wasn't sure myself but hear me out as it's become my favourite step.
The product?
Olay Regenerist Miracle Boost Youth Pre-Essence (RRP $39.99)
Yes, that's half a bottle down – six weeks of evidence as to just how much I've been embracing this new step in my skincare routine.
Before I get into the results I've seen on my skin, let me shed a bit more light on this product and why it's a new essential for me.
Olay Regenerist Miracle Boost Youth Pre-Essence is the culmination of more than 10 years of research, involving over 100 Olay scientists who have conducted more than 50,000 hours of clinical testing with women.
Olay pioneered Cellular Bioenergetics research to discover the real cause of ageing: the slowing down of our skin cell metabolism over time. This prevents our skin cells from renewing themselves as easily as they did when we were younger.
Olay scientists designed anti-ageing actives that boost cell renewal for faster, noticeable anti-ageing results – and the Olay Regenerist Miracle Boost Youth Pre-Essence is key to setting up your skin to improve the penetration of those actives.
In a nutshell, this pre-essence boosts the power of the serum and moisturiser you layer on top afterwards.
This video shows how simple it is to use and get the right amount for each application:
If you wanted to still keep it simple and get results, just combine the Olay Regenerist Miracle Boost Youth Pre-Essence with the Micro-Sculpting Cream (RRP $48.99 – also available in fragrance-free).
This duo has been dubbed the new Olay Regenerist Miracle Duo – and for good reason.
Regenerist Micro-Sculpting Cream is Olay's most advanced anti-ageing cream
When combined with the Miracle Boost Youth Pre-Essence, it is proven to boost cell renewal and provide two times more anti-ageing active penetration.
The key actives in the duo are: Niacinamide (Vitamin B3), Olive extract (Olivem), Amino Peptides, and Dill Seeds Extract (Lys'Lastine) and Hyaluronic Acid. These work in a unique combination to speed up the renewal of skin cells, protect skin from free-radical damage, repair and enhance the skin's elasticity.
The results
The below photo is me, sans makeup and without any re-touching.
Don't get me wrong, I love my makeup and putting on a face like the next vain woman but I don't think that helps in trying to illustrate the benefits of a skincare product.
Yes, makeup will look – and sit better on the skin – when your skin is at its optimum but essentially it comes down to how it looks WITHOUT foundation and other makeup on.
So here goes …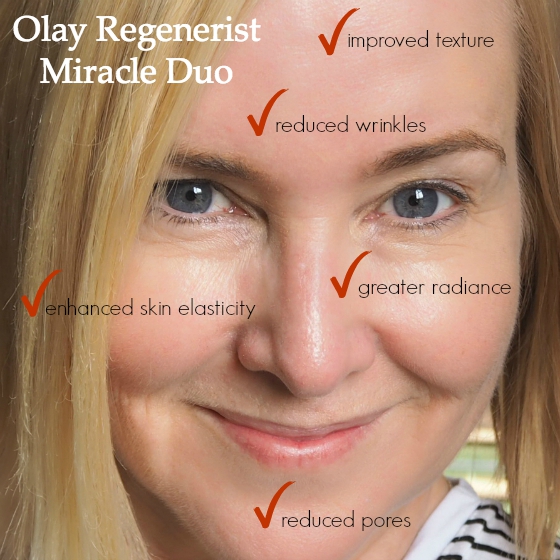 As someone who's closer to 50 than 40, I'm very happy with how my skin is holding up.
It's all thanks to my skincare philosophy I outlined at the start of this post.
It's also thanks to that aforementioned vanity – that's the reason why I'll happily give new products like Olay Regenerist Miracle Boost Youth Pre-Essence a try.
I truly noticed a difference from the first day after using the Miracle Duo (Pre-Essence and Micro-Sculpting Cream) and certainly over time there has been a significant improvement in my skin. I've actually been unwell for two months and normally my skin would have suffered as a result but it's appeared quite the opposite and I can only put that down to the Olay Miracle Duo combination.
My skin is more refined, radiant and smooth.
I may not be able to stop getting any older but I may be able to slow down how that looks on my skin.
WIN
Thanks to Olay, I've got 5 Miracle Duo packs (Olay Regenerist Miracle Boost Youth Pre-Essence and Micro-Sculpting Cream) valued at $89 to give away to Styling You readers.
Simply answer this question in the comments below (the five winners must be willing to share their findings on the using the product with Styling You for possible inclusion in a future blog post).
Why does your skincare routine need the Olay Regenerist Miracle Duo?
Entries open Thursday, September 3 at 5am (AEST) and close Thursday, September 10 at 5pm (AEST). Australian entries only, sorry. The winner will be judged on originality and creativity (photos can be included and uploaded with the comment). The winner will be emailed and their name will be published here. Entrants must include an email address when the filling in the commenting system below to be eligible to enter. Full terms and conditions here.
I'll be checking in with you again and sharing more about my full Olay Regenerist skincare routine next month. I can't wait to hear your thoughts as well.
The Olay Regenerist range is available online at www.olay.com.au as well as in supermarkets, pharmacies and mass channels.