I'm heading to the annual Women in Focus conference today.
This year it's just up the road in Noosa and it's the first time I've been invited.
To say I'm excited is an understatement. Two and a half days surrounded by inspirational business women from all around Australia? Yes, that's got me peaking.
Mr SY is joining me on Friday and Saturday to celebrate our wedding anniversary so all up I'll be away four nights.
I'm spray-tanned up and ready play resorts when not in conference sessions.
Last night I spent way too much time packing. There is no capsule happening, I can tell you that for sure. I'm taking more on this trip than I did for three weeks in Europe.
One of the many "essentials" that had to come with was the white Surafina jacket, currently for sale in the Styling You Shop.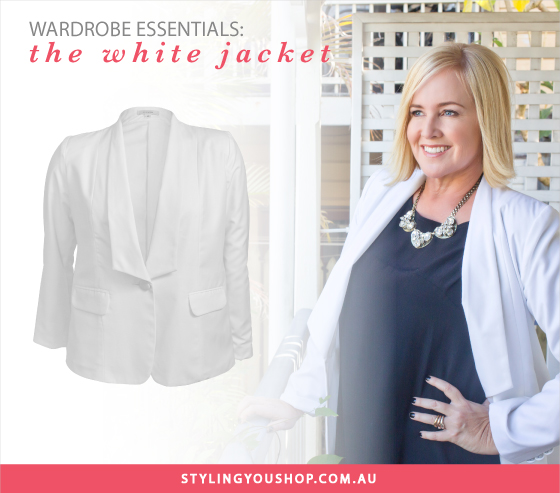 I'm obsessed with a white jacket. It's the blazer to take your winter wardrobe into spring summer.
It just freshens and crisps up any look.
This one ticks all my white jacket boxes – and more.
The shape is tailored but not constricting and the length is just right.
I love the single button and wearing the button done up adds even more shape to the jacket.
The fabric is 100% lightweight wool and fully lined so it's cool and breathable to wear.
You don't have take it to the dry-cleaners either – great to know for those like me who have a magnetic attraction to food while wearing white.
Roll-up the sleeves for a flattering and even cooler way to rock this style.
For more tips on how to wear a white jacket read on. We've got almost every occasion covered.
The office – corporate
1. Surafina white jacket $189 | 2. Surafina scarf (sold out) | 3. Surafina dress $169 (limited stock left)
Nothing says you mean business like a jacket. Ditch the dark colours of winter and opt for a white blazer instead. Work it over a LBD, add a scarf and you're ready for whatever the day throws at you.
The office – casual
1. Surafina white jacket $189 | 2. Frokk tee at Bell and Ford (limited stock left) | 3. Surafina pants $89 (limited stock left) |4. Louenhide bag $89.95
I work from home and occasionally head out for meetings. This is typically how I'll transition my work-at-home outfit into a meeting outfit. Yes, I just add a blazer. Too simple.
Weekend casual
1. Surafina white jacket $189 | 2. Frokk tee at Bell and Ford (limited stock left) | 3. Surafina scarf (sold out) | 4. Bohemian Traders shorts $109
Who says blazers can't be all about the casual? This outfit will take you from hanging at home to out to weekend brunch, thanks to the addition of the white jacket and scarf.
Evening out
1. Surafina white jacket $189 | 2. Frockk at Bell and Ford top $159 | 3. Surafina pants $89 (limited stock left) | 4. The Adorn Collective necklace (sold out)
Take your white jacket out after dark and you will not be disappointed in its ability to turn heads. Team with a black sheer top – I'm so in love with wearing this Frokk one pictured from Bell and Ford – and a long necklace, pants and heels. Smokin'! Somebody better have your first cocktail lined up and ready for you on the bar.
Are you a fan of the white jacket?
More: How to work this white jacket into a 17-piece capsule wardrobe
Special offer
Throughout the month of the shop, spend $250 in one transaction and you'll receive a FREE copy of my book, Unlock Your Style. One book per customer.
WIN
Share your spring 2015 Styling You Shop purchase on Instagram or Facebook with the hashtag #stylingyoushop (please tag @stylingyou as well) and you will be in the running to win a $250 voucher to spend in the summer 2015 Styling You Shop. Entries close when the shop closes, September 30. The winner will be judged on creativity and originality. She'll be notified via Instagram or Facebook and her name will appear here.