There is one very important thing that guides us each day as to what to wear.
Yes our body shape, personality, an occasion and our lifestyle do influence our outfit choices but the biggest influencer of all has to be the weather.
I'm a weather app nerd. SERIOUSLY. I even have a folder on my iPhone dedicated to weather apps.
It's where I head when I'm planning what to wear the next day, that evening or for a holiday or weekend away.
Why?
Because it gives me a baseline starting point as to the type of clothes I'll need to wear or take with me.
Apart from yesterday where the temperature in my driveway reached the low 30s, we've had a very mild start to spring in Queensland.
Everything is relative of course – our minimums are still higher than maximums elsewhere but it has caught me by surprise.
Well almost …
What's been saving me from a weather-malfunction is the Everyday Cashmere knit  – currently for sale in the Styling You Shop.
When I chose this knit to include in the store, I knew my southern sisters would be of greater need but I wasn't confident I'd get many opportunities personally to wear it (until next winter). How wrong have I been.
It easily folds up into my handbag and thankfully I included it in my suitcase for last week's work/play trip to Noosa. The wind was icy. And the sun kept playing hide and seek. I got a lot of use out of this piece.
I know I'll be packing it to take on our beach holiday in January too for those evenings where the sea breeze comes in from the south.
I love the feel of cashmere – it has none of the scratchiness that I can get from wool.
I love that it never feels too warm but can be super cosy.
It's the perfect "on-demand" light layer.
This style of knit is also super flattering. It's slightly relaxed so has a casual elegance to it. If you prefer a more fitted style, buy down a size.
Wear it on its own or layer over a tee or shirt.
This colour is universally flattering and a beautiful neutral alternative to black for spring/summer.
For more tips on how to wear a cashmere knit, read on.
Late afternoon drinks
1. Everyday Cashmere knit $285 | 2. Bohemian Traders dress $129
No need to hide your cashmere knit in your bag. Sling over your shoulders for a preppy chic look that means you're always looking accessorised but ready for a drop in temperature when the sun goes down.
Weekend brunch
1. Everyday Cashmere knit $285 | 2. Sacha Drake jumpsuit $249 | 3. Read & Bell scarf $75
So the days are still quite cool where you are? Add on a cashmere knit and scarf to the oh-so-versatile jumpsuit and you're ready for weekend brunch. Shhh … between the jumpsuit and the knit, it will still feel like you're out in your pyjamas. Winning.
Beach evenings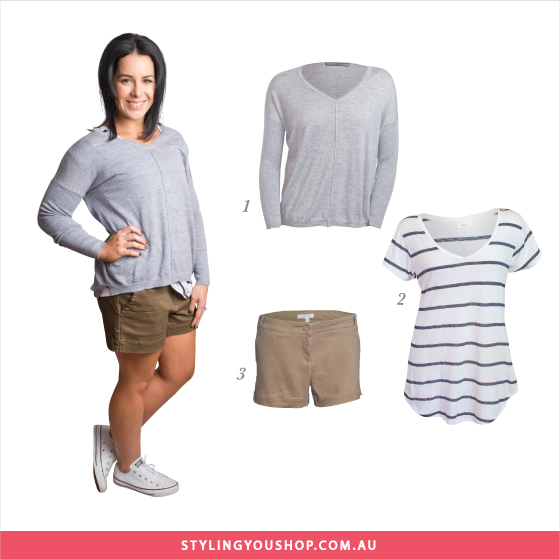 1. Everyday Cashmere knit $285 | 2. Frockk tee at Bell and Ford (limited sizes left) $79 | 3. Bohemian Traders shorts $109
This is the ideal outfit to have at the ready for a weekend or holiday at the beach. As soon as the sun disappears and the sea breeze whips up, pop on the knit for drinks on the beach. You still look fresh but feel toasty under cashmere.
Casual office
1. Everyday Cashmere knit $285 | 2. Surafina scarf (sold out) | 3. Surafina pants (limited sizes left) | 4. Louenhide bag $89.95
This is the type of outfit I'd wear for working at home on a cooler spring day. For a meeting out I'd simply pop on the scarf, heels, grab a bag and I'd be good to go. You feel dressed up because of the fine texture of the knit.
Are you a fan of lightweight knit?
More: How to work this white jacket into a 17-piece capsule wardrobe
Free shipping
Until midnight tonight, September 23, enter the code SYLOVESCASHMERE and get FREE shipping. Discount code must be entered at checkout for the offer to apply.
Special offer
Throughout the month of the shop, spend $250 in one transaction and you'll receive a FREE copy of my book, Unlock Your Style. One book per customer.
WIN
Share your spring 2015 Styling You Shop purchase on Instagram or Facebook with the hashtag #stylingyoushop (please tag @stylingyou as well) and you will be in the running to win a $250 voucher to spend in the summer 2015 Styling You Shop. Entries close when the shop closes, September 30. The winner will be judged on creativity and originality. She'll be notified via Instagram or Facebook and her name will appear here.