Sponsored by Olay 
Layering clothes is one of the most effective ways that you can lift an outfit to the next level.
Don't believe me?
Stand in front of a mirror in a pair of jeans and a t-shirt. Then add one thing. A scarf maybe?
That one thing completely changes how "put together" you look. Add another layer and you lift it all again.
The same can be said for skin care. How you layer skin care products can make a huge difference to the end result – on application and over time.
Now you know I'm all about simplicity when it comes to anything in the beauty department, so stick with me … layering doesn't have to be a laborious affair.
It's just about choosing key products that work for you and fit your budget.
Then you just have to use them. Consistently.
YES you have to have a solid routine in place to ensure long-term success with your skin care goals.
I introduced you to the Olay Regenerist Miracle Duo here.
These are two products I've been layering consistently for the past couple of months but that's not all I've been layering.
I've been layering four or five Olay Regenerist products each morning and night.
It's a super simple and effective regime I've got going on so I thought I'd share that with you in this post.
When layering skin care – after cleansing – you should always start with the most lightweight product first and work your way up in thickness.
This is to ensure that every product is properly absorbed and that the last step provides a protective barrier against the environment.
Step 1
Cleanse with Olay Regenerist Revitalising Cream Cleanser $15.99: more *ahhem* mature skin is generally drier. You need a cleanser that does the job without drying out your skin further. This is a gentle exfoliating cleanser that you can use every day. Oxygenated derma-beads cleanse and gently smooth the skin. It's working on renewing skin cells by first exfoliating the dead ones and then regenerating the lives ones at a cellular level, while leaving it hydrated.
Step 2
Treat with Olay Regenerist Thermal Skin Polisher $19.99: you can use this product every day but I use it a few times a week – the effect is like giving your skin a mini peel but at home in the shower, not a salon. I use it after cleansing. You dab it on your wet face and then massage it into your skin. It literally heats up as it makes contact with the water on your face and fingertips. Its active ingredients for giving your skin a revitalised look and feel are glycolic acid and a micro-crystal complex
Step 3
Apply pre-essence with Olay Regenerist Miracle Boost Youth Pre-Essence $39.99: this is the new kid on the block and boy is my skin hooked on it. Its chief job is to set your skin up to better receive and let penetrate the key actives you layer on your skin afterwards. The skin cell renewal process – and smoothing – begins the moment you apply it. I cannot imagine NOT including this step in my routine. It amplifies the results of what is layered next.
Step 4
Apply Serum with Olay Regenerist Micro Sculpting Serum $52.99: serums have long been a part of my skin care routine. This fragrance-free one harnesses the power of Olay's signature amino-peptide complex, containing the highest concentration of this complex across the range. So what's a peptide complex do? It continues the exfoliation and smoothing business you've started with the other products. It then reduces fine lines and wrinkles with moisturisation and it hydrates the skin for more suppleness, preparing it for the next product layer.
Step 5
Moisturise with Olay Regenerist Micro Sculpting UV Cream Moisturiser SPF30 $52.99 (day) or Olay Regenerist Micro Sculpting Cream (night). Both work to give your skin a more youthful appearance. Both hydrated and firm. Both work on lessening fine lines and wrinkles. All thanks to the concentrated amino-peptide complex and hydra-firming complex in the formula. I find the day moisturiser brilliant, as it's not too heavy and has the all-important SPF going on. At night I love applying the Micro Sculpting Cream. It's like I'm sending my skin off to sleep in a loving and nourishing way.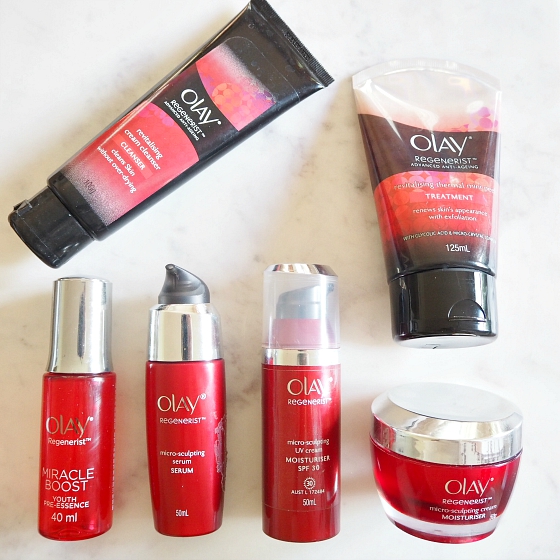 The results
I do feel that this combination of products has had an effect on the overall appearance of my skin.
I have had my usual monthly facial during these two months of trialling but that is nothing out of the ordinary to my regular skin care routine.
There is a freshness about my skin that is noticeable – and that's really saying something because I've not been 100% health wise since coming back from Europe in July.
My skin FEELS smooth as well. Not squeaky clean smooth but hydrated and plump smooth.
On the budget side of things, I'm yet to run out of any of the above products. The pre-essence and serum will probably be the first I need to re-stock.
And re-stock I will – because it's a routine that's working for me.
Styling You testers
Winners You don't have to take my word for it though.
These five Styling You readers have each won Olay Regenerist #MiracleDuo packs:
Yvonne Duke, QLD
Libby Boyle, NSW
Karen Collins, ACT
Eva Kiraly, QLD
Tracy Sherlock, NSW
I'll be checking in with them to see how they've gone with the products.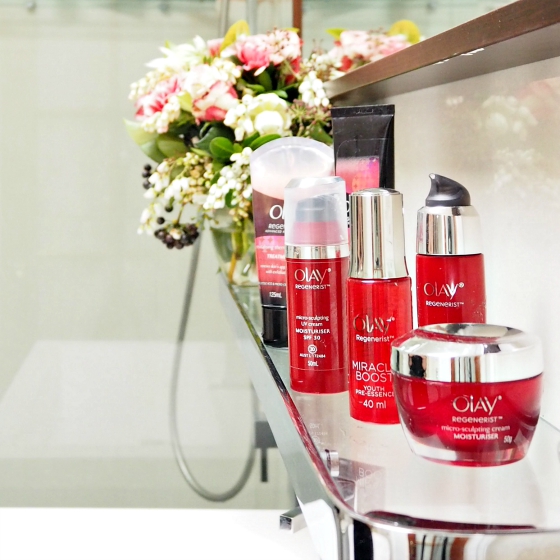 So tell me, have you tried any of the products from this range? Do you have any questions about layering your skin care products?