Sacha Drake has long been my go-to designer when it comes to special occasion wear.
The Brisbane designer just knows how to create timeless garments for women to suit all different shapes.
She consistently produces collections that have the ability to make you feel comfortable AND glamorous.
This is not an easy feat but if you find yourself with a special occasion invite then you want to feel as comfortable as you can – so you can feel confident for that occasion.
This was just how I felt wearing the Prunella last Thursday night for the Queensland Telstra Business Awards (photos and details here).
Prunella is just one of many of Sacha's new designs that feature a glorious shade of blue.
In this post I'm featuring another – a skirt with a nod to vintage styling.
The model
Sacha Drake 3/4 shirt | Sacha Drake Gallery Hop skirt (it's also available in a taupe with metallic sheen)
and me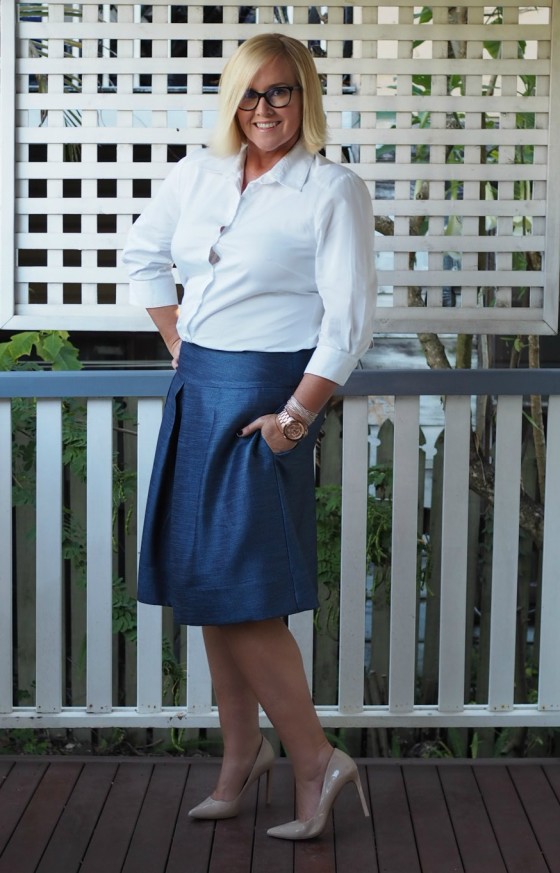 Sacha Drake shirt (I'm wearing size 16) and skirt (I'm wearing size 18) | Nine West heels | Swarovski bracelet | Prada glasses
I must admit I fell immediately in love with this design.
Back in the '80s, the way I was able to cost effectively stretch my checkout operator part-time wage into a wardrobe for an up-and-coming fashion obsessive, was to make my own clothes.
I knew my around a McCalls pattern like nobody's business. And if I started on a project, I had to finish it that day.
This did nothing for the overall quality of the finished product but it reduced any delays in being able to wear said project.
Anyhoo, one of the projects was a drop-waist skirt. I made the pattern in black and a cornflower blue.
So when I stepped into Sacha Drake's Paddington boutique and saw the Gallery Hop skirt, I knew I had to make her mine.
Apart from the thick, woven fabric that ensures the skirt sits well, it has a gorgeous blue metallic sheen, offering all kinds of dress-up/dress-down options.
It also is made way better than my rudimentary attempts on the Elna.
The reason this style appealed to me now – and back in 1983 – was that with the wide, flat waistband, it allowed this wide-hipped girl to wear a pleated style of skirt without adding width to my hips.
Oh, and did you notice, the skirt has pockets? Winning.
I've worn it here in a classic style that would work for the office or a lunch out. Add a blinged-up statement and you could take it out for drinks after work too.
I've chosen to buy up a size with this skirt, opting for the 18. The reason being that I prefer to wear my skirts and pants slightly lower on the waist and the larger size means I can do that. It helps to give an illusion to a longer torso.
If you are a skirt lover, you'll be pleased to know that after a few seasons in the wilderness, the skirt seems to be back.
Embrace it as an alternative to the frock!
Do you like to wear skirts? What's your favourite style? Did you sew back in the day? Still do?
* The shirt was gifted to me as part of the first Styling You shop. I purchased the skirt. Full disclosure policy here.