Editor's note: Please welcome today's guest blogger: Kristie Castagna from Elements at Home. Kristie is a professional blogger, interior stylist and colour consultant so who better to give some advice on arranging your walk in robe to get the most out of the space?
Your walk in robe can be stylish and designer, but mostly it's all about its function. Personally I think it also needs to play its part in protecting us from complete clothing chaos. Thinking about those two statements, what can we do to keep it looking somewhat organised and a little bit creative without it looking like a complete functional mess of clothes, ironing and shoes. Let's also agree that those days we put on a billion outfits, seven pairs of shoes and three jackets before feeling partially ready to go… we should at least have an easy way of rehanging, re-sorting and re-ironing when we get back.
When I first moved into my new home I was lucky enough to find a wardrobe fit out company that installed a simple white set of shelving, drawers and hanging rails for under $1900. Fairly affordable in today's wardrobe fit out market and compared to the shelf and rail that most builders offer as standard, much more functional. Either way it was a big  huge massive step up from my previous wardrobe space and I was overwhelmed with how to use it. After living with it for a year I finally took the time to reorganise it using my own favourite walk in robe fit out tips and made it a much more usable, organised space with a touch of Pinterest worthy prettiness…just a touch. Can I add in right here that if you have a spare room/office  doing absolutely nothing you may see this as the perfect way to fit it out 😉
One way to instantly make your robe feel more organised is to buy all the same hangers. Get rid of your wire/plastic/timber mix and buy a bunch of clip hangers and shirt hangers and swap them all over. This is an instant update, the more refined mix of different 'things' looks less cluttered… trust me it just does. I got my hangers from Bunnings and it was as simple as saying to my Hubby "when you go to Bunnings can you please grab me a pack of those hangers before you leave". I did this over a series of months and eventually I had swapped them all out. Wherever you get yours from they are fairly cheap to buy these days and bit by bit will be more achievable than not at all.
I made sure all the shoes were together and I had to turn one of each of Hubby's shoes as they wouldn't fit the width as I had first planned when swapping them over for where they were previously kept. I engaged a helper to transfer all the costume jewellery and put all the scarfs in the basket as she wanted to play dress ups while I was in there.
Another handy tip is to clip all your pants facing the same way and towards one side of the pants. This allows you to see each pair of pants/skirts/shorts you have without having to flick through and find the hide and seek pairs you have pushed to the back.
The top is for all my decorator items that are used for staging photos, and my own 'extras' during styling and helping my clients with visual inspiration. Now for the drawers side of my robe.
The shelves are in a his and hers configuration, and my side includes fitwear with my roller, hats and tees, then bags, sheets and quilt covers that I use for our bedroom. His side has all his workwear, bags, his spare pillow (I swap his around for washing), his backpacks and a set of plastic draws that I put all the clothing/shoes receipts in when they arrive home. My help increased and the workload doubled as Miss3 decided to start going through all the receipts; 'helping' I think she called it.
We have our essential full size mirror in our robe. We have our scales in here, and towels hooked as we had no room for a towel rail in our en-suite (for those wondering we have another hook in our shower that we hang it up on while we are showering ) and my ironing press… yes I am one of those 50% that irons as she goes.
Obviously this layout is not going to suit everyone but the ideas are all there to help you feel organised. The main helpful hints are:
All the same hangers
Storage for separating accessories like belts, scarves, shoes
A full sized mirror
Separate space for shirt hanging, pants/dress hanging, folded items and jewellery storage
Group your clothing items such as exercise, work, colour, or by use (I do this for Hubby's side as he wears the same six outfits pretty much week by week)
Cull clothes to Vinnies if you haven't worn them for two years or more.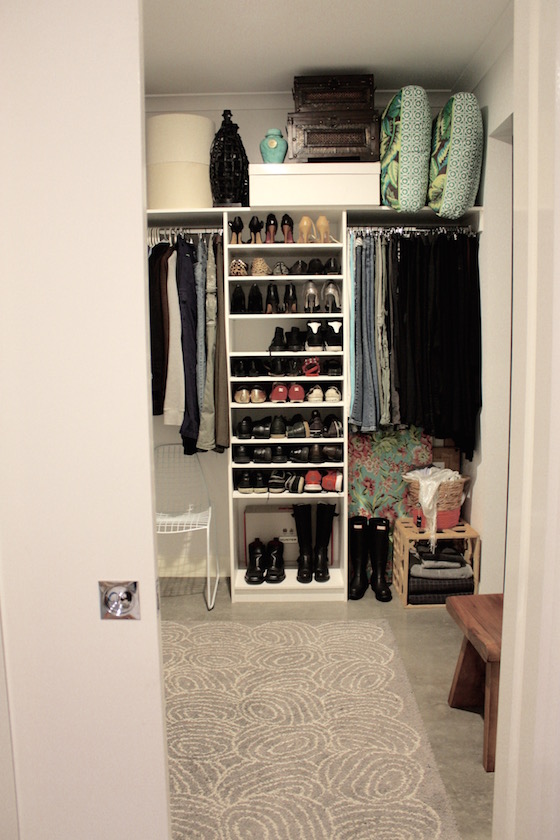 One week on and apart from Hubby trying to sneak his uggboots into my shoes shelves (first world problems right) all is running smoothly. I have been struggling a little to reach my clothes over the ironing press but I have just moved the clothes I don't wear all that often. So all is good in my wardrobe world.
Do you have a fabulous design idea in your walk in robe that you can share with the rest of us?
Kristie Castagna spent 12 years as a Visual Merchandiser enjoying styling and retail focused design and its many diversities before starting her blog Elements at Home. She is an interiors stylist, colour consultant and professional blogger – not to mention mother and wife. She can talk design for days if you corner her at a party!