We spent the weekend 1000m above sea level in the Gold Coast hinterland.
More to come on that later in the week but I have to say I did enjoy the cooler temperatures.
It was like our last blast of winter. We cranked the fireplace up and enjoyed the non-humid air.
Driving home down the mountain, watching the temperature gauge in the car rise by the minute, it felt like we were motoring on into spring.
A quick check of the weather app confirmed that it was the case, with tops of high 20s predicted in south-east Queensland for the week ahead.
I find that layers come even more into play during this cross-over seasonal period. I've said it before and I'll say it again, the jacket or blazer is one of my key layering pieces.
It can take a casual outfit to smart in one easy addition. And this one from the Bird Keepers label at Birdsnest is no exception.
The model
Bird Keepers at Birdsnest jacket $89.95, tee $39.95 and shorts $69.95
and me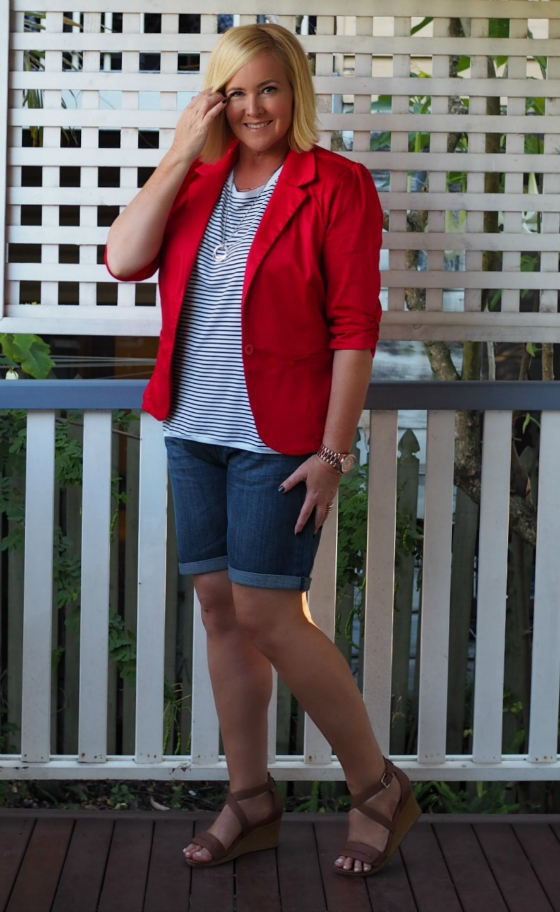 Bird Keepers at Birdsnest jacket (I'm wearing size 16)*, tee (I'm wearing size 14)* and shorts (I'm wearing size 16)* | Frankie4 Footwear wedges (available October 2015) | Uberkate necklace
The shape of this jacket (it's back in stock!) is fantastic and the three-quarter sleeves with shirring so flattering. And it's doing the thing it's designed to … taking a casual outfit to the smart level with a little structure and a pop of colour.
Let's talk about the tee and the shorts. Wardrobe essentials, my friends. Yes, they are.
You can never have too many striped tees. Love the quality and cut of this one.
As for the shorts, I know wearing them scares many. I gave up all my fears long ago. It gets way too hot in summer for me to be worrying if my legs are shorts-worthy or not.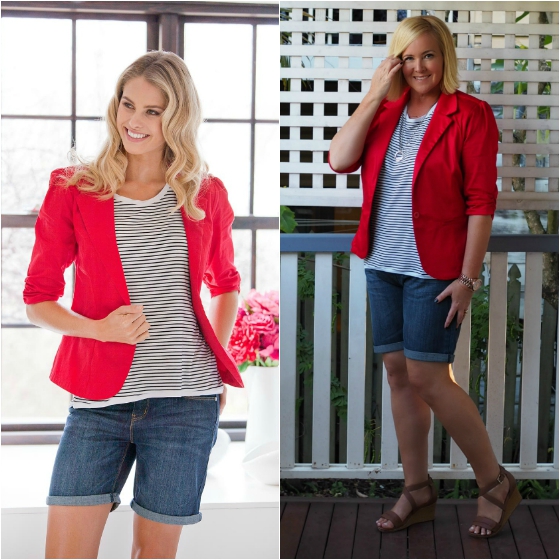 Is spring heading your way this week? Any glimpses? 
* These items were gifted to me for editorial consideration. This post contains affiliate links. Full disclosure policy here.