I thought I was being super clever escaping the Australian winter for three weeks.
In my head, I'd waltz on back from the south of Italy, all glowing and ready to embrace the new fashion season ahead.
WRONG.
No, as a major reality check, Queensland – and the entire Eastern seaboard of Australia – was hit with a record-breaking cold snap.
Hello! What exactly did I wear to keep warm before I packed up my summer travel capsule wardrobe?
Day by day, I've been reacquainting myself with the winter section of my wardrobe, reminding myself that while I may not be able to feel my feet or hands, that I do LOVE dressing for this time of year.
I love the layers. I love the muted colour palette. I love wearing scarves. I love wearing pants and tights to hide a lack of depilatory action. I love wearing closed-in shoes to hide a lack of pedicure action.
Mostly, I love that it's much easier to look dressed up in winter than it is in summer when more than one layer can be stifling.
But, what if, unlike me, you haven't had a three-week break from your winter wardrobe?
What if you're getting mighty bored with your tried and true winter wardrobe essentials?
Well, you've come to the right place. In this post, I want to offer up some simple tips for changing things up in your winter wardrobe as well as share some styling inspiration from the real women of #everydaystyle (each day women from around Australia share their outfit via this hashtag, a campaign I started at the end of 2013 – you can search and follow along on Instagram).
5 tips for keeping your winter wardrobe fresh
1. Do a wardrobe edit. This might seem like a crazy thing to do mid-season but I say any time is a good time to de-clutter, re-organise and really remember what's in your wardrobe. I found a knit I'd forgotten about but love wearing by doing this when I got home from our trip. You'll find my key wardrobe editing tips here.
2. Plan your outfits. I'll admit it, sometimes my planning happens while I'm in the shower, ie five minutes before I'm due to get dressed, but the whole mixing it up in the outfit department thing happens a whole lot easier if I think ahead. Sometimes I'll do a rough plan for an entire week if I've got a lot of different events and meetings on. Even if I've thought out the outfit the night before, I have more success in putting together something that feels right for what the day holds for me. I use the weather app to check for forecast temperatures/rain etc and then base my outfit on what I'll be doing.
3. Photograph your favourite outfits. You know that feeling when you put together an outfit and feel REALLY good about it. To help remember that feeling and associated outfit, take a photo of it (either on you or the pieces laid out on your bed). Save those photos into a dedicated album on your phone and you'll have photographic prompts ready to go next time you're standing in front of your wardrobe scratching your head and wondering what to wear.
4. Mix it up – on purpose. This is something that I try to do – especially as I share my outfit every day on Instagram and Facebook! If I feel I've worn pants too many times in a row, I'll consciously mix it up with a skirt or dress combination. It might seem forced at first but it's a good habit to get into to stop wardrobe boredom setting in. It also ensures you wear more of your winter wardrobe, not just the things that are super easy to grab and put on each day.
5. Buy something new. Notice how I left this tip until last? There's a good reason for that. For starters, I'm a big fan of making the most of what you already have before hitting the shops. Besides, the really warm winter clothing will no longer be in store for you to buy. The stores have moved on to early spring releases. So if it's really, really cold where you live and it won't be warming up any time soon, try to limit any new purchases to things like scarves and accessories. If you live in the northern parts of Australia, spring usually kicks in on cue at the end of August. When buying new pieces, seek out garments you can layer up now but things that will serve you well for spring. During this trans-seasonal period, you'll see a lot of black and white and denim/chambray around. If this is your thing, now is the time to stock up (#notetoself).
Shopping suggestions
Consider these shopping suggestions boredom busters for your winter wardrobe. Yes, they'll add some freshness to your existing winter offering but they will also work for you as you head into spring.
The monochromatic and indigo/denim colour palette is very strong in store at the moment. It's not only trans-seasonal but also classic so these are buys that will serve you for many a season to come.
1. Sacha Drake dress $229 | 2. Blue Illusion shirt $149.95 | 3. Belle Bird top $69.95 @ Birdsnest | 4. IVYS scarf $39.95 @ Birdsnest | 5. Veronika Maine dress $219 | 6. Metalicus skirt $139.95 | 7. Sussan pant $99.95 | 8. Katies longline cardi $29.95
Styling inspiration
If it's real-women style inspiration you're after, you've come to the right place. At Styling You, we believe that every woman is real – every size, age and shape – is inspiration to this community. Here is some winter wardrobe style inspiration from just a selection of the women who share their #everydaystyle outfits. Hope they give you some ideas to keep you excited about your winter wardrobe as we say goodbye to July and head into August. Click on the links to their Instagram accounts below each photo to follow and find outfit details.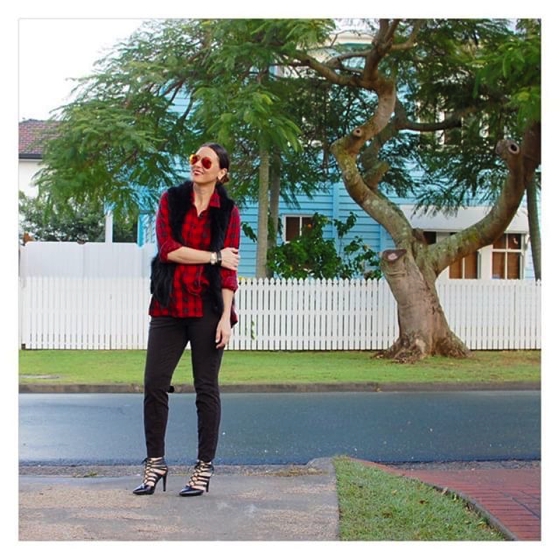 Feeling inspired? Feeling like you can approach the rest of winter with a fresh take on your wardrobe? What tips do you have to share that help you maintain excitement for your winter wardrobe?
* This post contains affiliate links. If you happen to click on one of these links and buy something from the store, I'll receive a small commission.