Editor's note: please welcome stylist Sally Mackinnon with a guest post about trench coats. Sally is an experienced personal stylist based in Melbourne. A leader in her field, Sally is renowned for helping women of all shapes and sizes dress with style and confidence so that they look and feel great every day.
The trench coat is making its way back into wardrobes as one of this season's must have items. Or did it never leave? It has shown up on the runways of Paris and New York in the latest fashion shows and it's easy to see why.
Not only a fashion statement, keeping you at the height of this season's trends and looking fabulous, the trench coat is also highly practical. Whatever the weather presents you with, from chilly winds to rain and hail, your trench will stave off the drenching you are likely encounter.
With layering becoming such a fashion focus this season, the trench coat is the ideal layering companion. It is not heavy nor is it bulky, and it can work as a feature item or simply as an extra layer to your look.
If you're stuck on which trench is best for you, always go with a classic style. Not only will it see you through the season, it's a piece you can't go wrong with.
The trench coat has a classic shape which flatters most body types. Calling on its military heritage, the coat has wide lapels and sometimes adds epaulettes on the shoulder, too.
The classic trench has a belt or tie around the waist, giving you a shapely look. Choosing whether or not to belt or tie loosely at the back can depend on your shape and the occasion.
Trenery classic double breasted trench in stone
Women with larger busts or bigger tummies should avoid belting a trench coat as it will only add bulk to this area of your body that may already be your widest. Instead, tie the belt loosely at the back, drawing the sides of the trench in creating less bulk and more shape.
There is also the single or double breasted option to consider. Petites are best suited to a single breasted style because it contains less fabric and won't overwhelm a small frame. Taller builds can pull off the additional fabric and bulk of a double breasted trench.
Sportscraft single breasted trench in navy
When thinking about the colour of your trench, your best option is to choose a neutral tone like navy, black or stone. This means you'll be able to dress it up or down, and wear it with just about anything.
The classic cut of a trench will also allow you to look sophisticated when the situation calls, and can be utilised as a casual coat for after work or heading out on the weekends. Perfect for that mid-season wedding where you need a dressy overcoat for the church but don't want to spend a fortune on a new coat.
When considering length, think about the purpose of the jacket. Is it mainly for casual, everyday use or for your corporate and smart casual lifestyle?
A trench coat that falls mid-thigh is most practical for casual wear; running around kids after school, meeting friends for coffee or travelling. A knee length trench is dressier, more formal looking and will serve your purpose well should you need a smarter look.
If you want to experiment with your look, this season's trench coat can be vibrantly coloured or even patterned. It can be a cropped jacket length or reach mid-calf length.
Another trend this season is the draped trench. A much more fluid style that is soft and feminine but with the usual characteristics like a belt, wide lapels and epaulettes on the shoulders.
Trenery tencel draped trench in grey
Team with tailored trousers or for a really great look, wear it open to show your dress underneath. Add some ankle boots or chunky heels, and a dark coloured opaque or patterned tight to complete the look.
In short, your classic trench coat is the ultimate multi-tasker; suitable as both a highly fashionable wardrobe essential for any occasion and the ideal overcoat for inclement weather.
There aren't too many wardrobe items that are quite so useful or perennially popular!
Are you a fan of the trench coat?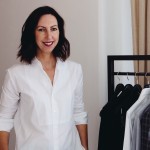 Sally Mackinnon is an experienced personal stylist based in Melbourne. She heads up a team of stylists at Styled by Sally offering the widest range of personal styling services to women, ranging from stay at home mums, professionals, students and retirees. And if your other half needs a style makeover, Sally is also Melbourne's expert stylist for men.You can follow Styled by Sally on Facebook, Instagram and Twitter