This would have to be my biggest packing challenge to date.
Well, since I started seeing every trip as an opportunity to better myself in this game the experts call packing light.
I need to be upfront with you from the outset, if you're looking for a "how to pack for three weeks in Europe with only carry-on luggage", you've come to the wrong place.
I'm getting better at streamlining my clothing needs while travelling but I've not achieved that apparent holy grail. And I don't ever aim to achieve that for any trip longer than a couple of nights.
It's not in my nature.
So, if you're interested in how to streamline what to pack for a European summer holiday when luggage is limited to 20kg and the weather will be cool (UK) and hot (Italy) – or you just want to have a sticky at what I'm taking – then you are in the right place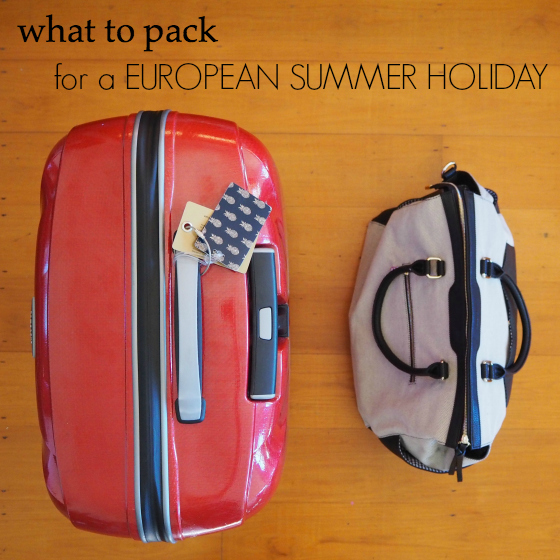 Samsonite 75cm suitcase (bought on sale after Christmas – this case has been on four trips with me now – it's the perfect size and I love its lightweight rugged design) | Custom bag tags* (buy here)
Tips
I followed all the tips I outlined in this post – 9 tips for packing clothes.
Perhaps the most important of those nine tips has been tracking the weather at the various destinations in which we are spending our time.
The weather in London (mid-summer) is actually the same as what we're experiencing in winter in Queensland right now. Further north in Sheffield, it's colder. Once we head to Paris and Puglia in southern Italy, it very much warms up to Queensland spring and summer temperatures.
Therein lies the packing challenge. Having clothes I can layer up for the first week and then pare back for weeks two and three has been key to putting together this capsule travel wardrobe.
Let's get down the the nitty gritty, shall we? I've broken down what I've packed into categories and photographed them flatlay style.
I've kept to another one of my nine packing tips – and that's keeping the colour palette tight. This is purposeful so most things can be worn back with pretty much everything in the suitcase.
1. Mela Purdie ponte pants (two years ago from Zambezee Boutique) | 2. Everyday Cashmere shrug | 3. Blue Illusion jacket | 4. Elms + King overnight bag* | 5. Estil messenger bag* | 6. Surafina scarf* $49 | 7. Kathmandu anti-DVT socks | 8. Frankie4 Footwear sneakers* (these are now back in stock!) | 9. Harlow Australia long-sleeve tee (black) and short-sleeved tee (white)
I haven't done a flight this long in a very long time but I have used most of the ideas I shared in this post – what to wear on a long haul flight – with the addition of a jacket, change of top, a small cross-body bag for the essentials, and underwear (not pictured!).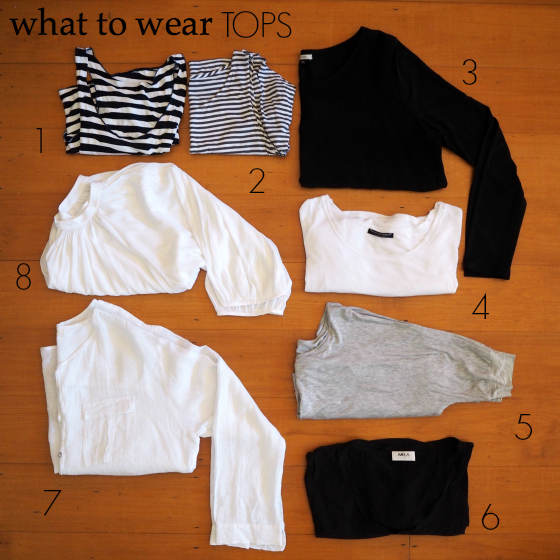 1. Metalicus tank (last year) | 2. Elk tank from Bell and Ford (early Autumn) | 3. Surafina top* (on the blog Monday) | 4. Mode Immagine tee | 5. Surafina tee* | 6. Mela Purdie Cruise top (last year from Zambezee Boutique) | 7. Frockk linen shirt from Bell and Ford (early Autumn) | 8. Mela Purdie shirt (last year from Zambezee Boutique) 
The thinking behind these tops, shirts and tees was that they would either serve me under a jacket in a jeans outfit in the UK but could be worn with shorts on their own or layered for sun protection in Italy.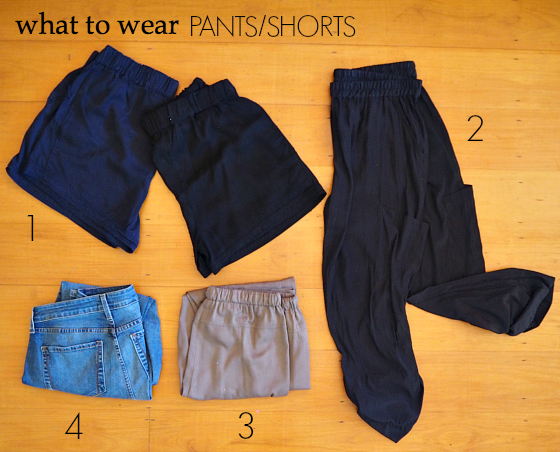 1. Country Road shorts (last summer – you might still find some at an outlet store) | 2. Mela Purdie soft cargo pants (last year from Zambezee Boutique) | 3. Surafina long pants* (on the blog Monday) | 4. NYDJ jeans (Kadyn style from last year)
These shorts were my fave from last summer – I settled on two of my five pairs for this trip as navy and black won't need washing as often and they work with all the tops I've packed. The jeans are for the UK leg and the lightweight pants will serve in the UK as well as cooler evenings on the rest of the trip.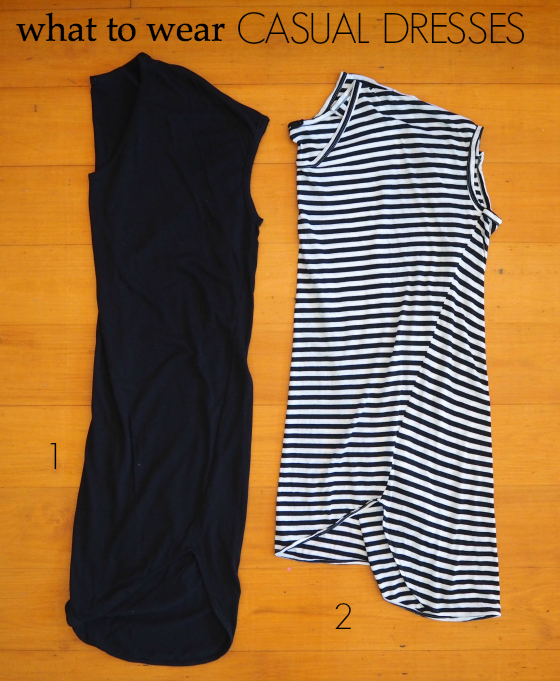 1 & 2. Bassike boxy t-shirt dress with tail (last summer)
These were two of the three dresses I bought in this style last summer. They are amazing for throwing on over a swimsuit or dressing up with wedges for lunch out at a restaurant. The organic cotton jersey washes well and doesn't need ironing – a win for life – and travelling.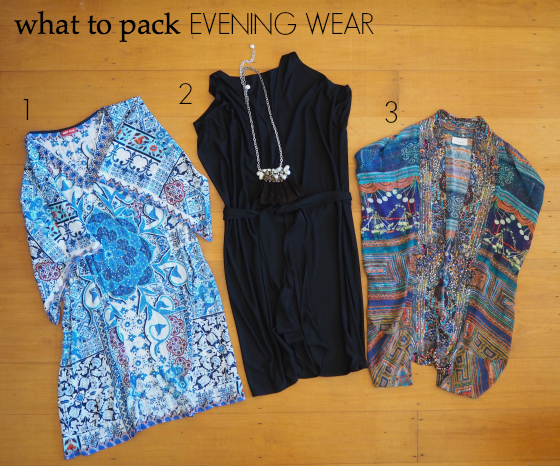 1. Ruby Yaya tunic* (Morocco Gucci style in store August – visit here for stockists) | 2. Sacha Drake column drape reversible dress* and Salita Matthews necklace | 3. Camilla cape (last year from Zambezee Boutique)
We already have a few nights planned where we'll be out for dinner or the theatre and we're having a photoshoot in Paris with the uber-fabulous Carla Coulson so I wanted to include versatile pieces that would work for those events plus any others that might happen. The Sacha Drake dress is perfect for London with wedges, leather jacket and a scarf. For a balmy Italian night it will work work loose with flats. The Camilla cape will work with this dress plus also with the jeans, shorts or pants I've packed. The Ruby Yaya kaftan tunic will be fabulous in Italy at any time of the day. It will also come out to play in Paris. Oui Oui.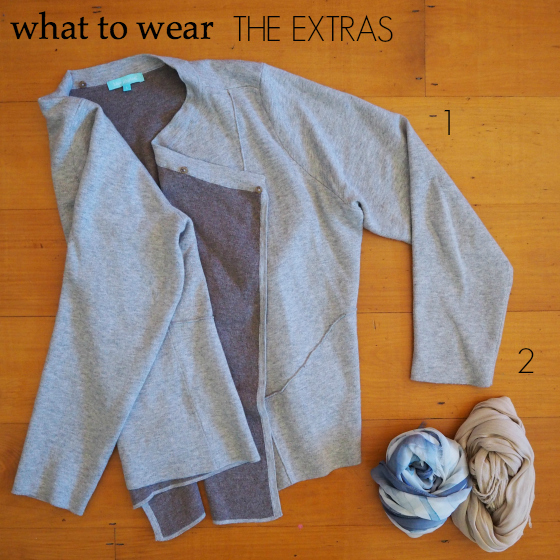 1. Blue Illusion knit cardi | 2. Blue Illusion and Witchery scarves
This cardi comes with a removable faux fur collar which I'm leaving at home – despite the UK temperatures being like our winter temps it will seem funny wearing it in summer. The cardi itself is a perfect weight and gives me a layering alternative to the leather jacket. The scarves (with the leopard print one I'm taking on board the plane) are my key accessories for this travel capsule. Apart from the Salita Matthew necklace pictured above, I plan to just wear my everyday fine jewellery, with maybe a bracelet or two.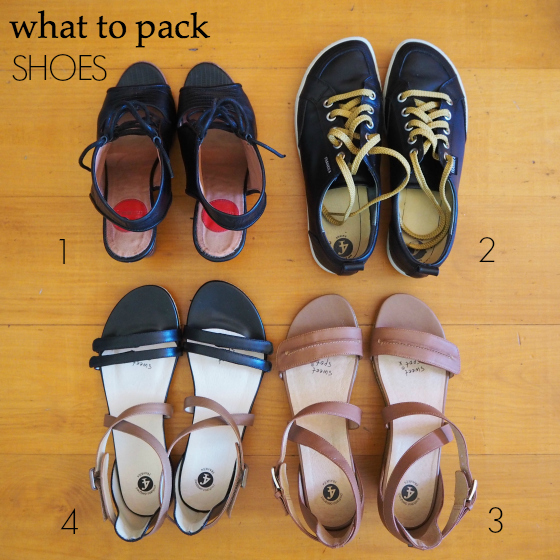 1. Zoe Kratzmann wedges | 2. Frankie4 Footwear ELLiE sneakers | 3. Frankie4 Footwear wedge* (BELiNDA) | 4. Frankie4 Footwear sandals* (MARGiE)
I'm very excited to be sharing with you a first sneak peek at two of the fabulous spring-summer 15-16 sandals from Frankie4 Footwear. Straps are thinner this year and there is a fabulous wedge – summer's equivalent of this season's hugely popular Liz boot. Travel shoes need to be comfortable and this selection will work for me across the three weeks for any occasion. Stay tuned for some outfit photos featuring these yet-to-be released styles and if you want to be first to know when they are available to buy (early September), sign up to the Frankie4 email at the bottom of the site's home page.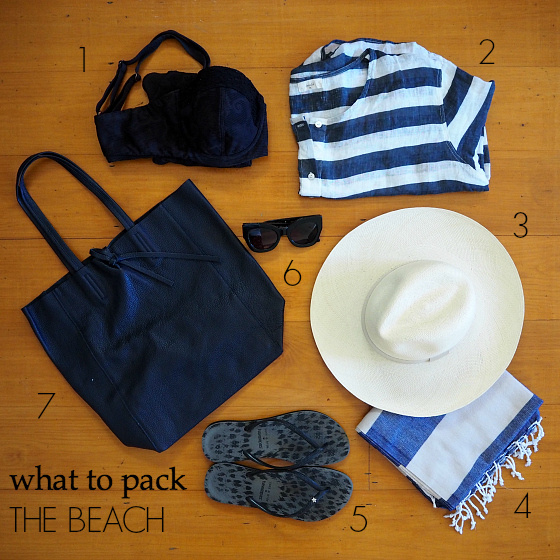 1. Robyn Lawley bikini (last summer) | 2. Frockk linen tunic* (coming in Spring to Bell and Ford) | 3. Sarah J Curtis hat | 4. Knotty Turkish towel | 5. Havaianas thongs | 6. Karen Walker sunnies | 7. Estil tote*
I've kept my beach options simple. I had planned on taking a one-piece as well but then I remembered where I was headed – Europe – where women have fewer issues about swimwear than we seem to. It's much more practical to have a bikini on – you can throw anything over the top and be headed out to lunch in minutes. We're taking Knotty Turkish towels as they're quick drying and take up minimal suitcase space. The Sarah J Curtis hat is a new purchase – I'll be packing it this way. The Estil tote is lightweight and foldable so can be stored in my suitcase but used for carrying our towels and sunscreen on day outings.
1. Roxy hat | 2. Female for Life sports bra | 3. Female for Life pants | 4. The Athlete's Foot sport socks | 5. Female for Life top
Ok, so I don't need as much active wear as I did for my health retreat visit in April but I do plan to do yoga via an app on my iPad and if we're not having a big walking/sightseeing day, I'll head out for a walk. I'm leaving the runners at home though – my Frankie4 sneakers will work just fine – and that gives me room to pack an extra pair of sandals. Priorities.
PHEWW. That's it.
Well, except for the essentials – underwear, a power board, universal adaptor, iPhone, iPad, laptop, head phones, books, magazines and beauty products!
You can check out what I packed in the beauty "essentials" department here.
Pre-trip beauty maintenance was another essential and really does cut down on maintenance while away. I booked a mani/pedi, brow shaping/tint and eyelash tint. Hair was also re-blonded the week before I left.
UPDATE
The first test was in the weigh-in at the airport. My luggage came in at 17kg.
The second and big test was in whether this travel capsule would go the distance. Here is how all these pieces came together while I was away for the three weeks. I'm very happy with the result.
So tell me, what have I missed? Are you travelling soon? How's your packing planning going?
* These pieces were gifted to me for editorial consideration. Full disclosure policy here.