It's the season for balls and formal events – well, it is judging by the number of questions that I'm receiving on the subject – and the photos popping up on my friends' Facebook feed.
Here is just a selection of the questions from SY readers:
Renee, a North Queensland mum is attending two events – a formal ball in Melbourne and the the other a wedding in the UK – in a castle. She wants to buy one dress for both events and is hoping a dress cocktail dress would work for both.
Suzy is attending a university college reunion gala ball in July at Brisbane City Hall. In terms of a dress, she's not sure whether to wear a long "ball type" dress or whether a below knee length cocktail type dress will be suitable and doesn't really want the expense of buying a ball dress when she knows she'll never wear it again.  
Hayley is heading to a formal wedding in New Zealand in July – with the ceremony outdoors and reception indoors and is looking for ideas on what to wear and stay warm.
Karen is heading to a cocktail event in Melbourne and wonders if she can wear a slim-heeled ankle boot with black, long-sleeved floaty tunic dress.
I don't have a formal or cocktail events on the horizon but these can be the types of events that pop up with little time to prepare an outfit.
And it's not as though many of us have much call for this type of outfit on a day-to-day or even month-to-month basis.
So where to start?
Understanding the difference between cocktail and formal dress, that's where.
Traditionally formal or black-tie events require the wearing of a long gown; for a cocktail event, shorter frocks or pant or jumpsuit outfits are the go.
But.
There's always a but, isn't there?
The dress code lines can be – and often are – blurred.
I've been to formal events where women work cocktail dress; and I've been to cocktail events where women wore long or maxi gowns.
11 tips for dressing for a formal or cocktail event
Rather than blurring the lines any further, my tips below aim to help you if you're asked to attend either type of events.
1. Do start with any listed dress code. A dress code sets the tone of the event and dressing to meet it goes some way to ensure that you fit or blend in with the crowd. If I stick to the code, it makes me feel more confident in my outfit choice. (And if you're organising an event or an occasion, please DO specify a dress code. Leaving it open actually increases the dress stress for anyone on the invite list.) 
2. If the dress code is formal, decide if you want to meet the code or not. It may be that you would feel more comfortable in a cocktail-style dress – or you don't want to invest in a long gown that may not be worn again in a hurry. Either way, make the decision and own it so you can go on the hunt for a perfect outfit that suits YOUR style.
3. Decided on a long gown? Buy in a style and colour that is timeless. I've got two black long gowns sitting in my wardrobe that should I get that impromptu formal event call up, I'll be good to go. One is four years old; the other is 18 months old.
1. Sacha Drake Cate dress $399 | 2. Unreal Fur cape $219 | 3. Mimco bracelet $69.95 | 4. Steve Madden heels $69.96 (on sale) | 5. Samantha Wills earrings $89 | 6. Atmos + Here clutch $11.99 (on sale)
4. Don't be afraid to wear a gown from the vault. If you think your friends or family keep some kind of catalogue of what you wore when and wear, think again. Don't let those thoughts prevent you from re-wearing a favourite.
5. Hit up your friends. If you have friends similar size to you then why not see if they have gowns that would rather come out to play than sit unloved in a wardrobe. My girlfriends and I have been doing this since our uni ball days – and I'm pleased to report that my daughter's generation is continuing this budget-busting tradition.
6. Browse and buy at thrift shops. One of my uni friends did that last year for our college reunion and her gown looked like it had been made for her.
7. Hire your formal or cocktail outfit. Try GlamCorner; Runway Dream; Rent My Rack; and Runway Collection.
8. Seek out a skilled alterations person to re-work a dress. This applies equally to an existing dress or a dress that you've just bought that could be made to fit you even better.
9. Updating an existing gown for a winter event is as simple as adding winter accessories. Think luxe textures – a velvet clutch or a faux fur stole or cropped jackets. They add more than a hint of luxe. Most venues will be heated in winter but a stole or jacket will be your insurance policy to and from the event.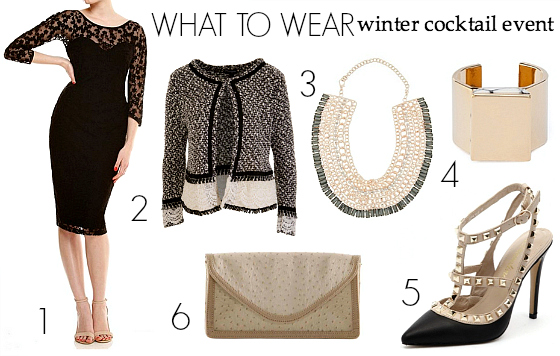 1. Sacha Drake Primrose dress $349 | 2. Threadz jacket $99.95 | 3. adorne necklace $44.95 | 4. Country Road ring $59.95 | 5. Diavolina heels $199.95 | 6. Louenhide clutch $79.95
10. Formal or cocktail footwear is typically on the dressy side. For a winter event, opt for a closed-in pump or slingback. A fine-heeled boot or shoe-boot will give edge to a cocktail dress. In summer, it's about the strappy heel and showing off a pedicure, if only for a glimpse at the hemline.
11. Be comfortable in your outfit. Seems like a simple thing but aiming for this is crucial to your enjoyment of the evening. If wearing shapewear is not your thing, then choose a style that doesn't require it. Same if the thought of wearing a strapless bra makes your girls head even further south. Look for a style that works for you and your under garment preferences.