Sponsored by FRANKiE4 Footwear
I remember the first time my feet slipped into a pair of FRANKiE4 Footwear shoes.
It was very much a happy dance moment.
A COMFORTABLE happy dance moment.
Like any woman with half an eye on fashion trends, up until that point I'd pretty much sacrificed any foot comfort for a pretty shoe style.
I knew this practice was far from sensible but I really wasn't prepared to go down the "comfort" shoe path.
It turns out that I CAN opt for a functional shoe that is both comfortable and fashionable.
FRANKiE4 Footwear makes that all very possible.
FRANKiE4 shoes have become my go-to shoes for days when I'm on the run, on my feet all day and have no time or energy for discomfort (my #everydaystyle posts on Instagram are testimony to that!).
So, it's with great excitement that I announce to you that I'm FRANKiE4's 2015 ambassador.
In this post I'm going to share with you my favourite shoes from the new Autumn-Winter 2015 collection.
Plus read on for a special discount code for all SY readers and a chance for one reader to have their soles saved by a pair of FRANKiE4 shoes this season.
FRANKiE 4 AW15
Last winter I visited FRANKiE4's headquarters is Brisbane's western suburbs.
I loved meeting the team behind the shoes – stylish and functional shoes that have been developed by a podiatrist and physiotherapist.
Anyone involved in fashion design and production is always working ahead of the current season, so I was excited in this meeting to get my feet into some of the production samples for the upcoming spring-summer and this year's autumn-winter season.
I fell in love with the spring-summer sandals (which featured here) and then FRANKiE4 designer Caroline McCulloch showed me a prototype for a black boot.
A heeled boot. Designed to be fashionable and comfortable.
It took me all of 3.4 seconds to get those babies on my feet.
OH MY.
Talk about boots with benefits.
Talk about redefining what it means to wear a high heel, statement boot.
On the outside they look like a fabulous pair of suede ankle boots with a wooden heel.
It's what's on the inside that makes these boots for walking … dancing … and probably running if you were that way inclined.
It took the FRANKiE4 team two years and countless prototypes to develop but end result – the LiZ – is packed with secret cushioning and hidden arch support to make them this autumn-winter's most wearable boot.
Expect to see me wearing them a lot this season. Here's just and taste of how I'll be styling them. Want more ankle boot styling tips (check out this SY archive post for tips on how to wear ankle boots).
FRANKiE4 LiZ boot in black oily nubuck | Bohemian Traders shirt dress | Salita Matthews necklace
FRANKiE4 LiZ boot in camel oily nubuck | Bohemian Traders top | Blue Bungalow kimono | Samantha Wills necklace 
FRANKiE4 Footwear shoes feature a podiatrist-designed functional footbed that operates like an orthotic for foot and leg support and cushioning. It aids in the treatment and prevention of foot and leg health problems.
I can go the distance – standing or walking – whenever I'm in my FRANKiE4s.
All FRANKiE4 shoes and boots include the patented Custom Fit system which means you receive additional removable footbeds so you can adjust the fit of the shoe to your foot. I love this, as most people do, one of my feet is bigger than the other. I'm able to adjust accordingly and not experience slipping.
In the LiZ boots, I was able to use the components to get a perfect fit. I was able to take out the full footbed and replace with a half footbed which created more space for my high arch in these boots.
Everyday shoe-robe
There is SO much to love about the entire autumn-winter 2015 collection – not just the LiZ boots.
My everyday shoe-robe has a smart casual theme as I work from home.
For a core everyday collection, I need heeled boots, a slip-on and a quality sneaker. These three types of shoe see me through most of my everyday activities.
In comfort. And style.
I never like playing favourites but if I were to do so my FRANKiE4 autumn-winter favourites would include the two colourways in the LiZ boots (above) and the JAMiE ankle boots in camel/brown oily nubuck, black ELLiE leather sneakers and black oily nubuck JANELLE loafers (see styling suggestions below).
FRANKiE4 Footwear JANELLE loafer in black oily nubuck | Bohemian Traders tee | Seed Heritage scarf
FRANKiE4 Footwear JAMiE boot in camel/brown oily nubuck | Sussan shirt | Blue Illusion pants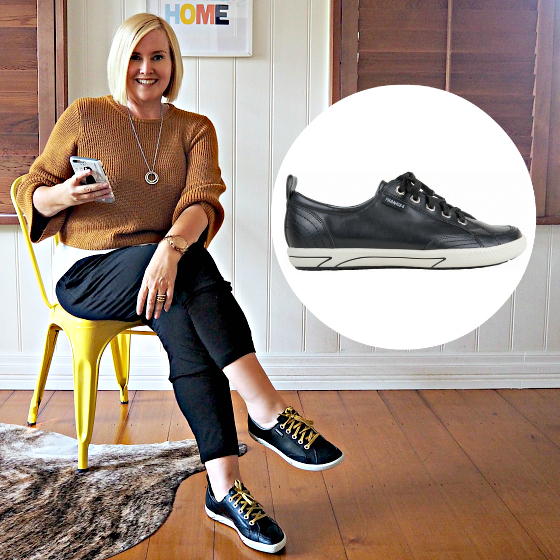 FRANKiE4 ELLiE black leather sneaker | Metalicus knit, tee and pant
The FRANKiE4 2015 autumn-winter collection is available online now. I'll be featuring more of the styles in this collection as part of my #everydaystyle series. You can follow along on Instagram here.
I'm also excited to announce that I'll be talking how to style your FRANKiE4s at a FRANKIE4 hosted styling evening in Brisbane next month. To register your interest please email [email protected] with a short explanation on how FRANKIE4s could or have saved your soles. Places are limited so please be quick to register your interest.
WIN
Thanks to FRANKiE4, one lucky Styling You reader will be walking on air this autumn-winter in a new pair of FRANKiE4s of their choosing (valid for six months and based on stock availability at the time). Entering is easy. Answer the question below in the comments.
How have/or could FRANKIE4s save your soles this autumn-winter?
Entries open Thursday, March 26 at 4.45am (AEST) and close Thursday, April 9 at 5pm (AEST). Australian entries only, sorry. The winner will be judged on originality and creativity (photos can be included and uploaded with the comment). The winner will be emailed and their name will be published here. Entrants must include an email address when the filling in the commenting system below to be eligible to enter. Full terms and conditions here.
SPECIAL OFFER
Want to get your feet ready for the season ahead? Use the code SYLOVEF4 at the checkout to save $20 on purchases for the next two weeks. This offer starts Thursday, March 26 and ends Thursday, April 9.
For more information visit www.frankie4.com.au
Coordinated by The Remarkables Group