I found myself wandering around and browsing in a few fashion stores in the city yesterday.
I was on the hunt for a couple of plain coloured tops with sleeves for a video shoot I'm doing in Melbourne tomorrow (yes, I'm heading south for a lightening work trip today) so there was purpose to my mission but it also gave me a quick insight into the fashion season ahead.
My blogging friend, Style and Shenanigans wrote about doing something very similar this week but – lucky girl – she LIVES in Melbourne and can actually wear the autumn pieces even though it's technically still summer.
For those of us still sweltering – or taking small wins like days with tops of less than 30 degrees – it's a tricky time of year to shop for clothes but I'd like you to persist with it because if you live where winter is mild, then the clothes dropping in chain stores, department stores and discount department stores during February and the start of March are more likely the types of clothes you can wear in your winter.
If you leave it until it actually cools down and all you'll find are heavy knits, coats and things that you won't have use for unless you are travelling somewhere cold for a weekend or holiday away.
In the hour or so I had for my impromptu smash and grab session, I clocked and mentally noted fabulous light trench coats, draped cardis in lightweight knits, pants in fabrics that will see you through from now until next summer and enough pops of colour to keep things bright and breezy while it's still warm.
In this post I'm sharing the key fashion trends for autumn winter 2015, some styling ideas from what's available in store now plus a snapshot of what to buy now if you have certain gaps in your wardrobe.
Colours and prints
Traditionally autumn winter doesn't offer much up in the colour department. Blacks, charcoals, winter whites, beige/stone are all great neutral shades that are already out there in good supply.
As you know I'm very ok if you feel more comfortable wearing a neutral palette. There are plenty of ways to make neutrals exciting and this season that is certainly the case with a bigger focus on structure and texture than ever before.
If you are a colour lover then there are options coming through too.
The strongest colour trends are navy (yay for that rinse and repeat colour trend) and magenta/maroon/burgundy. Unfortunately – and it pains me to say this as a patriotic Queensland – I cannot wear the latter colour at all. It does nothing for my skin tone and I have to admire it on others.
Other available colours include: pastels; vivid red; khaki (Sonia Styling is very excited about this colour); emerald green; sapphire blue and bright orange.
In the print department, animal print and stripe fans will rejoice at the return of these perennial classic fashion buying options. You can never have too many of either I say.
Trends
David Jones has identified five key Autumn Winter 2015 fashion trends. Like most fashion seasons these days, I wouldn't say there is anything totally ground-breaking or new happening out there in fashion land but there are newish takes on trends we've seen for a number of seasons now.
As with all trends, never ever feel that you should follow all – or any – of them. If they are trends that don't represent who you are then become confident in choosing new fashion pieces that make you feel fabulous, regardless of whether they are "in" or not.
Sports report This is a trend that is going nowhere fast and owes its popularity to the wider healthy lifestyle trend. It's no longer enough to just wear our gym gear to the gym. Many labels are now offering up fancy track pants and sweats that would be a shame to just save for the couch. Think tapered tracksuit pants, light anoraks and slimline tees or tank-style dresses worked back with slip-ons or sneakers are the go.
1. Metalicus dress $129.95 | 2. Sportscraft relaxed jacket $229.95 (VIPs currently get $50 off this price) | 3. Country Road tote $69.95 | 4. Rollie brogues $119.95
Fine form If you can pull off a piece from this trend you will turn heads. It's all about minimalistic block colours – mostly neutral – but with structure and contrast in design. Think fitted frocks, fluid trenches, pencil skirts contrasted with draped tops and origami-like folds in fabric.
1. Saba dress $525 | 2. Sussan soft trench $169.95 | 3. Witchery clutch $99.95 | 4. Diavolina heels $199.95
A winter rose It's all about the feminine in design, colour and texture. Pastels, lace and floral prints don't make you a wallflower. If this is your style you'll find lots of options for you this season. Think lace dresses and skirts, vintage floral prints on dark backgrounds and pastel pieces that will add a pretty kind of power to your neutrals.
The boys are back This is also a trend that keeps evolving with each season. It's about the ultimate style contrast – a feminine body in a male fashion silhouette. It's tricky to pull off top to toe but fun to play with in key pieces. Think pinstripe pants (the wide-leg trend does scare me and please if you are shorter than a supermodel only wear if you're prepared to wear heels!), chunky knits and relaxed jackets.
Graphic content Prints are not just for spring-summer. Hooray for that. This season you'll find everything from the previously mentioned florals to geometrics, bold colour splashes, monochromatic mixes and oriental-stye prints. Think special occasion frock, printed pant and fashion top.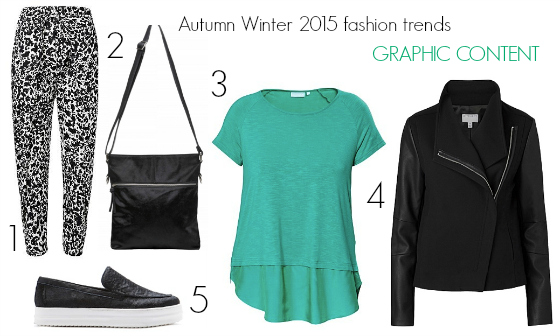 1. Seed pant $129.95 | 2. Sussan bag $79.95 | 3. Blue Illusion top $99.95 | 4. Witchery jacket $149.95 | 5. Country Road shoes $129
What to buy now
If your autumn and winter wardrobe has gaps in basics like jackets, lightweight knits and light trench coats then this is the time to act.
Likewise if you have a special occasion coming up and know that it will be relatively warmish at the time, then now is the time to find that outfit. The Saba dress above fits this bill – yes it's an investment but buying a special occasion piece that is timeless like this one will re-pay you in fashion wins for years to come.
As I said above, the weather-appropriate "winter" pieces for people living in warmer parts of Australia will disappear fast.
It's also a good time to seek out key layering pieces if you're planning a trip overseas (northern hemisphere) this year for spring or autumn. I'm looking at pieces with this in mind as when we arrive in the UK in June it will be very similar to a Queensland winter, temperature-wise!
So, over to you … have you had a chance to browse your favourite clothing stores in the past week? Got any key pieces in mind for a wardrobe update? Which autumn trend or trend "speaks" to you?