Sponsored by Olympus Australia
When I first blogged about how to take a selfie – in 2012 – the whole concept of a selfie was seemingly reserved for bloggers.
In 2015 you'd be hard pressed to find someone who hasn't taken a selfie.
Even big name celebs who have their photos taken by professionals (granted, some are unwanted photos!) are doing the selfie. Who could forget Ellen DeGeneres' celebrity-packed Twitter selfie from the Oscars last year?
For me that image sums up why I'm a fan of the selfie. They are a bit of photographic fun. They capture time spent with friends. They capture a new hair do. They capture a date with your partner.
They allow you to capture a moment even if no-one is around to do that for you.
It was Australian fashion designer Alex Perry who introduced me more than five years ago to the whole concept of a selfie.
I was interviewing him and after the interview I asked if I could get a photo with him. I had someone lined up to take the photo but instead he took hold of my little digital camera, turned it around, stretched out his arm, tilting the lens down towards us. He said the result would be better than someone taking it and when I looked in the viewfinder afterwards, he was right.
My love of the selfie photo started that evening.
I moved from that camera to an iPhone 4, 5, 5S and now 6 Plus, as well as another compact SLR and now my new favourite toy, the Olympus PEN E-PL7 (the "selfie camera" I wrote about here).
This post will show you the four different ways I get a selfie (using the E-PL7) for my blog and social media work (and play). I'll share my tips for improving your selfie taking AND … drum roll please … read on for details about how 20 Styling You readers could attend a lunch in March hosted by myself and Olympus in Sydney.
Let's get started, shall we?
The selfie head shot
The E-PL7 is made for this particular photo. The LCD screen drops and flips down so you can see and frame yourself – and others – in the photo. There is no distortion of the image and low-light when you're out at night (when most of the fun selfies happen!) is no problem at all. You can even touch the screen to focus and take your photo. For best results, use the e-Portrait setting while in SCN mode.
Tips
1. Use any natural – or artificial – light but facing towards that light source. For example, if you're at or near a window, face towards the window so your face is in natural light.
2. Work out your best angle. Oh ok, this is a little/lot superficial but if you're going to be in a selfie you may as well make it work for you. Practise with different positions of your face and nail your signature selfie. Look at the lens (or just above it), not at the LCD screen.
3. If taking a group selfie, get everyone's heads positioned as close as possible to each other. It will feel weird and definitely an invasion of personal space but the photo will be framed better and focus will be consistent.
4. Extend your arm out as far as possible to take a selfie – angle slightly up but not too much that it distorts your face.
5. The selfie method can be used as a way to get a full-or-partial length outfit photo but I think it can distort the way you look a bit. Fine if you don't have another option but worth looking at the alternatives below if taking these kind of photos regularly.
Using a tripod
Most of my outfit photos taken for Model and Me and other fashion posts on the blog are taken using a tripod and a remote. Now, with the E-PL7, the remote is part of the I.O. Share app on my phone. You connect your phone to the camera's internal wi-fi (as you would to upload photos to your phone) and then press the remote button. The genius element here is that you can see what the E-PL7 is seeing while you set yourself up for a photo. You then press the shutter button on the app and your picture is taken.
Tips
1. It doesn't matter how big or small your tripod is – you just need to stand or rest it somewhere that will enable you to get a full-length image. I have a tall tripod, a medium tripod and a small table-top tripod. I mostly use the tall as it remains fully assembled in my office ready for use.
2. Position your tripod so that the camera captures you directly straight on. I used to angle down but realised that this was making my legs shorter and my torso longer. Straight on means no distortion of your body shape.
3. Use natural light to your advantage – again. It's often tricky for me on my Queenslander verandah but there are a couple of  "sweet spot" times during the day when the light isn't direct and casting shadows. I try to shoot in those times if at all possible.
4. Play around with your poses to find what works best for you. I know what works for me – put a camera in front of me and my hand seems to want to just stick to my left hip like there's no tomorrow. I've tried to fight it but I think I'll just call this my signature style ;). I'll sometimes throw in the "just casually looking at my toes but oops it must me time to see to those hair roots" pose. Or the "hands on both hips looking straight forward" pose. We'll play around with poses at the Olympus selfie lunch (details below) and I'll share the probably hilarious results in another post.
5. Use a background that is not too detailed. The idea of an outfit photos is is that we see the full length of what you're wearing. You can always do close-ups of details but start with a full-length shot.
The mirror selfie
This is not a selfie that I do too often. It's not to say it's not a good way to get a selfie. It's just that there are good mirrors and there are not-so good mirrors.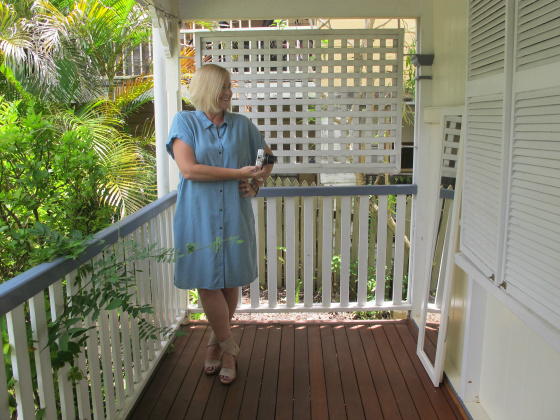 Tips
1. My mirror here is not ideal – it's ok in an emergency outfit photo situation but not an ideal long-term solution. The best mirrors for selfies are ones that are wide. This enables you to stand as close as you need to get the full shot without having to angle yourself and possibly distort the image. Oh, and the mirror should be clean.
2. Once again, work with the light. The mirror needs to be located in a well-lit position or be one that you can move to a well-lit position.
3. If a stand-alone mirror, make sure you prop it straight up against a wall to take a photo. This will take away any distortion the angle might create.
4. The camera will very much be a part of this photo with you (it helps if it's as good looking as the retro-inspired styling of the E-PL7!). Hold it centrally to your body so it's not angled down or up (to prevent body distortion).
5. Look at the mirror, not down at the camera.

Someone taking your photo for you
Ok, so technically this isn't a selfie. You got me. But it is something that's worth discussing here as having someone take your photo for you isn't necessarily a win. It can be if you're able to train up your photographer to understand your camera and how to get the best shots of you. The E-PL7 is super easy to use and I've been able to train up my nine-year-old son (my #everydaystyle outfit photographer who I "pay" in books) and my 18-year-old daughter (my part-time blog outfit photographer who I "pay" in part-time board) to use it.
Tips
1. Don't assume that the person on the other end of your camera knows how to use it. Set it up for them, frame the photo, adjust the settings if necessary and ask them to photograph you a certain way.
2. Ask that they frame the photo so that you are in focus (obvious yes and easy to do with the "tap the screen" function on the E-PL7) but that they also get your whole outfit with room above and below your head and feet. I err on the side of more room so I can crop the photo to suit my needs.
3. If the photo is to be uploaded as quickly as possible to Instagram, shoot it in 1:1 image aspect mode. This helps with the framing and so that you don't find you have to crop out part of you for Instagram.
4. Get the photographer to hold the camera at a nine-year-old's height. This will be at the chest of an average-height adult and it puts the camera squarely at your mid section, making for the most flattering angle and a resulting photo that is in proportion to your body.
5. Ask that the photographer take multiple images. Not machine-gun like, but slow and steady. This enables you to move around in your pose, giving you more options from which to choose to upload and feature. Trust me, I might get my #everydaystyle photos on the run but there is usually a minimum of 10 for me to look at and choose a favourite from to crop, edit and upload.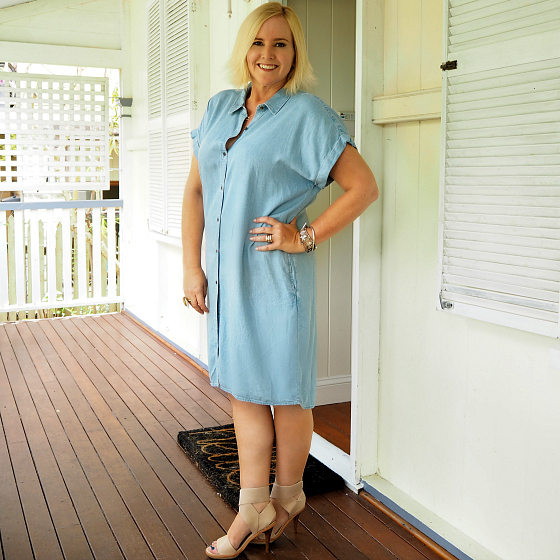 COME SELFIE WITH ME
Would you like to join me for a Styling You/Olympus Selfie high tea? We'll talk – and take – selfies. I'll share my tips on posing for photos. You'll get to play with the Olympus PEN E-PL7 and learn tips on how to get the most out of this camera from a professional photographer.
There are 20 spots available. The event will be held in the private dining room at the QT Sydney on Wednesday, March 11 between 12 and 3pm. If you're available and would like to attend, answer this question in the comment section below to be in the running. Transport to and from the event is not included.
Why do you need help with your selfie taking?
Entries open Thursday, January 29 at 4.45am (AEST) and close Thursday, February 12 at 5pm (AEST). Australian entries only, sorry. The winner will be judged on originality and creativity (photos can be included and uploaded with the comment). The winner will be emailed and their name will be published here. Entrants must include an email address when the filling in the commenting system below to be eligible to enter. Full terms and conditions here.
For more information about the Olympus PEN E-PL7 camera, visit here.
Coordinated by The Remarkables Group