When I was a kid the summer holidays used to stretch on forever.
There was the pre-Christmas part and the post-Christmas part. Six weeks beautifully divided by a much-anticipated day in the middle.
Most years we'd spend the first half at the Gold Coast; the second half at Hervey Bay.
Our original Gold Coast holidays were in an old beach shack not far back from what's now Millionaire's Row at Mermaid Beach. Then Mum must have got a taste for the highlife because we shifted camp to the Florida Car-O-Tel at Miami, with, as the name suggests, accommodation options in caravans and motel/apartment-style digs.
As kids we frankly didn't care what the digs looked like. My brothers needed a TV for watching the cricket and we couldn't get enough of the two big pools in the complex. Mornings were spent across the road at the patrolled beach; afternoons Mum took a nap and we hit the pool.
Supervision. PFFF. Who needs that?
There was little supervision during the January end of our holidays either. What Scarness Caravan Park at Hervey Bay may have lacked in terms of pools and surfing waves (not to mention the fact that the water disappeared with the tide), it very much made up with a caravan park filled with just about every one of our friends from school, our cousins and an open-air skating rink.
The regulars had their beachfront van spot (nabbing their spot from October) and we'd be situated somewhere back from there but still a stone's throw from the beach. I remember one year we snared a front position but I think that was engineered by our grandparents who'd done the early van park. Still, we felt pretty damn special.
Days were spent roaming the park, swimming in the sea, playing in the playground or pumping for yabbies on the low tide. A holiday treat would be buying a lime flavoured milk from the milko who drove through the park every morning.
As we got older, one of my cousins and I would basically latch on to a random family of babies and little kids and take over minding them all day, even taking the kids swimming. The mums in question must have had extremely high trust levels – or a late Christmas request for five minutes' peace – as we often had the babies with us well away from her van.
Inevitably our time at The Bay would be brought to a rapid end with the arrival of the first cyclone each season. Vans would be packed up and hurried escapes made 20 minutes away to our home in Maryborough. If we were lucky, while the adults were packing up we'd sneak in a swim, riding the cyclone-swell waves on our boogie boards that had been gathering dust since pre-Christmas on the Gold Coast.
I wonder how many people actually get to do the long summer holiday thing in 2014/15?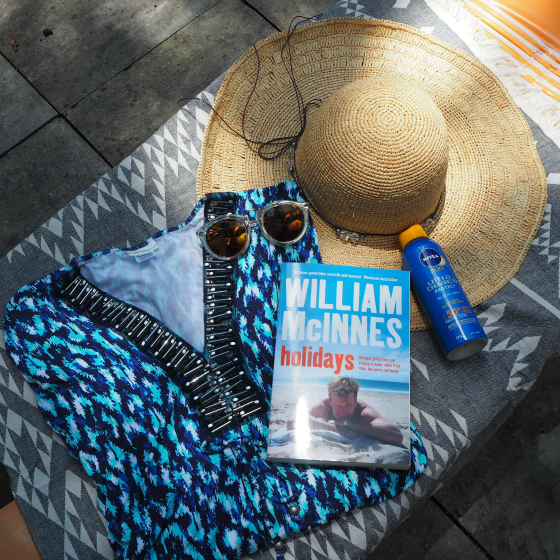 Cabana Life UPF50+ coverup $84.95 @ Sequins and Sand | Karen Walker sunnies | David Jones hat | NIVEA Ultra Beach Protect sunscreen | Knotty Towel | Holidays by William McInnes
I guess it helped back then that all my parents were teachers. They had the same holiday time as we did. No work juggle to be factored in.
I know you could probably visit any beachfront caravan park right now and find families who have been holidaying in the same spot for generations.
I like that.
Something that may have been started by grandparents now being continued by the children and those children's children.
For our little family (the bigs now holiday independently – Miss SY is at Falls Festival in Byron as I type #holdme), the aim is to get away for a week each summer.
Last summer we were moving. That ain't no way to spend a summer vacay, I can tell you. So this year we're hanging for some real down time.
We're heading off on Friday to the New South Wales' Central Coast. Road tripping. Staying with friends in their family's beach house and catching up with other friends who holiday in their own beach house nearby.
It may be only one week but, as with all our beach holidays, I love to re-create a little of what I had as a kid. That rhythm that plays out on long, hot days.
Mornings swimming at the beach, getting sandy and salt encrusted.
Lunch of sandwiches made from bakery-fresh bread and a hot chook.
Compulsory quiet time in the heat of the afternoon.
Back on the beach in the afternoon for a game of cricket before drinks is called.
Simple barbecue dinners.
TV viewing swapped out for book reading.
Can you tell I'm READY?
Sunbella parasol | Idlebird UPF 50+ tunic cover-up | Karen Walker sunnies | Knotty beach towel | NIVEA moisturising sunscreen SPF50+ | Daring and Disruptive by Lisa Messenger
Summer reading
Have you got your summer reading sorted?
I've got a pile of books (ones to hold in my hand and ones on my iPad) to read. It's a mixed bunch. A variety is a good idea, I think. That way I can pick and choose depending on my mood. I've featured a few in the photos in this post.
We're holidaying with BabyMac, so I might dip into her pile that she featured here.
And my friend Deborah (we went to school together!), who blogs at Debbish, regularly reviews books on her blog. If you're stumped for something new to read from 2104 fiction releases then you will find something on her list of favourite novels for the year.
My mate Mrs Woog who has been availing herself of the summer holiday situation for a couple of weeks now asked the "what to read" question on her Facebook page recently. Some great ideas there too.
Summer style
I plan on packing very little in the clothing department for this week away.
Swimsuits. Check.
Cover-ups (check out the UPF 50+ cover-ups in the photos I've included in this post) and hats. Check and check.
The odd kaftan arrangement. Checkity. Check. Check.
Shoes will consist of sandals for fancy; Havaianas for everything else.
Sunsoaked UPF 50+ swim top $129 | Blue Illusion hat | NIVEA Moisturising sunscreen SPF 50+ | Miu-Miu sunglasses | Knotty beach towel | The Woman Who Stole My Life by Marian Keyes
Summer beauty
Now you don't think I could leave home without some kind of beauty scenario going on, could you?
It is, however, a very much cut-down version of my regular.
There is always some kind of coloured pedicure. Butter London in Ladybird from Flora and Fauna The Natural Boutique was my pre-Christmas choice that will roll on into summer.
A insect repellent is a must – I'm loving the natural alternative from Vanessa Megan (also from Flora and Fauna) pictured below.
I love aromatherapy essential oils and the the Peace and Meditation synergy blend from Twenty8 is ideal for this time of year when it's all about reflection and goal setting.
As for makeup colours. I'll be keeping them to a minimum and only if we venture out. Having a colour palette or sample kit like this one from Jane Iredale makes it easy to have the basics on hand without bulking up the beauty bag.
And you'll always find me touting some kind of tinted moisturiser or BB Cream.
This summer, I feel I'm cheating on the BBs with my latest love (pictured below). Remember in this post when I talked about the facials I'd had of late? Well, one of the products that was given to me after the Rationale facial has turned out to be my surprise summer skincare/makeup hit.
The premise behind the Rationale Beautiful Skin Luminizing Serum SPF50 is that why put "gunk" on your face if you've been looking after it so well with consistent use of great products? Instead of makeup, Rationale suggests this is all we need.
I'm not quite there on the "this is all we need" bit for when I'm heading out but for casual, I've been embracing it … with a lick of mascara and a pop of lippy, of course.
How does it work? It's a liquid crystal formula and the structure of those crystals works to visibly enhance your skin's natural luminosity while correcting skin imperfections and protecting it.
Now, it's not cheap. It's $85 for 30ml. I can, however, tell you in its defence that it does go a long way. You shake the bottle to mix it and use the medicine dropper to dispense a couple of drops of the liquid on to your fingers before patting it in to your face. I've only used a third of the bottle and I've used it daily for the past month.
1. Rationale Beautiful Skin Luminizing Serum SPF50 $85 | 2. Jane Iredale Color Sample Kit $45.90 @ Adore Beauty | 3. Vanessa Megan Bug Off Me Insect Repellent Roll On $19.95 @ Flora and Fauna The Natural Boutique | 4. Twenty8 Peace & Meditation essential oils synergy blend $41.95  | 5. Butter London Ladybird nail lacquer $22 @ Flora and Fauna The Natural Boutique
Happy 2015
This is my last post for the year. It's been a fabulous one. Thank-you again.
I'll be back on the blog next week but not every day while we're away. A spa – and a restaurant lunch out – has been booked though as a little holiday treat … so don't think I won't be sharing that with you!
Cheers to the New Year.
So tell me are you on summer holidays, gearing up for an escape, slaving away at work? As a kid did you holiday in the same place every year – where was that? Are you still going? Tell me what you're reading!