Do you know how good it feels to walk into my wardrobe right now?
Very damn good.
The day I'd earmarked in my currently busy schedule to do my bi-annual wardrobe edit, I found myself in bed in shock after the glass shower door shattered on me.
It took another three weeks for me to carve out a few hours to do this task but I'm so glad it's finally done.
I was all in a tither there for a while.
The weather in Queensland had switched to summer mode, yet my wardrobe was a mash up of autumn, winter and spring.
I'd look at it every morning, trying to think of an #everydaystyle outfit and I was (almost) convinced I had nothing to wear. It just took longer to find a garment – or to be inspired by a garment.
Now it's a different story. I'm ready for the season ahead and I hope today's post and 13 wardrobe editing tips inspire you to get stuck in and do the same in your wardrobe space.
1. Allocate at least two hours. This is not a job to do in bits and pieces. You need to apply a wholesale approach to the task at hand.
2. Take everything out of your wardrobe space. Yep, everything. I find the bed is a good dumping ground for this but I just don't do a dump and one massive pile. I'll create several piles on the bed so I can systematically work through what's going back in and what's not.
3. Go through each item piece by piece. Don't dwell too long on each piece but do check in with yourself and try and work out when the last time was you wore it; did it make you feel good; is it still in good condition? If it passes those tests, it stays and is allowed back in.
4. Create a throw out pile. The throw-out pile is for those items that are stained or can't be repaired. Please don't send these to a charity to create extra work for the volunteers.
5. Create a charity pile. The charity pile is for clothes in good condition that just maybe aren't right for you any more. Think about which charity you plan to gift your clothes to. All mine now go to Dress for Success Brisbane.
6. Create an eBay or Gumtree pile. Maybe you're a gun at re-selling on eBay or Gumtree. Put any items aside (new with tags or designer pieces) and you might just get enough return for your spring-summer shopping spree.
7.  Invest in new hangers if you need them. The last time I showed my wardrobe I was told by more than one person that I needed to invest in some thin flocked hangers. I did what I was told and they were right … so much more space in there now. It's like I don't own ANY clothes. I bought packs of 20 from Howards Storage World – a combination of these and these. I ran out but will be buying more soon next time I drive past. I also had some Pinklily hangers that also save on space in the wardrobe. I've given Mr SY all my fancy timber hangers that look fabulous but don't give me the space that the flocked ones do.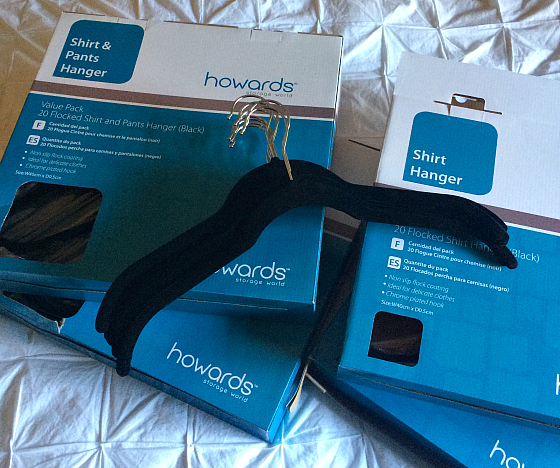 8. When putting items back in your wardrobe, put the items that you most wear on a day-to-day basis front and centre. These are the high-use items that you just want to be able to see and grab at a moment's notice.
9. If you are able to and have space, put the opposite season clothes in another wardrobe. My winter clothes are now in a wardrobe in my office. This is also where I keep my shoes. You might have missed the Lady Room unveiling earlier this year on the blog.
10. Colour code each section of your wardrobe to suit your organisation. For example, I group all my tees and tops together but you'll find all the white ones and black ones hanging side by side. This not only shows me that I do not need to buy any more from the black and white tee and top department but it means I can grab a good basic quickly and easily in the morning rush.
11. If wardrobe editing is not your thing, phone a friend. Better still, get that friend over to help you decide what stays and what goes. So often our emotions are tied up in our clothes – good and bad. I want you to have only good emotions in regards to what's in your wardrobe – that means ditching anything that makes you feel less that fabulous. A true friend will give you permission to do that.
12. As you're putting things back in your wardrobe, start making a list of any things you might need. If there are any gaps, these will become evident once you've done your edit. Most gaps will be wardrobe basics – jeans, shorts, pants, dresses, shoes in neutral colours that form the building blocks of a wardrobe that works.
13. Go shopping with that list of gaps. You don't have to complete it all in one day or one month. Hold on to that list in your handbag – or on your phone – and reach for it each time you're out shopping and tempted by something sparkly and pretty winking at you from the shop window. The list will bring you back to focus on the gaps. Fill them first and then I'll let you buy all the sparkles in the world.
Over to you, have you done your post-winter wardrobe edit? What tips do you have to share?