Sponsored by FRANKiE4 Footwear
This year my lifestyle has changed hugely since swapping the beach for inner-city living.
There is less reliance on our car – we've actually gone from owning two cars to one – and more emphasis on walking.
I like this for a lot of reasons.
I like it for the incidental health benefits. I like it for the sense of community that comes from being able to step outside and walk to a favourite café or shop.
And I like it because it's forced me to completely re-think my shoe-robe.
I know. First World Issues.
I haven't completely ditched my heels – they have their valid place when it comes to dressing up and going out somewhere that involves catching a cab – but I'll admit that they're not much used to me when it comes to being on my feet for long periods.
I need good looking, good quality footwea that look after my feet.
I was first introduced to FRANKiE4 shoes last year.
I love a good business start-up story – the concept was borne out of podiatrist and physiotherapist Caroline McCulloch's desire to help treat her patients without compromising style. Caroline's husband Alan is also a podiatrist and has a knowledge of footwear developed through working in the technical department of a major footwear brand and many hours in footwear factories.
Together they work to oversee the manufacturing process that results in a product that not only looks great but is good for you too.
As a result, the FRANKiE4 Footwear range really does deliver unparalleled comfort and foot supporting benefits – in sizes from 6 to 13.
I could talk to you about the functional foot bed, custom fit system and anatomical shape of the styles. And I could tell you that some of the styles are also orthotic friendly. Yes, those things are super important for foot and leg health.
But I mostly want to talk to you about how it FEELS to wear a pair of FRANKiE4s.
It's like your feet burst into song the moment you slip them into a pair. Well mine seem to.
I also know when I'm wearing a pair of FRANKiE4s that I won't end up wanting to kick them off.
I mostly forget I even have them on.
If you follow along with my #everydaystyle posts on Instagram you would have seen FRANKiE4s pop up a lot on my feet. And by a lot, I mean A LOT.
I've fallen hard for this brand.
Those silver ELLiE sneakers? (Panic not. The silver will be back at the end of the year)
They're the shoe that finally got me to stop wearing other casual sneakers – sneakers that were too narrow for my feet and would only end up causing pain, which is definitely not what you seek in a casual shoe.
The silver ELLiEs also have a super stylish sister available right now for summer in a scotch guarded canvas with metallic animal print tongue and heel feature. These sneakers come with three innersole options so you can adjust them to suit your feet within the shoe. And I find that with time those soles mould to your foot, adding extra comfort.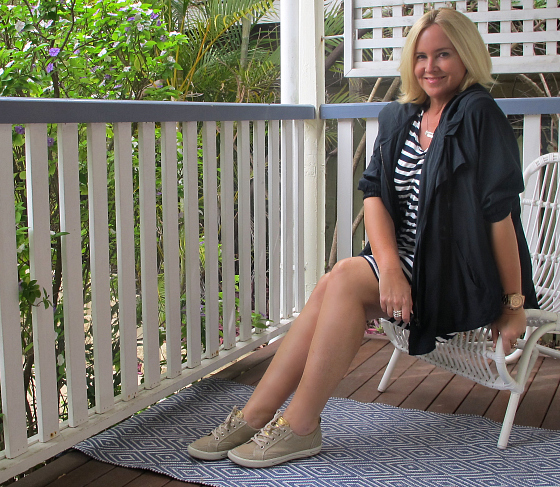 The new-season FRANKiE4s I haven't been able to keep off my feet are the GEORGIE oily cow leather slides. If you caught this road trip post last week you already have an idea of how much I love them.
I know slides are a polarising fashion shoe trend right now but I've jumped right on (or should that be in?) this one and don't plan to slip them off any day soon.
I love them with pants and shorter frocks – so, so easy to slip on and off when travelling or just hanging around home and way, way better for my feet than a pair of thongs.
I know it seems I'm playing favourites – and I am a little – but there are other shoes in this season's FRANKiE4 collection that I'd also like to share with you.
ALiX is so versatile – especially in tan – they are adjustable for your foot width, so easy to pop on and work back with pants, a summer frock or shorts outfit.
JULiA and iVY … I've never said no to a little snakeskin in a shoe. It's a neutral but also a statement. I love its addition to the JULiA in the heel and the toe strap in the iVY. The iVY's low wedge also appeals. It's just that little bit of height to dress things up a little.
I've learned so much about foot health and all the features and benefits of FRANKiE4 Footwear from the team, but for me it's about being able to be on the move – travelling or conquering the hills close to home – without giving a second thought as to whether my feet (and shoes) are up to the task.
That's what I love about FRANKiE4 the most.
Win
Styling You and FRANKiE4 are ready to "save soles" – we have two pairs of FRANKiE4s to give away – and you get to choose which pair you'd like.
The first pair will go to someone who is already converted to FRANKiE4. If that's you, please answer: How has FRANKiE4 saved your sole?
The second pair will go someone who is yet to experience FRANKiE4. If that's you, please answer: What FRANKiE4 shoe will save your feet this summer?
(And it doesn't have to be one of the above … head to the store's online site to checkout the whole collection)
Entering is simple. Just leave a comment below in answer to the question that applies to you.
Entries open on Thursday, October 16 at 4.45am (AEST) and close on Thursday, October 23 at 5pm (AEST). Australian entries only, sorry. The winner will be judged on originality and creativity (photos can be included and uploaded with the comment). The winner will be emailed and their name will be published here. Entrants must include an email address when the filling in the commenting system below to be eligible to enter. Full terms and conditions here.
Special offer
Can't wait for the competition to be drawn? FRANKiE4 would also like to offer SY readers 10% off any full-priced online shoe purchases until the end of October. This offer is only available through www.frankie4.com.au – simply enter STYLINGYOU at the checkout. This offer is valid until October 31, 2014.
Coordinated by The Remarkables Group