Let's be upfront here.
Most of us are not genetically blessed with model-like body proportions.
We are short, we are tall, we have big boobs, we have small boobs, we have bits that wobble, we have bits that are toned.
What we all have in common is the sum of all the bits. Our bodies.
Unfortunately we just don't just get on with things and accept the body bits we've been blessed. This is particularly highlighted during the annual mission to find a new swimsuit.
It's time to stop the rot.
The biggest barrier to our buying a new swimsuit and actually wearing it in public is … OURSELVES.
I've written on this very topic in the past – on the blog and in my book (warning shameless plug) Unlock Your Style (available here and in all good book retailers) but I feel it's something to tackle again because we all need a kick up the bum (in my case flat bum that doesn't fill out a bikini bottom) in this particular self esteem department.
Instead of accepting that the task at hand is a means to an end … that without a swimsuit you will miss out on swimming on your beach holiday or poolside resort escape … is just crazy.
Why be the one sitting fully clothed on the sand or under an umbrella sweltering while EVERYONE else is in the water having fun?
I wouldn't say I've conquered the whole body acceptance thing – far from it – but I am grateful that my body is fit enough to enjoy swimming, or at least lolling about in the shallows never far from a cocktail.
So, this summer I'd like you to join me in this collective gratitude for our bodies.
I want you to buy a new swimsuit that makes you confident to join the pool or beach party. I don't want you to stand in front of a mirror and attack every perceived imperfection you see staring back at you.
I want you to stand tall in your fabulousness and embrace summer as it should be embraced.
To get the confidence factor started, I'm taking the plunge, pun intended, and sharing with you some photos of me in a swimsuit, taken while in the Whitsundays recently.
I did this last year and it was bloody scary to put them out there. It's one thing to be all confident while on the beach; it's another to put photos out to the internets.
But here goes … and yes, I'm kind of cheating with the pineapple kaftan over the top but I think you get the picture (Thanks BabyMac for taking the photos.)
Robyn Lawley bikini (this style isn't currently available – I bought about two months ago – but it's same as this one – I love that the top works like a bra top, contains and keeps the girls uplifted!) | Seafolly kaftan (A note on the kaftan – it's not sun-safe by any stretch of the imagination and I only wore out in the sun for these quick photos. It's actually great with a cami underneath for sunset cocktails) | Blue Illusion hat (best aiport purchase in a long time) | Karen Walker sunnies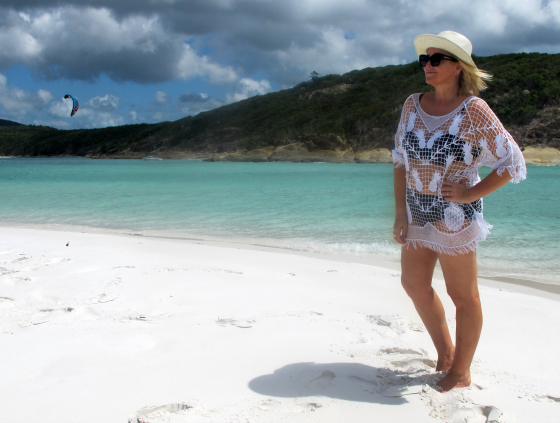 Capriosca swimsuit* @ Sequins and Sand | Seafolly kaftan | Blue Illusion hat
How to choose flattering swimwear
Most of the "how to choose flattering swimwear" questions come to me via women who are beyond their teenage years, most probably have had a kid or two and don't generally fit the swimsuit model mode.
Kind of like me.
This is not to say that my petite sisters do not have it easy in the swimwear shopping department – there is just more choice out there for them (if you fall into this category, leave your swimsuit buying tips in the comments below – all women are real around here).
The biggest thing I've learned in regards to my body shape and swimwear over the years is that I'm only kidding myself if I think that covering my body up makes me look smaller.
In fact, any photos from the years that I insisted on wearing board shorts as part of my swimwear ensemble, make me look bigger. WAY bigger.
I now wear a one-piece or bikini and have a good collection of cover-ups for throwing on when out of the water.
Tips
1. If black makes you feel more confident in a swimsuit – or any piece of clothing – then wear it.
2. Consider enlisting the help of a patterned swimsuit for all kinds of optical illusion tricks – and a lot of fun.
3. Want to create an optical illusion around the tummy? Ruching is a your friend.
4. If your bust is a C cup and over then do hunt down a swimsuit with support. Just having the girls up where they belong will help with the confidence factor.
5. Do consider what you'll actually be doing in your swimsuit. The needs of someone who regularly body surfs or wrangles small children will be vastly different from those who consider raising a cocktail glass to their lips sufficient exercise for the day.
6. Don't be afraid of shopping online. It really does take away the whole changeroom angst because you get to use your own mirror at home and control the lighting. Sequins?
7. Don't be afraid to seek out help from a bricks and mortar swimsuit special retailer, either. On the Sunshine and Gold Coasts, I can't recommend Sundaze Swimwear highly enough. Staff in these stores are trained – much like a trained bra fitter – to get you into a swimsuit you're happy with.
8. I understand that everyone's budget to spend on swimwear is different. What I do suggest is that you spend the most your budget can allow if you have your own pool, live at the beach or spend a lot of time beachside over summer. Quality swimwear is made from fabrics that withstand heavier use.
Shopping suggestions
1. Capriosca one-piece $139 (size 16-22) @ Sequins and Sand
2.  Robyn Lawley bikini $169.95 (size 10-20, bust size D-DD)
3. Queensland Swimwear Company one-piece $144.95 (size 8-18, bust size DD+, tummy control, ruching)
4. Freya bikini top $69.99 (size 10-16, bust size G) @ Swimwear Galore
5. Isola by Megan Gale bikini top $144.95 (size 8-16, bust size DD-E) @ Swimwear Galore
What are you waiting for? Get shopping. Let's embrace our bodies for all that they are and hit the beach or pool with a new confidence this summer.
Over to you … what's your biggest tip you can give others about buying swimwear? If you have a swimwear question, post it below and I'll do my best to find a solution for you.
* This swimsuit was gifted to me for editorial consideration. Full disclosure policy here.