I was asked this week which were my favourite outfits on Season 5 of Offspring – for Billie and Nina Proudman.
It wasn't that tough to answer (you can see my answers here).
Until I watched last night's finale.
Last night Nina served us up three outfits as a parting gift to us all. And two of them were by Australian independent fashion labels. Something I absolutely love about the show.
Nina Proudman style
I'll talk quickly about the green outfit – the printed pants and green top outfit.
I loved the top and pants (top was American Vintage which we've seen before, pants Megan Park) but I'm not a fan of it being worked back with boots underneath the pants. Just a personal choice. Thoughts?
The first outfit (as seen in the dream sequence), however, I gave you the heads up on back at the start of the series.
It's a silk dress by Binny – worn over jeans with boots.
If you want to track down that particular dress, here is a list of stockists that may still be able to help:
Bangalow Trading – Caulfield East VIC
A Shop called Moth – Albert Park/ Kensington VIC
La Petite Maison – Mulgoa NSW
Kelly & Macc – Mackay QLD
Ivy – Toowoomba QLD
Mr Darcy – South Melbourne (all the other colours – map and indigo)
Flinders Shed – Flinders (same print but blouse and short sleeve dress only)
Otherwise, there are still a few available online (shop here) in the blue colour I featured on the blog here.
If you're patient enough, a variation on this style will be available very soon in black, soft pink, white and a palm print.
The final outfit – a soft silk maxi dress by Lola Australia – I talked about with Offspring costume designers Michael Chisholm and Zed Dragojlovich.
"We originally saw one of their dresses in a store and contacted them. Out of six of their samples, we worked with them to create a piece that is now called the Nina dress."
That Nina dress is now available – yes, a rare Offspring featured piece that is in store now. I'm very lucky to be wearing my own Lola Australia Nina dress today. Look out for it on #everydaystyle on Instagram and Facebook later.
It's the kind of streamlined maxi dress that Nina loves and if I can wear it (a size XL) then don't discount it for you this spring. It's $289 and 100% silk.
Billie Proudman style
Billie ended the season in two fantastic Billie outifts.
The first featured a beige and black knit top from Country Road (anyone own this one?).
And she ended the season in a trademark Karen Millen printed shift dress.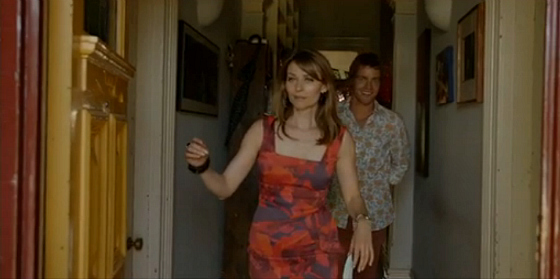 Baby Zoe
Baby Zoe has been played by a new actor baby for the past four episodes and this episode in particular, she really shone.
I spoke to Samantha Monaghan this week about how her daughter, Isabella, ended up being a part of the show.
How did Isabella come to be cast on Offspring?
It all happened very quickly! Showkidz posted on Facebook they were looking to hire some doubles to play Nina's baby on the latest season of Offspring. There are very strict regulations when it comes to employment for children and restrictions on the number of hours they can work so they like to have a selection of babies they can use when filming.My friend suggested I send a photo of Isabella as she fitted the description of what they were looking for. Three hours later we met with Laura, the casting manager, and were told she would start filming next week. Isabella is seen in a lot of the distant pram shots in the first nine episodes. She was small for her age but a lot older than the other babies so she soon began to do things on set that that a seven month old shouldn't be doing. In one scene while filming, Isabella stood up in baby Zoe's cot and started talking. So Isabella's time as being baby Zoe's double came to an end. A few days later we got a call back to meet with Imogen, one of the producers of the show. Isabella was asked to come back as the main baby Zoe for the rest of the season.
How old was she at the time?
We began filming when Isabella was nine months but when she took over as main Zoe she had just turned one.
Is she your only child?
Yes, she is our only child.
Has she done any other acting?
She hasn't done any other acting but she has done a bit of catalogue work for Target.
Were you a fan of the show before she got the part?
I had never seen the show so I didn't know what we were getting into! But now I am a big fan of the show and in the process of catching up on previous seasons.
What were the cast like with her? Asher and Kat?
The cast and crew were amazing. Isabella didn't want to know me when she was on set as she loved being around everyone and they all were so great with her. The only time Isabella cried on set was her very first day for her first scene. After that she had a lot of fun and got to know the cast and crew very well.
Any plans for her to do any more shows?
We don't have any plans for her to do any more shows but we probably wouldn't say no if asked again. Isabella has a great personality for it and she loves the attention and being around new people. She was definitely born a bit of a show off! Offspring has been such a great experience for her.
The de-brief (spoiler alert)
Oh, where do I start?
At the end, I think. It was all rounded off too nicely. Like they knew everything was coming to an end?
The family photo.
Patrick re-appearing, giving a silent blessing to Nina and Leo being "a thing".
Elvis and Ange falling for each other at first sight.
Mick returning and declaring to Billie, "the one thing I know … I want you.".
Phillip's wife announcing she was 12 weeks' pregnant.
Zara nailing her pre-medicine exam.
Lawrence admitting he needed a bit of shaking up.
Nina sticking it to Thomas. Darcy, Geraldine and Phillip REALLY sticking it to Thomas (well, his car) … with refried beans.
Clegg proposing a neighbouring house scenario for the complicated baby/adult relationships he wants to be front and centre of.
The whole St Francis Hospital team delivering 47 babies in one night, ensuring that Nina didn't swap that feeling for long days administering pap smears (seriously, thanks to all the doctors who do that though … we need you!).
There is a small window there for Offspring to continue, isn't there? I really hope it stays open.
You?
PS. Next Thursday just won't be the same. Why don't you drop in and say hi, Offspring or no Offspring?
PPS. Did you catch this post about how to get Nina's hairstyle PLUS win a ghd eclipse hair styler?
Photo credit: Offspring images courtesy of Channel Ten