The designers behind label Surafina speak to my need to dress like it's winter but not swelter because I live in Queensland.
It helps that they are based in Queensland. It helps a lot.
They understand that we can have super chilly nights and mornings and then glorious sunny days that require us to un-layer but still looked dress for the season.
I've offered tips here before about layering to create a winter outfit and this outfit I'm featuring today from Surafina brings together all those tips.
Each piece works as part of any outfit but two, three or all of them together makes for a winter outfit with interest because of the details.
The model
Surafina drape vest $129 | tank | knit $39 (on sale) | wet-look leggings $49
and me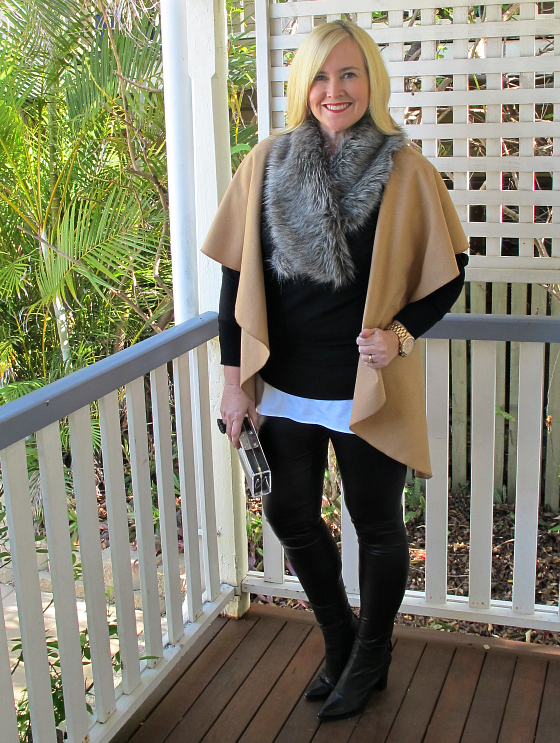 Surafina leggings (I'm wearing size M), cape, tank, knit (I'm wearing size M) and faux fur collar* $49 on sale| Dinosaur Designs ring | Mnologie clutch | Zoe Kratzmann boots
I wore this outfit last week to the opening of Good Food Month in Brisbane (I was a guest of Cathay Pacific). It had been a cold week, this night not so cold especially inside with a lot of bodies.
I didn't feel too warm but the addition of the cape and the fur collar gave my look winter elements – just right for the modern vibe of the Fortitude Valley venue – Kwan Brothers.
The leggings are a wet-look fabric – a great way to get a leather look without the cost. Do buy down a size or two though. They stretch easily and will fall down or be saggy and baggy if you don't.
I've worn the cape with just a white shirt and jeans and it works equally as well as the combination above. The fur collar is such a great winter accessory for just about any outfit. I just love it.
The ring was a birthday gift from Mr SY and the personalised clutch is beautiful. A word of warning if you are ordering one for yourself. I ordered mine in October last year. It arrived more than six months later. You might have more luck but I thought I should let you know that the wait time for mine was much longer than the advised delivery time.
The boots are from Zoe Kratzmann's current collection. I love that they have a bit of a heel and a dressy pointy toe for a night out but at a height I could stand at a networking event all night without my feet suffering.
Like a layered winter outfit that's comfy as well?
* These pieces were gifted to me for editorial consideration