We interrupt our regular Nina Proudman style program to bring you some style thoughts from Jane Harber, the actor who plays Zara in Ten's Offspring.
Yesterday, I had the opportunity to meet and interview Jane when she was on a day trip to Brisbane to talk Offspring with media.
It's pure coincidence that we're both wearing the same sunnies – Jane didn't have any with her. These were borrowed from Channel Ten publicist Lorraine
I only managed to mistakenly call Jane Zara once.
How I only slipped up once I'll never know. It was quite surreal sitting across the table at Alfred and Constance staring into "Zara's" eyes.
She is truly as beautiful as she is on screen.
Her voice – that sexy voice – that we're used to hearing deliver smart quips was exactly the same.
She had, however, swapped Zara's relaxed boho-mum style for a Melbourne-smart combination of black jacket, blush-coloured cami, black pants and taupe ankle boots.
The question on everyone's mind at the moment is whether there will be another season of Offspring.
"The producers are literally speaking to the network right now. They definitely want there to be. Everyone wants it," she said.
Fingers and toes, I say.
Zara Perkich style
Up until this season, we rarely saw Zara out of a nurse's uniform.
"(Now) it's hard because she's been pregnant, and at home a lot of the time. If you're at home and have two children and you're studying, you're not about thinking what jewellery you are going to put on. It's about keeping it real," says Jane.
"Zara doesn't care about mixing patterns and mixing colours. She's worn Nudie jeans, Tigerlily … they pull pieces from a two or three years ago. Or it might be something from Savers."
Jane says the appeal of Offspring style is its accessibility. "If you talk about iconic shows like Sex and the City being fashion forward in their day … with a lot of what was worn, you'd go 'that is amazing what you're wearing, never would I wear it, I don't understand it and by next week it's gone anyway'. If it's basics and accessible it's got a wider appeal."
Jane says her own style does include boho but a lot is black and simple.
"I like big jewellery, big earrings, wearing simple stuff and then having one stand-out piece.
"A lot of the time in my own apartment, I don't have clothing on. It's a comfortable state for me to be in. Sometimes I'll put the heaters on, play the piano with no clothing on.
"I do really like a good pair of jeans and a comfortable white t-shirt. I really love dressing up. There's a time and a place for pyjamas obviously but I like dressing up and I like heels. And I like sunglasses. I have a million pairs of sunglasses. I just forgot them right now because they're in the car."
That's ok, Jane … I was happy to share a sunnies style moment with you by default.
Nina Proudman style
Nina wore three outfits last night – her pyjamas (Scotch and Soda top and silk pants), a maxi skirt and olive leather jacket, and a pale mint top, scarf and jeans outfit. All classic Nina.
The skirt was by Warehouse; the leather jacket by Siricco (don't you just love the Nina "kick"?).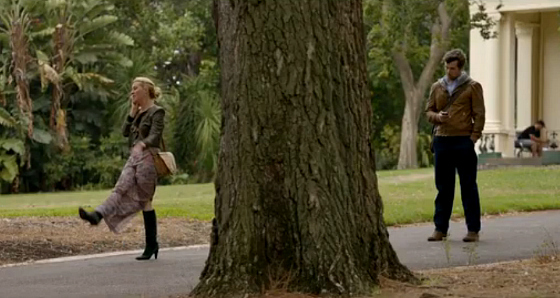 I don't have any intel on the top and scarf in the second outfit but I've used this outfit as the basis for this week's shopping inspiration.
1. Mavi jeans $139.99 @ Birdsnest | 2. Bandes crochet swing top $44.95 (on sale) @ Birdsnest | 3. Sparrows & Blossoms scarf $39.95 @ The Iconic | 4. Maria Ross boots $299.95 | 5. Nicole Fendel earrings $49
The de-brief (spoiler alert)
Did you strap yourself in for last night's roller coaster ride?
I did.
No choice really but to hang on for the ride that is the last three episodes of Offspring Season 5.
From the 1970s flashback of Geraldine springing Darcy with his pants down to Elvis walking in on Clegg and Cherie, to Nina, Jimmy and Billie's coloured popcorn, cheezels and creaming soda "pledge of maturity" and the beautiful Clare Bowditch back on stage … boy, oh boy, did we had the highs?
Billie and Mick's scenes felt like riding the loop of the ride, being spun upside down, emotions all over the shop and ultimately ending on a high.
The lows? Lawrence. I don't think I ever accepted that Mick was gone but I really did like having Lawrence and his unicorn sweaters around. He was good for Billie.
The lower than low? The good-for-nothing Thomas. I've been on to him from the start. I know many of you sussed out this plot development last week but I still was not prepared for Nina's devastation. The #offspring Twitter feed went nuts over this last night. How Thomas thinks he has an explanation, I do not know.
I'm #TeamLeo all the way. Always have been but not sure how that will come together in the two remaining episodes.
Zara told me all the cast were getting together last night to watch this episode. Would have loved to have been a fly on the wall at that de-brief.
Over to you. What do you think the next two episodes will bring? Love Jane Harber/Zara as much as I do?
Photo credit: all images from the show are courtesy of Channel Ten