I've said this before but I'll say it again – my multiple wardrobe personalities often sway nicely between the style of both Proudman sisters.
Billie Proudman speaks to my classic-corporate style personality; Nina Proudman speaks to my romantic-casual style personality.
Many of you are either one or the other. And that's ok too. Probably more ok than my swinging.
Billie Proudman style
Billie Proudman's style is really speaking to me this season.
I like how that as she's got it together then so has her style come together.
There is boldness without the brass. It's chic but wearable.
The shift dress she wore at the start of last night's episode is by US designer label, Theory. You can shop the label from Australia via Shopbop or Saks Fifth Avenue.
It's the kind of style that looks polished, has a point of difference in its graphic print but can also work with an added blazer.
Here's a little shopping inspiration:
1. Seed dress $129.95 | 2. Pastiche bangle $180 | 3. Adorne earrings $22.95 | 4. Ko Fashion heels $59.95 @ Styletread | 5. Renee Blackwell Design ring $340 | 6. Dinosaur Designs bangle $105
How to dress like Nina Proudman
Nina must have bought up big at Tigerlily last season as here is another from the collection. Offspring's costume designers did say that the weight of the fabric just seemed to work on Nina, falling beautifully.
I see this particularly in their maxi dresses. The designs are not voluminous – they drape and skim the body without adding any bulk that you can find in a maxi dress. The tan plaid belt and shoulder bag are very Nina.
As is the addition of a draped jacket over the top.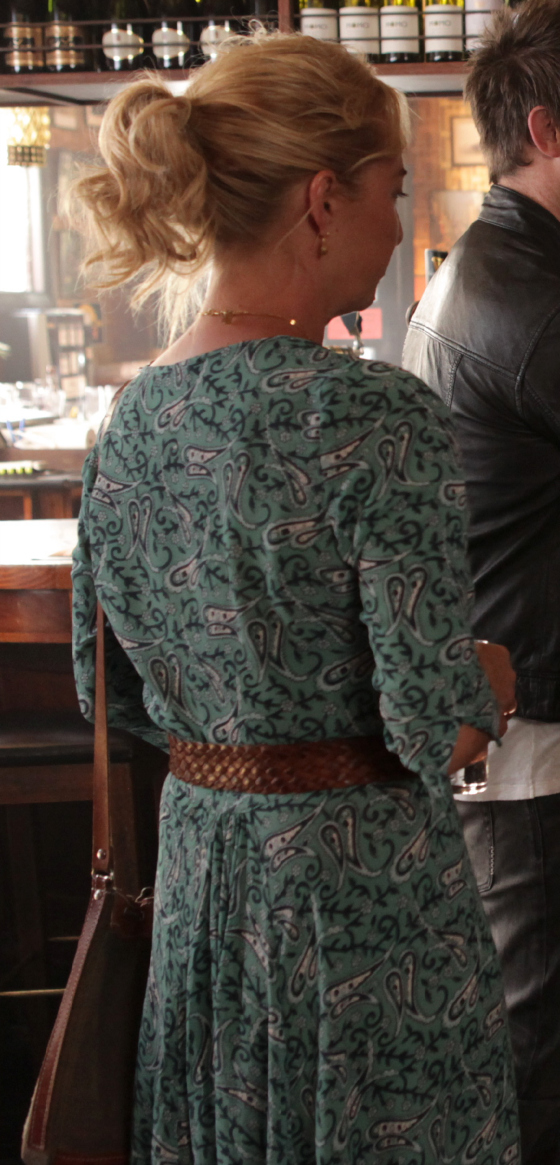 Here's a little shopping inspiration:
1. Tigerlily dress $229.95 | 2. Decjuba leather jacket $349.95 @ The Iconic | 3.  Nicole Fendel necklace $99 | 4. Maria Rossi boots $299.95 @ Styletread | 5. Bohemian Traders bag $129 | 6. Harmony Ball pendant $38 @ Oh My Giddy Aunt |  7. Birdnest belt $59.95
I suspect that Zara's printed pants were also Tigerlily. Anyone own these? Buy similar here.
The de-brief (spoiler alert)
You can tell we're getting near the end of the season, can't you? (I'm really hopeful there will be another season – this article gives some hope but it's still not a definite, I don't think.)
So much happened in last night's episode. Funny stuff, awkward stuff, pivotal stuff.
We had the Clegg- Cherie addict-dependent situation.
Nina confessing to Clegg that she's not sure if she shouldn't be thinking of another career path – for Zoe's sake. "I think you should know where my head is," she told Clegg. To which he replied, "still in vaginas?".  (LOL)
Mick arriving back in town, having broken up with Mimi after realising he didn't love her as much as loved Billie, not confessing that to Billie, Billie only finding out via Nina "changing everything". All this coming after introducing Lawrence to Mick and being all ok with everything.
Darcy covering baby Zoe's ears (Zoe's grown up a bit and now being played by a new baby actor, Isabella) after realising that Nina and Thomas were downstairs *inspecting* the strength of the kitchen table in a loud and vigorous way.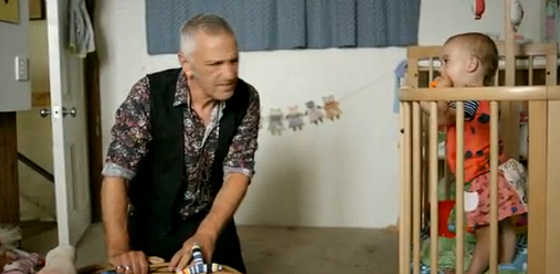 Leo basically giving away that he has a thing for Nina. Thank GOD. Enough with Thomas and his sneaky, wooden ways. He's no Proudman. And where is his baby's mother?
Kim arriving at the pub for the Proudman reunion with her date, delivering the my line of the night: "This family is like a bath plug. They suck you in … before too long you're having one of their babies."
True that Kim – and if you're not prepared to be sucked in to the madness, move on I say.
Over to you. Thoughts on how the storyline is coming together? Billie or Nina more your style?
Photo credit: all images from the show are courtesy of Channel Ten