Last week we looked to the real women of #everydaystyle for some inspiration on what to wear to the office.
This week we're all about the casual.
For me, most days call for a casual outfit. I work from home. There's usually a school and post office run involved. Occasionally there is a meeting or networking event but mostly it's all about the casual.
For others it's a weekend thing. No matter which side of the casual equation you fall – full or part-time – this post is for you.
Blue Bungalow top* $49 (I'm wearing M) | Seed scarf (two or three years ago) | NYDJ jeans $219| Country Road boots (five years ago)|  Uberkate necklace
This outfit of mine was actually from a Saturday but it would equally work most days for my #everydaystyle.
It would be so easy for me to wear this kind of casual outfit every day but I see it as a bit of a personal style challenge to mix things up.
Jeans are definitely my failsafe winter casual outfit base but I like to change up what I wear with them – or ditch them all together for tights and a tunic or dress.
Here are some tips for you if, like me, you have to come up with a fresh take on casual every day, or if you nail the office look all week but struggle at weekends to relax into a casual look.
What to wear for winter weekend casual
1. Make sure you have the basics covered in your wardrobe. I'm always on about those basics, aren't I? Without the basics – and for winter casual those basics are jeans, leggings (preferably ponte), cardis and layering tees. Buy to suit your budget but only buy well-made garments as these are the ones that you'll call on most regularly and should last more than one season.
2. Invest in boots. There are plenty of cheap boot options out there, so by all means go for those, but if you can stretch to investing in a pair of flat boots (knee-high or ankle) then do so. Those boots will serve you well for many a winter to come if you buy in a more classic style. More tips on boots here and here.
3. Have fun with scarves. A scarf has the wardrobe super power of being able to pull an outfit together in three seconds flat. I am not game to add up the number of scarves I own but much like my cushion collection, there is always room for one more ;). A scarf can take the most basic outfit and lift it several notches, it can add a pop of colour to a neutral outfit or it can add a contrasting winter texture for interest. Get some tips on how to wear one here.
4. Keep working on your layering skills. We covered off on some tips here but the important thing to remember is that you need to make your base layer acceptable enough to be on show. I used to make it all about the show-pony top layer but that layer quickly becomes redundant on a Queensland winter's day. De-layering can render an outfit incomplete so think about that first layer – it could be as simple as a tee and a scarf with jeans.
5. Don't just pull on your jeans. I can easily fall into the jeans rut so I get that it might be an easy option for you too. These days I consciously opt to mix it up a little. Jeans one or two days, ponte pants another and leggings and tunic or dress another. Yes, it takes a little more effort but it is worth it. The variety keeps my mood fresh and the depths of my wardrobe well visited and utilised.
Your #everydaystyle for winter weekend casual
I love watching the #everydaystyle feed every day but there is something about the vibe of everyone's weekend outfits that really gets me excited.
It's that challenge of putting an outfit together that is put together but is not over the top for a relaxing day out. And the real women of #everydaystyle nail it. Every. Time.
What's the common denominator below?
A scarf or a draped-vest-type-situation. Clever pieces that don't necessarily add bulk or too much warmth but definitely add interest.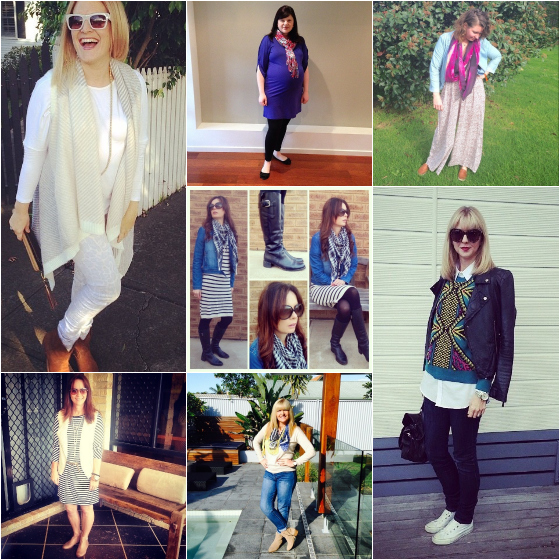 Left column (from top): @lucietrinco | @stylelovingyou
Middle column: @theplumbette | @morgs71 | @irismaystyle
Right column: @creatingcontentment | @melissasdressupbox
Shop the look
I'm going to try and add a little shopping suggestion here each week with these posts. As with all the shopping suggestions I ever include on Styling You, I want you to use these as inspiration.
Maybe you have similar pieces in your wardrobe that you'd never thought to combine? Maybe you could use the ideas to find similar pieces in a store you like to shop in or at a price that better fits your clothing budget or personal preference.
That's why I try to mix up the what I feature – I aim to include budget, mid-range and a few investment pieces. Then it's up to you what you do with the information and suggestions.
1. Mix Apparel dress $29 |  2. Jendi scarf $24.95 | 3. Metalicus long cardi $199.95 | 4. Bohemian Traders bag $139 | 5. Diana Ferrari boots $249.95  | 6. Metalicus tights $19.95
What's your winter style uniform?
Join in
Want to join in? Simply upload a photo of yourself showing your everyday style to Instagram or Facebook, use the #everydaystyle and tag @stylingyou so I can find you. Don't feel you have to post every day. Post when you can. For consideration in my outfit of the week round up, I look first for clear, in-focus photos without text or borders on them. These work in best with the montage layout.
More inspiration
Check out Wardrobe Wednesday with Kim-Marie on Kimba Likes.
Over 30? Rach from Redcliffe Style links up with other style bloggers each Thursday for 30+ Style.
* This garment was sent to me for editorial consideration