It's that crazy point in the fashion season where it's actually turned to winter weather but the stores are in sale mode and in a matter of weeks they'll be convincing us that spring is a thing.
Urrgghhh.
It's all just crazy.
Where does it leave us? The fashion consumer?
Confused at worst. Accepting at best.
I go with accepting.
I don't go into a frenzy in thinking I have to buy up big on new-season styles but as a Queenslander I'm always on the lookout for clothes that will do me for most of the year – high summer excepting.
What I look for are pieces that can be layered.
A label that I've come across this season that fits that bill is Firefly Clothing.
Firefly Clothing is the brainchild of Wendy Morton-Edwards who swapped out a corporate career for travelling the world – a move that provided the inspiration for her label.
Firefly carries with it more than a hint of boho styling and will appeal to those who love vibrant colour and detailing such as embroidery and sequins.
The dress I've featured today fits that bill.
The model
Firefly Clothing Allanah Dress $110
and me
Firefly Clothing dress* (I'm wearing size L) | wYse bodywear leggings (I'm wearing size M) | Red Phoenix Emporium necklace | Misano ballets*
This dress is one that I can wear now with leggings, boots, scarf and a long cardi or jacket. In two months I'll be able to wear it in spring with sandals and be sun-safe.
How I've worn it above is for a day-time temperature that sits somewhere in between.
I love the button-down neckline that I can wear up or down to suit. It would also work as a breastfeeding option for new mums.
As you can see I'm a "roll the sleeves up" kind of girl. I find a three-quarter sleeve length most flattering.
It's the perfect casual wardrobe piece for a work-at-home like me who likes a colour lift in their wardrobe at any time of the year.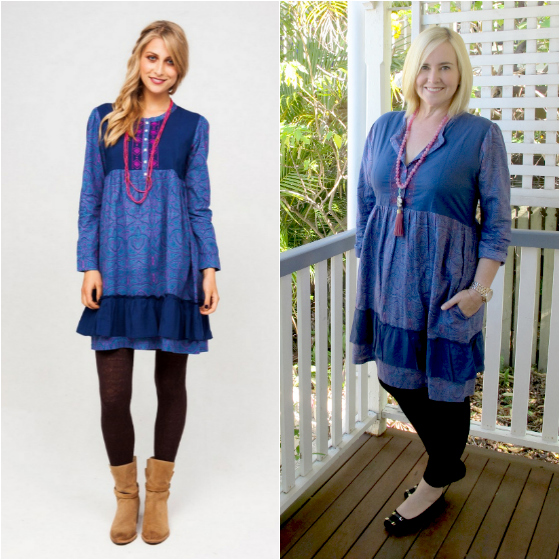 Love this kind of frock? How do you work a love for boho into your winter wardrobe? 
* This dress and shoes were gifted to me for editorial consideration