This is the third post in a series I've started on the blog. You seem to like them so keep those questions coming.
Missed last month's style questions answered post? You can catch up here.
Some of your questions make blog posts on their own so I'll be developing them and posting on the blog soon.
I get a lot of specific style questions emailed to me and try to answer as many as I can. The ones that have wider appeal, I'll include on the blog.
Style Q1
I have a wedding to attend in late August in Sydney and am looking for a gorgeous frock. I don't seem to have the time anymore to run through boutiques with family of six, work, hubby and home. The dress code is black tie and I am wondering if you can recommend a nice frock to me long or cocktail would be ok I guess? I don't want to go overboard as I tend to wear dresses like this a few times and then recycle them on eBay or within the family so have a maxium budget of $200. Do you have any ideas for me? Julia
Julia, I don't know how you even had time to email me. That's one busy life you have there. How did we do it before online shopping? Even if I don't buy online, I do my browsing that way to cut down on time going from store to store. Whenever I get invited to a wedding (or similar special event) I first look in my wardrobe to see if there is a frock sitting there that hasn't been out to play in a while. If nothing inspires me, I start my browsing. Setting a budget is always a good idea – and everyone's budget for clothes is different. I think your budget is realistic and I think you can make it work for you beyond this event by choosing something in a block colour that can be accessorised differently each time.
A late August wedding is a tricky time to buy so it's good to start now to avoid a panic purchase. Spring designs will start to land in store in August but not the selection you'll find in September or October. You may be lucky, however, to pick up a bargain from a designer's winter range – like I did last year with this Trelise Cooper frock. Another option is to hire a dress through online businesses such as GlamCorner – a great idea if you think you'll only wear it once.
Below are four ideas I've found online and available now. Hopefully they'll help get you started on your mission.
Shopping ideas
1. Fate dress $169.95 @ The Iconic | 2. ASOS dress $77.78 | 3. Pink Ruby dress $165 @ The Iconic | 4. ASOS dress $87.51
Style Q2
If I were on a budget, what would be five staple pieces I could change/accessorise for both work (non-corporate) and casual?  Victoria
I love this question Victoria. Working in a non-corporate environment does make this easier but I think there are key pieces that will get you through your entire week. As we are in autumn, I've geared it more to now. My top 5: a white shirt, grey marle striped top, ponte pants, ponte skirt and ponte jacket.
What's the go with all this ponte stuff? What is ponte? I'm glad you asked. It's a couple of years since I wrote a post about the power of ponte but two years on my case for ponte in autumn-winter still stands. Ponte is like a thick jersey. It sucks you in, doesn't cling, can be dressed up or dressed down and doesn't require ironing or dry cleaning. You can see why I'm a fan, yes? If you need to switch from office to casual, these are your go-to pieces.
The five budget wardrobe staples I've highlighted below can be worn in a multitude of ways and combinations. Here are just a few …
1 + 5 + 4
3 + 2 + 1 (worn open)
1 + 3 + 4
2 + 5  + 4
2 + 3 + 4
Shoe wise, I'd add  black ankle boots, black ballet flats and black heeled pumps to the mix to cover options for any occasion. Accessories? Look to scarves for weekend wear; a statement necklace for work.
Shopping ideas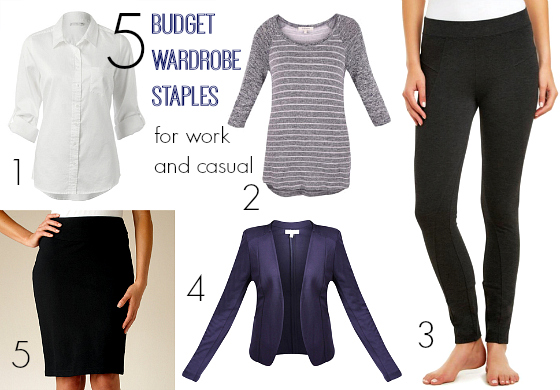 1. Target shirt $30 | 2. Emerson @ Big W top $11 (online price) | 3. Sussan ponte legging $49.95 | 4. Emerson @ Big W ponte jacket $17-21 (online price) | 5. Target ponte skirt $35-$39
Style Q3
I have a question about getting the proportions of clothes right. Last year I discovered maxi skirts (I'm a bit slow on the uptake) and I find that I'm not really sure what length tops I should be wearing with a maxi, especially if I then need another layer, say a cardigan. I'm a plus size girl, at the top end of the scale, so I don't want to wear a top that I feel is too short, as I have a belly, but my usual work tees (which are called something fancier, and come from Taking Shape) seem a bit long with a maxi. Maybe its about fabrication too? Are there any general proportion tips that work for plus size gals, and our slimmer Stylers, that you can share?  (My wardrobe is 96% trousers and tunics/tees, but I'd like to branch out into wearing skirts more, maybe working up to something knee length.)  Annette
Annette, the maxi skirt can be your wardrobe friend but it does take a little working to make those proportions work. The reason being that the skirt itself is a lot of fabric and even in a streamlined a-line or tube shape, the skirt ends up covering up and hiding the most part of our bodies.
The key to getting proportions right in any outfit is always about balance. Balance between top and bottom halves of an outfit. Balance between showing your shape and not.
So in this case we've got a long skirt hiding half our body and not showing our leg shape, so we need to think how can we balance that out on top so it doesn't overwhelm. You don't need to go for a super short top but that top ideally is semi-streamlined and sits at the top of your thighs (at the longest). Any longer and it starts to look like you're wearing a dress over a skirt – a length that is ok with streamlined pants as we clearly see the shape of the leg. Stand in front of a mirror and play with a top lengths, tucking up and comparing how that looks compared with down. Have the top altered if need be – sometimes it can be just the difference of a couple of centimetres that brings an outfit into balance.
Another way I then like to work the balance of the outfit is with a shorter jacket. The temptation might be to cover up and wear a longline cardi but this is best left to wearing with streamlined pants. A shorter jacket over a the longish-but-not-too-longish top will create a waist even if you wear it open as it draws the eyes there, balancing out your bottom half.
A boot with even a small heel will help balance out the outfit as it elongates the legs. On warmer days an open sandal and knotting of one side of the hem to see the ankle will have the same effect. Adding a scarf creates another top-half focal point to further balance out the outfit.
Outfit idea
1. Harlow jacket $249 | 2. Target top $30 | 3. Blue Bungalow scarf $29 | 4. Django and Juliette boots $199.95 @ Styletread | 5. Autograph skirt $59.99
Do you have a style question you'd like considered for this monthly post? While I would like to be able to publish answers to everyone's questions but this is not always possible. If your question is time-sensitive, please note that and I'll aim to personally reply to you. Please email me: nikki@stylingyou.com.au