It's been too long between newsy bites posts so thought I'd better rectify that right now.
Don't hate me but as you're reading this, I will be waking up at or leaving this magical place. More on that and what I've been up to soon.
In the meantime, I've got some style insights to share.
Great.ly
I'm excited to share that I'm part of a great new concept on the interwebs – Great.ly. Great.ly has its origins in the US but includes fabulous creatives and designers from around the world, sharing their products via a whole bunch of other fabulous people who have curated their own boutiques to showcase those designers' products.
I have curated my own boutique! You can check it out here. I'm still loading things into it but I'm excited to be sharing some of my fave pieces, decor things and stationery. Things created by talented people – small businesses doing their thing and following their passion. Best of all … if you like them too, you can buy them (disclosure … if you do then I get a small commission).
Indooroopilly Shopping Centre
You might find it difficult to believe but I don't get out much to check out stores "in the flesh". Life is busy and online browsing and shopping is just so damn easy. I also get my bricks and mortar retail fix by wandering up to my local shops. On Sunday I got my shopping centre mojo back.
Oh yes, I did. The new-look Indooroopilly Shopping Centre in Brisbane's west is almost complete. David Jones has opened, as has a bunch of high-end speciality stores. Hello Camilla, I'm looking at you and your sparkled kaftan gorgeousness. The reno of the original Myer store is still not quite done and there are stores still boarded up I think within a week or two it will be all unveiled.
On the food front, the food hall needs to be seen to be believed. Amazing. And if wanting to dine out, then Nantucket Kitchen & Bar is the go whatever time of the day. For breakfast, lunch, tapas, coffee, champagne or all of the above.
Body Image Movement
Have you heard of the Body Image Movement? Founder Taryn Brumfitt is a mum of three who wants to teach other women to love their bodies from the inside out. She was contemplating surgery two years ago to make her breasts perky and tummy flat but stopped and thought about the message that was sending to her daughter. So she didn't have the surgery, instead set off on a personal mission to love her own body and then get others to love theirs.
Body Image Movement says no to excessive photo-shopping, prescribing to the notion that being a certain weight determines whether you're healthy and women being treated as sexual objects and the objectification of women. It says yes to body diversity and embracing all body types, shapes, sizes, colours and revelling in the beauty of the human form.
To help get the message out further, Taryn is campaigning for pledges to support the making of a documentary. The great news is that more than $250,000 has already been pledged. Check out the trailer here and consider helping out too.
sass & bide wish upon a star
After two successful annual collaborations for Make-A-Wish Australia, the sass & bide girls are back raising funds through the sale of this year's limited edition star necklace. You can get yours in store or online here. All sales proceeds are donated to help make wishes come true for children with life-threatening medical conditions.
Mademoiselle C
If you loved The September Issue, then you'll love Mademoiselle C. This fashion documentary charts Carine Roitfeld's creation of the first issue of the CR Fashion Book and intimately captures not only the glamorous life of the fashion editor, but the singular passion and uncompromising vision that drives one of the most renowned artists in the fashion business.
An internationally-renowned style icon, Roitfeld's sexy, smoky signature style has propelled her to goddess status amongst fashion's elite. In late 2011 having helmed French Vogue for over 10 years, Carine made the unexpected decision to step down from her prestigious role as editor in chief. She immediately embarked on a long-dreamt of passion project, the creation of her very own signature publication, the CR Fashion Book.  Available through Madman or download on iTunes here.
Bobbi Brown Mosman
Bobbi Brown's first stand-alone store in Australia has opened in Sydney's Mosman. The Studio's design is inspired by a Soho-loft look. Apart from getting hands-on with a huge range of Bobbi Brown products, customers can also book in for brow shaping and free 20-minute makeup lessons.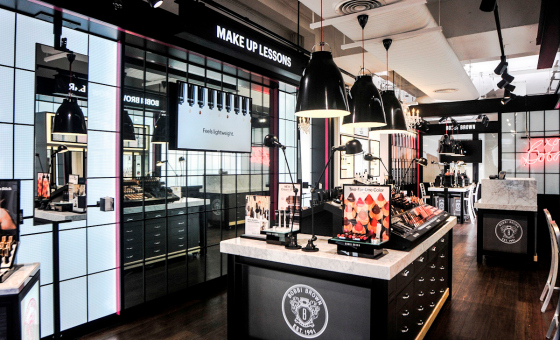 Sizeable
You know how I'm always banging on about fashion designers and the need for their designs to be shown on more than one size model? That's how The Model and Me series got started. Well, one clever woman – Larissa Thorne – has taken the concept to the next level. She's not waited for a designer to get on board, she's set up an online shopping site that lets you shop and be inspired by six different shaped and sized models.
The aim of Sizeable is to "help eliminate buyers remorse and to create a more diverse and inclusive shopping experience". For each product you have full measurements for each size as well as comparative measurements of the model so that you'll always buy the right size.
With a growing staff of models and some of Australia's best up and coming brands including Leonard Street, Limedrop, Ruby Sees All and AD by Haryono Setiadi, Sizeable is poised to become the most inclusive shopping experience in the world. It was conceived using the National Body Image Advisory Group's Industry Code Of Conduct as a guide and encourages diversity while hoping to promote healthy body image – no matter what size or shape you are.
Over to you … have you got any news to share? Found a great store or received great service recently? Share below in the comments.
PS. QUEENSLANDER!