If you're like me, you've packed away your summer wardrobe but are tearing your hair out as autumn hasn't got the memo re it's time to cool down.
And officially it's winter on Sunday, so what's with the ridiculously warm days?
The thing is I'm bored. Bored with my summer wardrobe and highly impatient to dip right into my winter wardrobe.
Winter is such a brief fashion season for most Australians, it seem unfair that record high temperatures in May have robbed us of some early chances to break out the jackets and the knits.
I am, however, taking this delayed winter in my wardrobe stride.
I've decided to use this time as a time to practise my layering techniques because much as I complain about the current heat, it's got nothing on the sticky humidity of Queensland in January and February.
To make outfits interesting (to ourselves!) it is possible to layer. When you layer your outfit, it immediately adds impact and interest, so this is a very good thing to try and aim for.
This week on the #everydaystyle feed, I've seen so many examples of how to successfully layer when the mornings and evenings are cool and the days are very, very warm, that I thought I'd share some examples today plus some tips on how to layer clothes for trans-seasonal days.
Of course, in doing so, I've probably jinxed the warm weather and we'll hurtle full speed into winter. So be it.
Wardrobe tips: how to layer
1. Think about your base outfit pieces. These really are not only the building blocks but they also have to be good enough to stand on their own should you need to de-layer throughout the day. I rely on my basics. Think jeans, tee and noteworthy shoes/boots and a necklace. The rest is icing.
2. Don't add in a thick knit or jacket if you know you're going to be creating a personal sauna by 11am. I don't know what it is but I'm seduced by every new knit I see online and in store. It's just crazy as I already have a massive collection for someone who lives in a mostly warm area. I like the comfort factor, I think. So, if I'm going to add a knit, I have to know in advance that it's a particularly cool or cold day/night.
3. Create an outfit that's half winter/half autumn. This is one of my most currently used tricks – and I've seen so many others do it. We know we're not in high summer any more and we want to utilise our winter offerings but how to do that? Simple, break down the outfit and balance it out. Maybe a summer-weight tunic with leggings and boots. Maybe jeans and ankle boots but with just a tee and a scarf. Can you see where I'm heading with this? Your wardrobe is revamped and different but it's also allowing an outfit to be climate-appropriate.
4. Opt for layers of light weight. If you live somewhere cold this doesn't mean sacrificing warmth. It means utilising layers that don't need bulk to keep you warm. Think cashmere and merino wool. There is no benefit whatsoever in looking like the Michelin Woman. I find Metalicus is brilliant for this kind of layering – particularly any of its wool blend range.
5.  Do not ignore the power of a scarf/kimono/cape. These are very much your trans-seasonal layering friends. They add another layer but usually in a light cotton so if the going gets warm around lunch time you usually get away with still wearing them.
6.  A leather jacket or light trench is your night-time outfit friend. Unless you're going to be sitting outside at this time of year without heating, you will not need a full coat. Getting to and from your evening venue might be a bit chilly though. Opt for a classic outerwear option and you can't go wrong.
This was my favourite layering outfit for the week. The top underneath is sleeveless so a light cotton cape over the top was suitable for all day – especially as I spent a good proportion of that day in a shopping centre.
Solito cape* | Country Road top | NYDJ jeans | Frankie4 Footwear boots* | Gorge Design necklace (long)* | Zaza Culture necklace* | Samantha Wills ring
Your #everydaystyle
From capes, to leather jackets, shirts worn around hips, lightweight tunics and scarves, your #everydaystyle inspiration showed us how to keep things interesting, while still working with the unseasonably warm temperatures of the last week.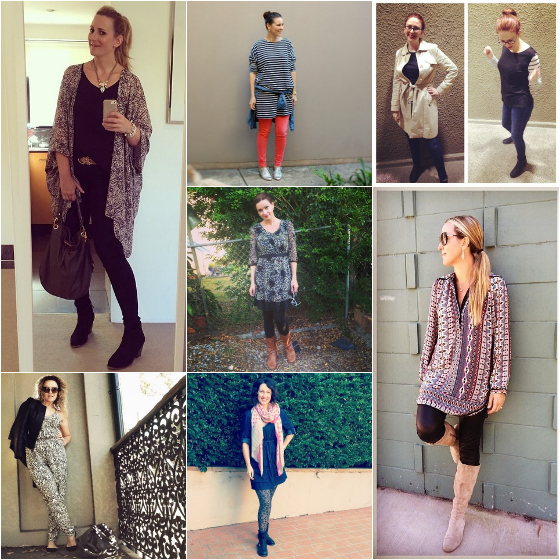 Left column (from top): @icadoo | @glamourmama1
Middle column: @redcliffestyle | @champagnecartel | @escapewithkids
Right column: @tamsinhowse | @uberkatejewels
Join in
Want to join in? Simply upload a photo of yourself showing your everyday style to Instagram or Facebook, use the #everydaystyle and tag @stylingyou so I can find you. Don't feel you have to post every day. Post when you can. For consideration in my outfit of the week round up, I look first for clear, in-focus photos without text or borders on them. These work in best with the montage layout.
More inspiration
Check out Wardrobe Wednesday with Kim-Marie on Kimba Likes.
Over 30? Rach from Redcliffe Style links up with other style bloggers each Thursday for 30+ Style.
How was your everyday style this week? How do you layer for a day that starts cool, heats up and then ends cool?
PS. The #everydaystyle round-up will be back in two weeks. It's my birthday next Friday so I'm giving myself the day off. Because I can 😉
* These pieces were gifted to me for editorial consideration