I have a thing for shift dresses. But if you are a regular here you'll already know that.
I love their body skimming capabilities, bringing comfort, class and style to one frock.
When Leona Edmiston cuts a shift dress, I sit up and take notice. Mostly because every Leona shift I've bought to date has been a wardrobe winner for me.
The length is always just right and the pattern makes me feel a million dollars without having to don a pair of suck-er-in-er pants.
Here's my latest Leona Edmiston shift fave. A new piece from Leona's diffusion Ruby label.
The model
Leona Edmiston Ruby Musette dress $160 (currently on sale, was $229). Available only online and in Myer
and me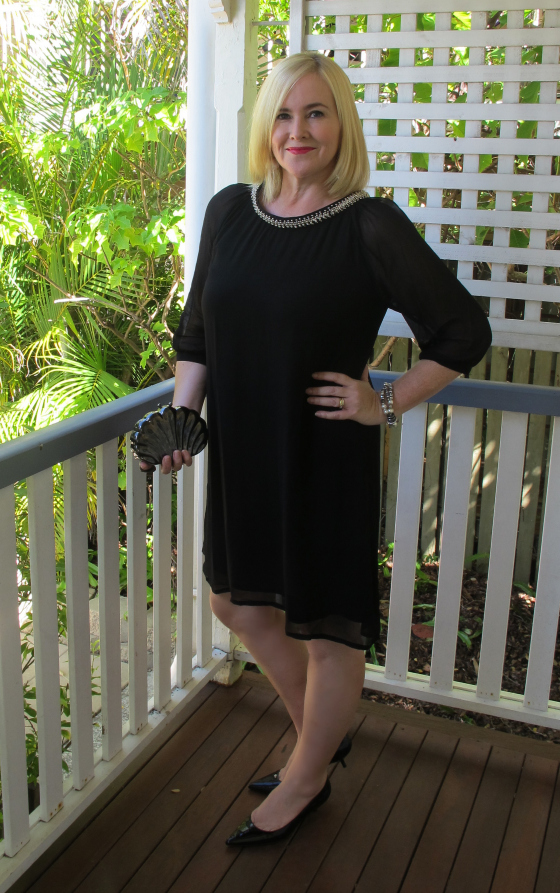 Leona Edmiston Ruby Musette dress*  (I'm wearing size 3) | Zoe Kratzmann kitten heels* | Mimco bracelet (from two years ago) | vintage clutch (picked up recently at a local op shop)
What I always do in this style of frock is try down a size. And it's something I suggest you do too.
It might turn out that your normal size is the right one to go for but if the smaller size works across the bust and back then I say go for that one as there will be less fabric swinging down below which is more flattering.
I'm usually a size 4 in Leona's sizing but have bought 3s before and in this case it was the right choice for me too.
I love how this dress is dressy yet understated – viscose floating over a polyester slip.
The neckline is essentially a built-in statement necklace. It places all the glitter and sparkle up near your eyes where it should be.
Earrings and bracelet or a cocktail ring is all you need to complete the cocktail outfit.
Let's talk about the shoes. I can – and do – endure high heels at cocktail events but the resurgence of the kitten heel is a good thing. A very good thing.
It means I can wear a dressy shoe, my legs are elongated thanks to the pointed toe but I'm in a small heel that I can go the distance in. Winning.
What say you re the shift dress and a kitten heel? Love a Leona Edmiston frock?
* These pieces were sent to me for editorial consideration