Don't get me wrong, I'm not abandoning my love of the ankle boot any time soon (if you'd like tips on how to wear those, check out this post from last year) but I'll always have a soft spot for a knee high boot.
I blame it on those white knee highs that Sally Boyden wore on Young Talent Time back in the day. I've coveted knee high boots ever since … almost as much as I've coveted white roller skates. Thank-you very much Xanadu.
I currently own three pairs of knee high boots. One pair of new flat black boots featured here; one a heeled suede Jaime Mascaro pair representing my most expensive shoe purchase ever five years ago and a pair of tan flat Country Road boots from about the same time.
Like many women, finding a knee high boot that fits around my calves – or should I say specifically my left calf – is quite tricky. I didn't think my calves were overly large until I started shopping for my first pair of knee high boots 12 years ago.
After many a ugly step sister moment of trying to squeeze into too small a boot, I worked out what I had to look for before enduring the humiliation.
What I hunt down is a panel of stretch fabric – material that blends in with the main boot fabric so as not to bring undue attention to my fatted calves.
Others in a similar situation to me look to wide-calf boot specialists such as Duo Boots. My blogging mate Melissa from Sugercoatit wrote a couple of posts last autumn-winter offering up more shopping suggestions. You can check those posts out here and here.
My hot tip to you is if you're on the hunt for a pair of knee high boots, do not delay.
Most Australian retailers only buy in a limited number of boots – particularly knee high ones – as our winter is such a short one and boots of this kind generally represent an investment purchase. You don't want to find yourself in a situation where you've tracked down your dream boot only to find your size is no longer available.
My second hot tip is if you're spending a decent amount of money on a pair then opt for a design that is classic in style. A good boot just gets better with age but these assets will mean nothing if the style is out of date the moment spring clothing hits our stores.
Buy wisely.
Here's a selection of knee high boots any of these would remain your wardrobe friend for many winters to come. Oh and tan, nude and black are my picks for wardrobe longevity and outfit versatility.
1. Zoe Kratzmann boots $399 | 2. Target boots $59 | 3. Maria Rossi boots $379.95 | 4. Maria Rossi boots $299.95 | 5. Wittner boots $269.95 | 6. Ivy Lee Copenhagen boots $399 | 7. Diana Ferrari boots $249.95 | 8. Trenery boots $299 | 9. Django & Juliette boots $299.95
At a loss on how to wear knee high boots?
There are two main options – the tucked-into-jeans-look and the-worn-with-a-shorter-dress/tunic-look.
The knee high boots and jeans look
For a jeans look, those jeans need to be streamlined around the calves and ankles. No puffing above the top of the boot or you'll risk being cast into the next Pirates of the Caribbean movie.
Balance out that streamlined bottom half with something flowy or with movement on top. Our good friend Nina Proudman masters this well with a tan boot.
The below outfit example is a little less boho but you get idea about balancing out our bottom and top halves to add interest to our outfits.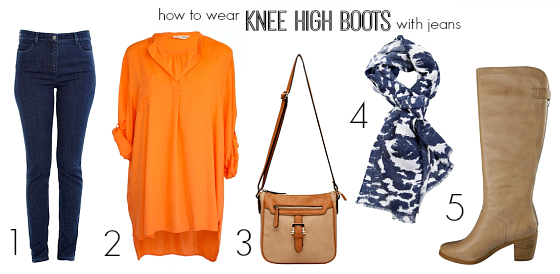 1. Blue Illusion jeans $199.95 | 2. Blue Bungalow shirt $109 | 3. Sussan bag $49.95 | 4. Eb & Ive scarf $29.95 @ Birdsnest | 5. Wittner boots $269.95
The knee high boots and dress look
This is a look that took hold in the 1960s – knee high boots worn back with short swing and shift dresses and coats. It's these style origins that this outfit below takes its cue from.
The key to making it work in 2014 is to always have a little bit of leg showing between the top of the boot and the bottom of your dress or tunic. Leggings or thick tights are very ok. This gap between boots and frock helps to balance out the whole outfit.
1. Witchery dress $129.95 | 2. Country Road boots $299 (currently on sale for $224.25) | 3. Target coat $69 | 4. Trenery handbag $299 | 5. Metalicus ponti pant $149.95
Want more styling inspiration? I've started a board on Pinterest dedicated to knee high boots.
So tell me, would I find knee high boots in your wardrobe? Looking to buy a pair this season? Or sticking with ankles?
PS. My blogging mate Sonia over at Sonia Styling has written a post today about how to wear ankle boots. Check it out here.
PPS. As it's ANZAC Day in Australia tomorrow, I'll be spending time with my family. I'll be back on the blog Monday with a new Model and Me post. In the meantime you can follow along on Facebook or Instagram for an #everydaystyle update.