Have you noticed that black leather jackets are every where this autumn-winter?
It's the one clothing piece I'm mentally obsessing over and scheming ways in which I can add this investment piece to my wardrobe.
And I know I should be actually buying one now because when the time comes that it's cool enough for me to wear it, there will be none left in the shops because you smart people out there will have snapped them all up.
This mental obsession with the leather jacket follows on from last year's successful wardrobe injection of leather pants and skirt.
Boy have I got some wear out of those. And I'm pleased to report that these two styles are very much around again this season and will be on high rotation around here through winter.
This is VERY good news as my tips in the post I wrote last year about wearing leather pants and skirts still apply.
Many of these general how to wear leather – or pleather – tips also translate to any outfit that you may wish to fashion using a black leather jacket.
The big key I find when working out how to wear a leather jacket is to recognise that it's the texture of the material used in the jacket that gives it its edge. Take that and contrast it with something quite the opposite.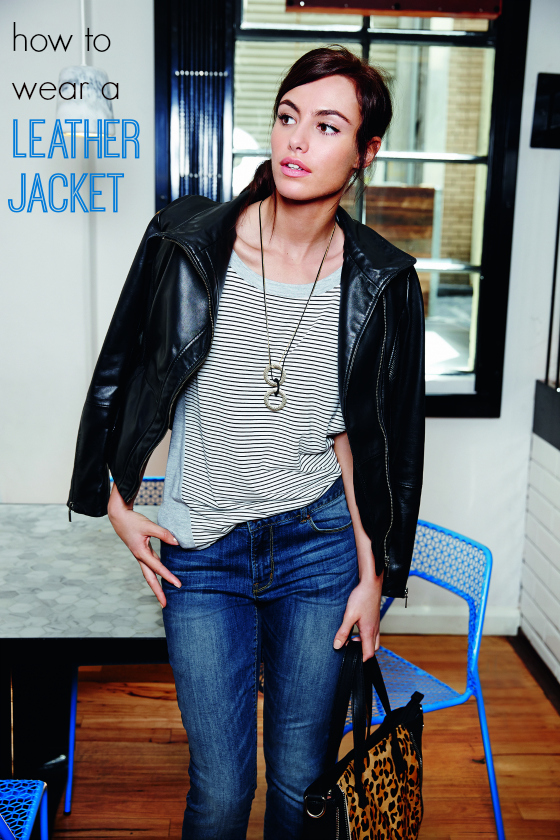 Sussan leather jacket $399.95, tee $59.95, jeans $89.95 and bag $79.95
Style tips
1. Spend time finding a jacket that suits your shape. Some styles will box you up – particularly if you are busty. They are designed to be worn open so go for a neckline that opens and drapes easily.
2. Think about what you have in your wardrobe to contrast with the leather texture. Me? I like to team leather with soft jerseys, cottons, silks – and denim. Mixing three different textures in one outfit really does give an outfit life.
3. You can wear you black leather jacket with black pants but play with other colours as well. If you are doing black and black, lighten things up in your top – even if you're going for a tonal white or pale grey.
4. Don't be afraid to try a leather jacket with a frock or skirt. This look gives you even more contrast within an outfit. You're not only contrasting textures but also tough and feminine styling.
5.  Keep accessories on the feminine side. Even with embellishments, a leather jacket is all about incorporating a masculine styling element. You're aiming to contrast that with what you wear but also think about how a strong but feminine statement necklace can work here too.
3 outfit suggestions
A leather – or faux leather – jacket is just as at home worked back with a coloured jean and sneakers as it is with boots and/or heels. Add in a coloured striped top and a scarf and you're set for a mild winter's day that may require some removal of layers as it warms up.
1. Target faux leather jacket $59 | 2. Frankie4 Footwear sneakers $219.95 | 3. Metalicus scarf $69.95 | 4. Trenery tee $49.95 | 5. Seed jeans $89.95
Don't store your summer maxi dresses away just yet. No siree. With a leather jacket on hand you have the perfect trans-seasonal tough-feminine combination ready to rock your next lunch date or girlie gathering.
1. Sportscraft leather jacket $569.95 | 2. Metalicus maxi $129 (on sale) @ Birdsnest | 3. Colette necklace $12.95 | 4. I Love Billy sandals $79.95 @ Styletread
Heading on a night out – date night or drinks with the girls? Your leather jacket will serve you well. Just add sparkles, heels and a pop of red lippy.
1. Trenery leather jacket $599 | 2. Two Mrs Grenvilles purse $24.95 @ David Jones | 3. Witchery top $149.95 | 4. Country Road jegging $99.95 | 5. YSL Rouge Pur Couture Glossy Stain $52 @ David Jones | 6. Guess heels $169 @ Styletread 
Want more leather jacket styling inspiration? Head to my leather board on Pinterest.
Have you got a black leather jacket in your wardrobe? Planning on buying one? How would you wear it?