Go-to dresses are essential in any wardrobe.
You know the kinds of frocks I'm talking about?
The ones that could work at the office (or in a meeting) or for an occasion – a wedding, the races.
The ones that make a perfect canvas for new or existing accessories.
Remember when I featured this monochrome frock from Mossee last year? It was all of those things.
Well, they've done it again for autumn-winter 2014 with the Daisy dress.
Let's look at it on the model, shall we?
The model
Mossee Daisy dress $159.95
and me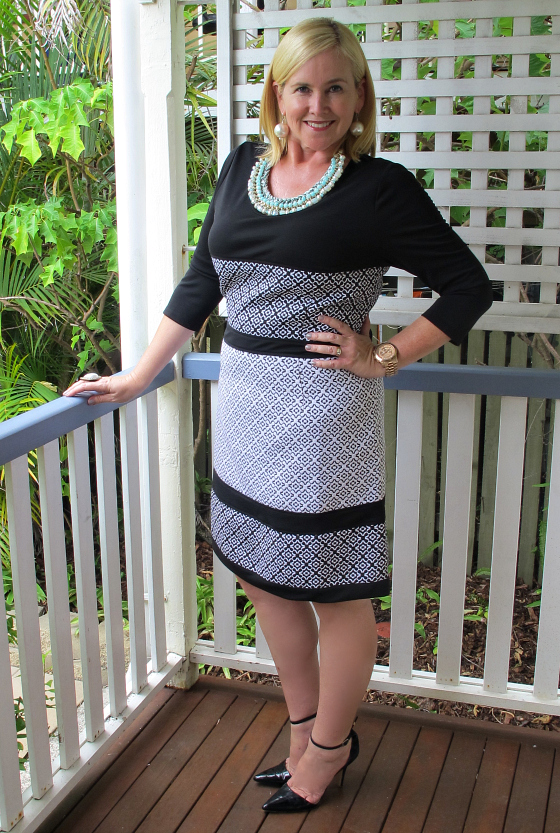 Mossee dress* (I'm 167cm tall and wearing size 16) | Ella Grace necklace* $99 @ Runway Style | Sophie Kyron earrings | Wayne by Wayne Cooper heels | Samantha Wills ring
On the model, the dress is a much looser fit than on me. On the site it says the dress is designed to sit away from the body so maybe consider how you like a dress to sit when deciding on sizing for you.
Also, you can see that on an average height, the dress comes to the knees.
The fabric is all polyester but is a combination of the black jersey pieces with the daisy jacquard. It's not a stretch fabric but it does have a good weight. You're advised to be careful with jewellery etc when wearing it as it might pull.
I've kept the accessorising similar to what I would do wearing this dress to an event. Statement jewellery near the face is always a good idea at an event as that's where people look when talking to you so can make for a great conversation starter.
I've had the earrings for years. Just love them. The necklace was sent to me recently and I thought the splash of turquoise would be a good idea for this look.
You can find out more about this collection of costume jewellery at Runway Style. Click on Anna Nova and Ella Grace.
Do you love a go-to frock? 
* These pieces were sent to me for editorial consideration