I'm a very big supporter of Australian and Queensland designers.
Maiocchi has long been on my fave list and it's even more the case now that I live just minutes from one of its stores in Brisbane (incidentally Sydney-siders, Maiocchi just last week opened its first store in your city on Oxford St).
I love many things about this label: the use of predominantly natural fibres, the timelessness of the designs, the quirkiness of the prints used, the attention to detail in patterning and the campaign it featured last year using customers as models.
But perhaps the biggest thumbs up is for the fact that the label is still designed and manufactured in Brisbane.
So when you are investing in a Maiocchi piece for a special occasion or just to make any occasion special, you are investing in an Australian fashion economy.
Maiocchi's autumn-winter 2014 collection, Fly Me to the Moon, remains true to Maiocchi's trademark whimsical style but also offers strong elements of sophistication.
The frock I'm featuring today fits that bill and would do admirably if asked to partner you to an autumn wedding or to the races. Once it had done it's time as a special occasion frock, it would also work fabulously for the office, on its own or with a blazer.
Here it is on the model.
The model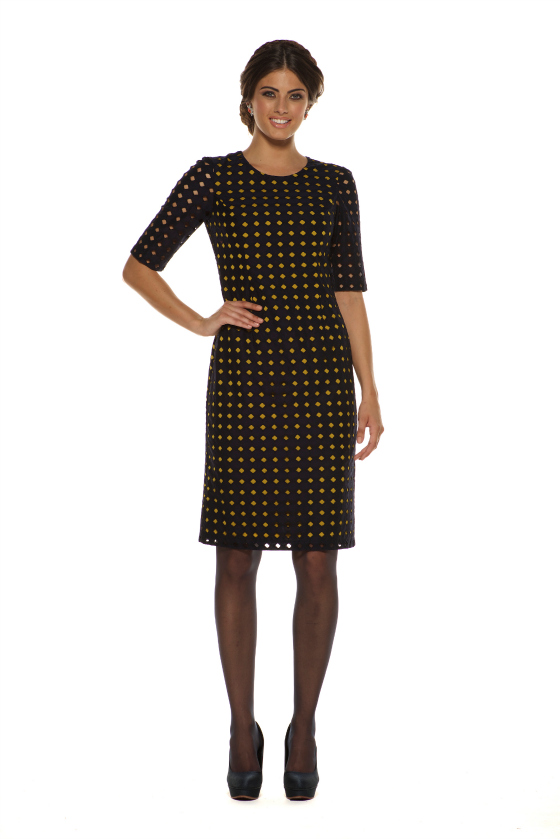 Maiocchi Like a Diamond dress in Midnight $330
and me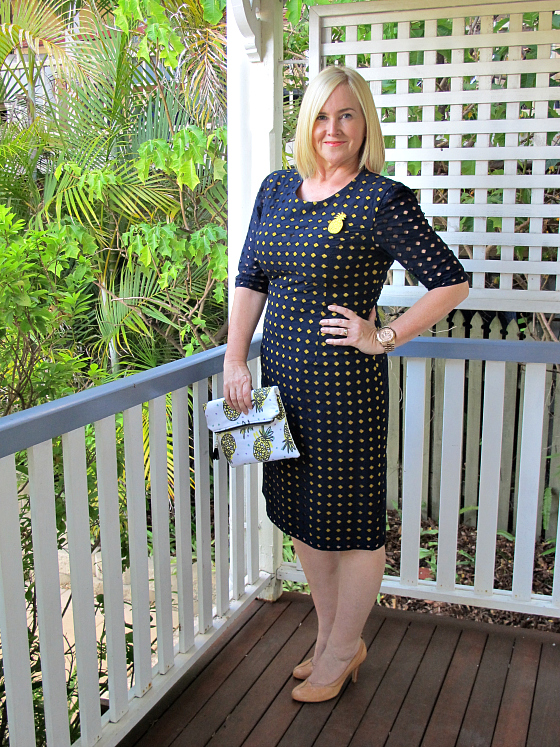 Maiocchi dress* (I'm 167cm and wearing a size 16) | Each to Own pineapple brooch | Minty Baxter clutch | Vicenza heels
The cut of this dress is the ideal cut for me if I'm going to opt for a dress with structure. I need it to emphasise the upper waist, not the mid or lower as I have a short waist that sits above wide hips.
At the same time that I tried on this dress, I tried on this one. I wanted to love it but it didn't love me. The lower waist meant that it sent the bottom half of the dress out over my hips in an extremely non-flattering way.
This one hugs and skims in the right places. I love the combination of the chartreuse underneath the midnight blue. It's a colour way that works for me but also is one that I'd happily wear year after year.
When I was in store I spotted the pineapple brooch and of course just had to buy it. The designer is also Brisbane-based and has a veritable treasure trove on offer in her Etsy store.
Etsy is also where I found the clutch by Minty Baxter after a hot tip from a SY reader (thank-you to all those readers who see anything with a pineapple motif and alert me immediately … Mr SY doesn't like you so much but I LOVE you!). Turns out this designer is based on the Sunshine Coast. She too has so much to offer in her store.
The heels are from about five years ago. A sale purchase that have served me very well. The height is one I can get away with for an event but still looks dressed up to suit the event.
Are you a Maiocchi fan? Got an occasion coming up that would work for a dress like this?
* This frock was gifted to me for editorial consideration