Discovering new, independent Australian designers and online stores can be like finding a diamond in the rough.  There are so many amazing Australian retailers and writing Styling You has opened our wardrobe doors to a number of talented individuals that have become firm favourites.
This fashion giveaway is all about showcasing some of these businesses – and giving your wardrobes a chance of a little end-of-summer injection. Please click through to check out each of these collections and bookmark them for future shopping.
You have 18 chances to win some beautiful clothes and accessories to brighten up your wardrobe for the end of summer.  It starts with gift vouchers thanks to Lola Australia, Frankie4 and Fire and Shine where you can choose your favourite piece from their online stores.
There are also clothing packs from Binny, Surafina, Blue Bungalow, Verily and I Love Lola.  You can expand your wardrobe with fun and colourful pieces that will get you through to the end of this long summer here in Australia.
Last, but by no means least, there are accessories to be won from Ruby Olive and Vintage Pip.  We all know how important accessories are to an outfit, don't we Stylers?
Best of luck!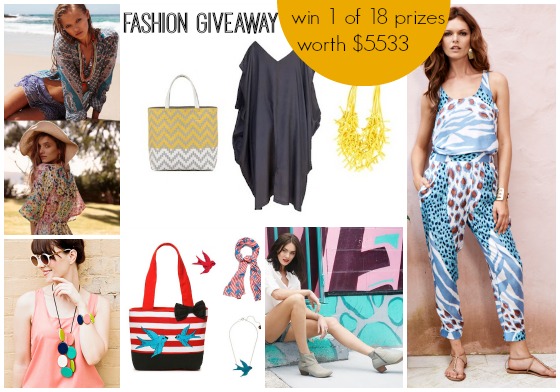 4 x Lola Australia vouchers
($500 gift vouchers x 4, total value $2000)
Established in 2005, Lola Australia is designed in WA by Perette Creighton, and encompasses Perette's love of the jet-set bohemian chic style of poolside glamour dressing. The label has a loyal following for it's signature colourful silk prints, feminine fine cottons and overall ethnic vacation charm.
They have an online store at www.lolaaustralia.com.au and their garments are stocked in over 100 boutiques throughout Australia and overseas in places such as St Tropez, Bahamas, New York, Miami, Tokyo, Maldives, Mauritius, Seoul and Singapore.
One lucky Styling You reader will win a $500 gift voucher to spend at Lola Australia. You can choose whatever you like up to the value of $500! (Valid for 12 months from available online stock  only)
As an added bonus for everyone here, you can receive free global shipping on orders over $150 by entering the promo code FREESHIPPING and clicking Apply Promotional Code at the checkout.
1 x Binny summer pack
($920 pack x 1, total value $920)
You always remember the special moments in your life. Those serendipitous experiences that define you, no matter how big or small the occasion. You always remember what you were wearing.  So make sure it's something worth remembering with this prize from Binny.
Starting in Bondi in 2008, Binny has beach hopped since then from Brazil to Bells Beach. Their SS13 Collection 'Agua de Coco' was inspired after long hot summer days on the beaches of Bahia.  What a way to be inspired, hey Stylers?
You may recognise the style as one worn by our beloved Nina Proudman on Offspring.  Remember the striped Binny maxi skirt?  That started many ladies' love affair with this brand.
This prize includes 3 outfits:
The Carioca's cotton hand-beaded skirt ($290) with black cotton Joaquina Beach tank ($90)
I Go To Rio silk blue leopard print slim leg pant ($250)
At The Copa silk crepe maxi dress with peplum ruffle drawstring waistband ($290)
Head on over to  www.binnywear.com to see the full range.
Surafina styling pack
($800 pack x 1, total value $800)
Surafina is an independent Australian ready-to-wear label owned and operated out of Brisbane. The brand's philosophy is to create modern silhouettes and shapes to reflect the confident, laid back nature of the Australian lifestyle. With unique styling melding sophisticated shapes and fabrics with relaxed lifestyle pieces, the label provides wearers with well-cut, refined pieces that provide wearability, versatility and function.
They have earned Australian press and television coverage at award ceremonies such as the ARIAs and Logies and has recently won an Australian Small Business Award.
The designers also offer bespoke tailoring and styling to meet an increasing demand.
To celebrate the relaunch of their online boutique www.surafina.com, Styling You readers will have the chance to win a complete look of their choice along with a styling session with the label's designers. The winner may select any garments or products in the label's range, which includes handbags, shoes and accessories. Total prize package is worth $800.
Blue Bungalow outfit
($328.95 outfit x 1, total value $328.95)
Brisbane-based online fashion house Blue Bungalow has a new retail home in Brisbane's fashionable enclave of Newstead. To celebrate, they are giving Styling You readers the chance to win a striking Blue Bungalow outfit featuring a dreamy Anannasa grey silk kaftan, a statement Anannasa handmade yellow neck piece and a patterned Sashenka by Olga Berg tote.
View these pieces and a kaleidoscope of cheerful sun dresses, whimsical kaftans, free-flowing  maxis and exotically-inspired statement accessories at their new showroom at 5 Byres Street, Newstead or online at www.bluebungalow.com.au.
You can win:
Anannasa silk Kaftan – grey ($149)
Sashenka by Olga Berg Tote – yellow and grey ($99.95)
Anannasa handmade material necklace – yellow ($80)
Frankie4 gift voucher
($275 voucher x 1, total value $275)
While kicking up one's heels will always be in fashion, the flat-shoe shuffle is having a moment. From boots to ballet flats, sandals to sneakers – comfort footwear is the new trend sweeping the world of fashion in 2014. With this being said, FRANKiE4 is certainly on trend and turning heads in the 'comfort' shoe world with their new 2014 Collection.
Designed by an Australian podiatrist and physiotherapist, FRANKiE4 is the answer to many women's prayers who have been searching for the ultimate combination of style and comfort. Produced in fashion-forward colours and prints and using luxurious soft leathers, FRANKiE4 has a style for any occasion whether it be work, working out or just walking about!
One of you has the chance to win a gift voucher to the value of $275, so start window shopping on their website now at www.frankie4.com.au
Verily kaftan pack
($280 pack x 1, total value $280)
This may be an end of summer giveaway, but it's always summer at Verily. Made on the Sunshine Coast, Verily is all about creating authentic clothing that makes a woman feel beautiful. The range includes seasonal styles, ongoing favourites and essential basics. Available online at www.verily.com.au. Don't forget to join when you visit to be the first to hear about new season styles, sales and member discount coupons.
This prize package includes:
a Verily Prism Kaftan (choice of length)
a Verily Wild Jersey Kaftan (choice of length)
a Verily Bamboo Slip (choice of colour)
a Verily Tassel Bead Necklace
iAllure kaftan + slip
($260 kaftan + slip x 1, total value $260)
The Water Goddess Kaftan is an eye-catching silky white with bold tropical palm prints in an assortment of soft and rich blue hues, with a subtle lily flower print exposed. Water is an important element, as it stimulates meditation, serenity, positivity, and rejuvenation, which will inspire in you a feeling of calmness and positivity.
One lucky Styling You reader will have the chance to win a stunning Water Goddess – Silk Satin kaftan from the Elements range and a Metalicus Seamless Slip to wear underneath.
Exclusive offer for Styling You Readers, receive 20% off all kaftan orders expires 01March 2014. Use code: STYLINGYOU upon checkout to receive 20% off your entire purchase, excluding accessories.  See the full range here:  www.iallure.com.au

I Love Lola gift voucher
($50 gift voucher x 4, total value $200)
Want to turn heads at your next party or infuse your wardrobe with a healthy dose of glamour? Statement necklaces can turn a drab outfit in to fab or help a cocktail dress become a showstopper. Done right, statement necklaces can offer spectacular results and are a wardrobe must!
I Love Lola have scoured the globe to bring you the cutest and most vibrant necklaces. Think African-inspired collars, Egyptian-princess v-drop necklaces, and all things pretty in wooden beads, bronze leaves, gem stones and more. As Rachel Zoe says, "A dress is just a dress until it has the jewels."
Four lucky winners will score a $50 voucher to spend at ilovelola.com.au where you can choose something to make your favourite outfit go from lovely to spectacular!
Ruby Olive jewellery set
($85 necklace & bangle set x 2, total value $170)
Colour mad jewellery label Ruby Olive are giving away 2 of their favourite pieces from their latest Candyfloss collection.  Inspired by ferris-wheels, fairy floss, cupie dolls and childhood memories of seaside fairground adventures, this is one dreamy, feel good story.
Each necklace and bangle set are hand made with love using colourful resin and designed to be light and easy to wear.  Each high polish glossy disc features 2 different colours – have some fun and wear it a completely different way each day.
Two of you have the chance to win a Candyfloss Flat Disc Necklace and Elasticated Bangle set valued at $85 each. The perfect way to brighten up your summer wardrobe.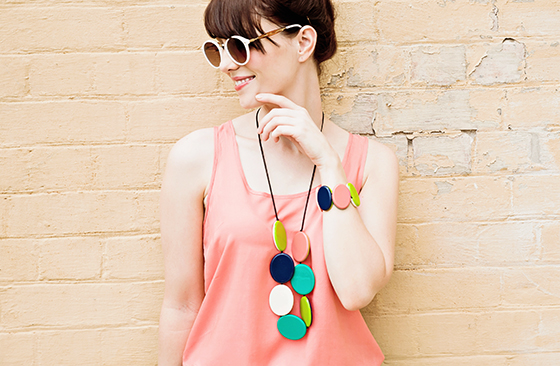 Fire and Shine gift voucher
($150 voucher x 1, total value $150)
Fire and Shine feature US, UK and Australian brands that create stylish and quality ranges, which are 100% ethically sourced – good for customers, good for the planet and good for garment workers around the world.
You won't find this gear anywhere else in Australia. The brands – Body Language, Hyde, Wellicious and L'urv – are all exclusive to Fire and Shine. The collection of yoga pants, yoga tops, workout gear and lounge wear are continually updated with the latest looks, and stock numbers are intentionally limited, enabling you to shine in your unique piece.
Fire and Shine's founders – Jackie and Jane – are passionate about having a balanced active life who have road tested all the gear, and happily guarantee the quality and durability of every piece.
You can win a Fire and Shine gift voucher to the value of $150. The winner will be able to choose any item or items in the Fire and Shine range to the value of $150 in total. Not redeemable for cash. Prize must be redeemed within 30days. Free shipping is also included.
 Vintage Pip Erstwilder pack
($150 Erstwilder pack x 1, total value $150)
This is how Pip described her fun and colourful accessories pack that you have the chance to win: Here now… now don't you be so blue… have courage and remember what is right and true… let your wings take you softly across the blue bayou.
With a touch of whimsy, Vintage Pip brings retro fun back to your styling palette.  Described as decidedly fun, and often outrageous, the Erstwilder range provides the perfect antidote to an ordinary day.  You can't help but smile when you're wearing colourful and playful pieces such as these, can you?
You can win:
Erstwilder Bluebird of Happiness Bag – The perfect size to fit your summer essentials! Made from padded cotton with a soft cotton lining and finished with a bow.
Erstwilder Bluebird of Happiness Scarf – Light and soft cotton scarf perfect summer style. Wear around your neck or as a headband wrap a la 50's style.
Erstwilder Bluebird of Happiness Necklace – Blue Resin
 Erstwilder Bluebird of Happiness Brooch – Red Resin
THIS COMPETITION IS NOW CLOSED. Winners will be notified via email in the next 24 hours. Good luck!
Terms and conditions: The Styling You End of Summer giveaway will be drawn at random using random.org. A permit is in place for this. The competition opens, Wednesday February 19 at 6am EST and closes on Wednesday, March 5 at 5pm EST. One entry per person. Australian entries only, sorry. There are 18 prizes to be won, with a total prize pool of $5533. Winners will be notified via email and published here. Entries remain the property of Styling You and may be republished. For full competition terms and conditions, click here.
Sharing is caring … and brings good competition karma. Would love you to share this on your favourite social media networks!
Now, tell me … which prize would you most like to win?