At least one of my friends in Australia had cause to light the fire at her home last night.
It's that image that I'll need to keep in my head for many months here in Queensland. I'm at that point during summer that you cannot even remember what it feels like to feel cold … short of blasting the air-con at a temperature that is far, far below energy efficient recommendations.
The autumn-winter fashion season is a tricky one up here – both for those trying to sell seasonal clothes and for those of us wanting to buy and freshen up our wardrobes.
It's such a short time of the year when it's actually cold that it's difficult to justify a big spend on clothes geared for that short time.
Instead, I aim to look at what's trending for autumn and slightly tweak that so it's wearable now and can be layered up as the temperature goes down.
Should you live where you do get a decent winter – and where you may feel like you've been robbed of a decent summer – then of course the autumn-winter fashion season is your best wardrobe friend.
I got the chance to get a sneak peek at the season to come at the David Jones autumn preview in Brisbane last week. Everything shown is actually available in store now. Crazy, hey?
It wasn't the big show featured in the images below, instead an edited version that included about 36 looks for men and women, each highlighting the season's strongest trends.
The good news is that what's hot for autumn winter 2014 is largely an extension of trends we've seen in previous seasons and most of us probably have elements of those trends hanging in our wardrobes.
Shades of grey
Grey is the new black – particularly when it comes to casual wear for autumn. Think fancy grey marle trackies and knits layered in a number of different shades. I actually like grey as a neutral and love a soft pant so will be embracing at any possible opportunity.
Jewel tones
Love a splash of colour in winter? This year it's all about the brights. My money is on cobalt, fuchsia and emerald green. Maybe a little ruby red and orange thrown in for good measure. For maximum impact go for block colours – either in an entire frock or as a separate.
Denim decoded
Oh dear, it seems the concept of Double Denim refuses to jump back in the Hot Tub Time Machine and swirl its way back from whence it came. No, apparently we're still supposed to get excited by this mix. There is everything from denim pant suits in chambray through to contrasting dark and chambray denim. It's not one for me but go for it if you are sweet and young. I will not get in your way.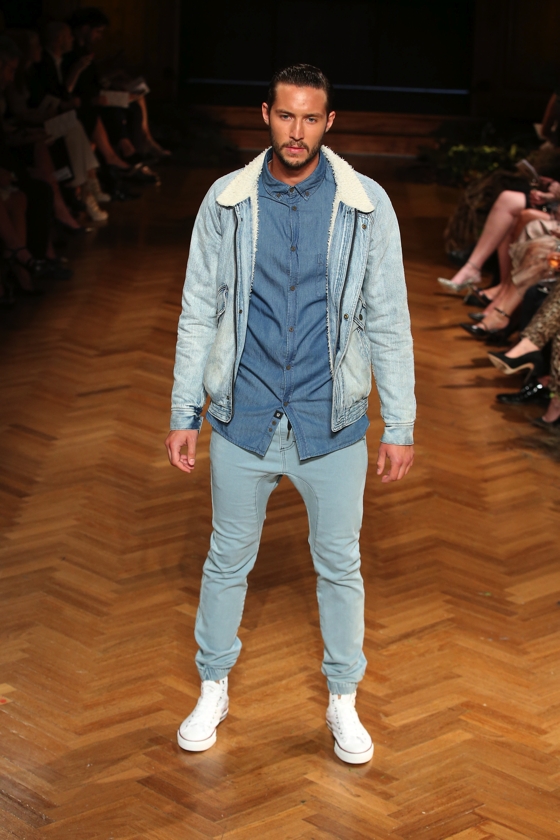 Print run
Digital prints are still in play. I do love them as part of a statement dress or skirt. Animal print is still very strong. You know this makes me happy. One of my fave looks of the night was a fuchsia shirt worked back with an animal print pencil skirt. And Camilla, of course. Love me a Camilla piece or two. I do.
Deconstructed glamour
Possibly my fave trend of the season. I love a touch of glamour but the deconstruction part comes from breaking it down a little so that perhaps that outfit you thought was just for wearing out at night, really can be worn just because. It's got some kind of detail, like a metallic fabric but the essence of the whole outfit has a minimalist slant.
The icons
If you're a girl with a classic wardrobe personality then this season there is so much for you. This trend is where I suggest you make your seasonal investments, whether that's a glamorous ball gown because you have an occasion that calls for it … or a pair of long black boots, leather pants or a well-cut winter white or grey coat that will serve you on many a day throughout the season.
So tell me, are you ready to refresh your wardrobe a little? Which trend do you think is you? Which trend would you already find in the autumn section of your wardrobe?
Photo credit: Getty Images for David Jones