Remember when we gave you the heads up about Queensland fashion label Maiocchi responding to social media feedback from its customers about the models used in the label's campaigns?
In a nutshell, Maiocchi customers were not happy that young, size 8 models were being used to market the label to them. They wanted women who were older and of an average size representing the brand they know and buy.
All this was music to my ears. It's something I've been banging on about for years. I don't want to be marketed to by girls young enough to be my daughter.
It's also a big reason why I started the Model and Me posts three-plus years ago. I realised that women find it super difficult to visualise how they could look in a garment as shown on a model.
I don't represent all sizes of women but I do represent a different size.
In my wildest bloggie dreams I'd love to be able to feature those same Model and Me garments on four – or more – different women but logistically and cost-wise it's not possible right now. I have done this as part of my forthcoming book, though.
And that's why I'm stoked that Maiocchi has done this shoot with five of its customers and Facebook fans.
All of the frocks featured are part of the label's current summer collection, Love at the Fete.
Maiocchi designer Deanne Mayocchi (second from left) with five of her customers showing how fabulous her designs look on a range of sizes and ages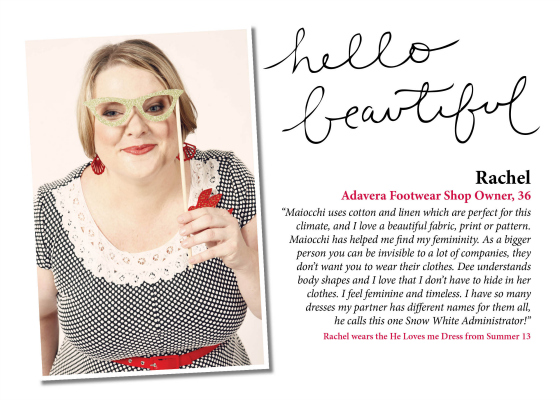 What do you think? Would you like more fashion labels to do this?