Sponsored by L'OR Espresso
There are two gadgets on our kitchen bench that get daily love – our Thermomix and our Nespresso machine.
The Nespresso machine cost us about about a eleventy billion times less than the Thermo and, if I were inclined to do the numbers, which I am not as I'm not a numbers woman, I'd no doubt find that it's easily paid for itself over the past 12 months.
Unless going out to meet up with others, Mr SY and I now happily take our daily caffeine fix at home. That's a whole lot of takeaway coffees we haven't spent money on.
Mostly we're one-coffee-a-day peeps. He likes a mid-strength flat white. I like a sock-it-to-me, full-strength long black.
This is why the pod coffee system works a treat for us and why we have his and hers pods stashed and ready to go.
The only downside to the Nespresso pod system? You can't buy the Nespresso pods at the supermarket with the rest of your groceries … you need to buy at the "boutique" or online.
We're pretty lucky as Mr SY works in the city and is not adverse to a little lunch-time emergency caffeine shop but this can be very much a hassle for those without such easy access.
Enter stage left, Piazza D'Oro L'OR Espresso pods, that not only fit a Nespresso machine but can also be bought at the supermarket, and you have a caffeine supply solution that doesn't require army-like pre-planning.
What about the flavour, I hear you ask?
We're fans. Big fans.
Mr SY has taken custody of the Lungo Elegante (05 – "overtones of woody cedar, fresh almonds and a hint of nutmeg with a light golden crema") and I'm very much at home with the Lungo Profondo (08 – overtones of almonds, liquorice and a hint of delicate caramel topped off with a golden crema layer).
These Lungo blends are the newest additions to the L'OR stable of nine varieties with intensities varying from a 05 to a 10, as well as a decaf blend.
Each of the L'OR blends we've tried creates the perfect crema and a coffee that is free from any bitter aftertaste.
How these pods differ (apart from easier availability and slightly lower price – it works out about 64 cents per pod with L'OR and from 68-84 cents a pod at Nespresso) is that they come already perforated and wrapped in a foil package for freshness.  Nespresso pods are only perforated as you place them in your machine.
Summertime caffeine hit
Some days it's just too damn hot for a hot coffee.
On those days I channel a little Greek Island romance and whip up an iced coffee inspired by these we ordered and drank when on Santorini 12 years ago.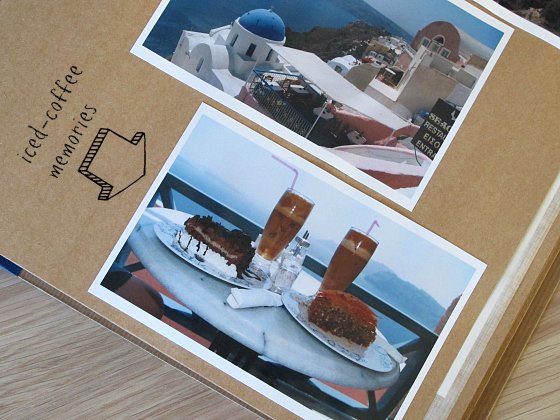 I remember at the time being surprised that they were iced black coffees. Then I remember being even more surprised that I very much liked them anyway.
In some ways they're more refreshing without the milk – but if that's something you can't give up, don't. Just add milk to taste afterwards or substitute out the water entirely for milk.
What I do like to add to my iced coffees – and you'll find it in this iced black coffee recipe below – is a little sweetness. Not with sugar but with maple syrup and/or vanilla extract. They really seem to complement the flavour of the coffee.
And if I'm indulging, I try not to be a piggy wiggy like I clearly was in Greece (in my defence, it was the best Backlava I'd ever tasted). I'll nibble on some dark chocolate and raspberries, creating a trio of pretty much my favourite foods.
Iced black coffee with maple syrup and vanilla
This is a simple but tasty way to get a summertime caffeine hit. If you want to add milk, feel free to do so.
Author:
Nikki Parkinson | Styling You
Ingredients
1 L'OR Espresso Lungo coffee pod of choice
1 tsp pure maple syrup
¼ tsp vanilla extract
1 cup chilled water (or substitute for milk)
1 cup ice
Instructions
Insert pod in Nespresso machine and press the "big cup" button to make about ½ cup of espresso coffee
Chill in fridge for two hours or overnight
Add chilled espresso to a glass or jar
Add maple syrup and vanilla extract, stirring to combine
Add ice
Add water or milk
VARIATION: mix all ingredients in a blender or Thermomix for an iced coffee frappe
THIS COMPETITION HAS NOW CLOSED
Styling You and L'OR Espresso have a $100 Down That Little Lane voucher to give away to one lucky reader who might like to update the cups, out of which they drink their coffee.
To enter, answer this question:
What's your favourite way to drink coffee?
Entries open on Friday, November 22 at 5am (AEST) and close on Friday, November 29 at 5pm (AEST). Australian entries only, sorry. The winner will be judged on originality and creativity. He or she will be emailed and their name will be published here. Entrants must include an email address when the filling in the commenting system below to be eligible to enter. Full terms and conditions, here.
Coordinated by The Remarkables Group